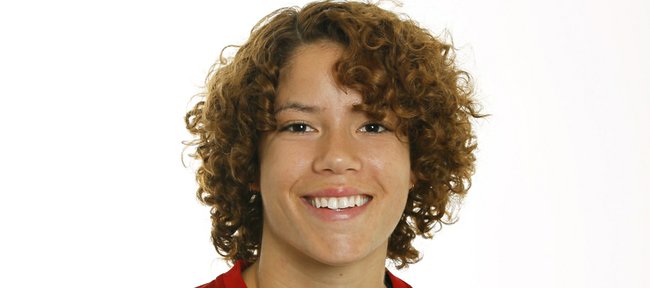 Document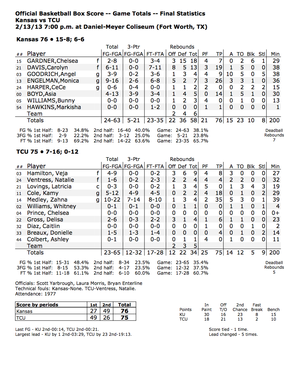 Fort Worth, Texas — Talk about mixed emotions.
Kansas University women's basketball coach Bonnie Henrickson was beaming after the Jayhawks' wild, come-from-behind — historic, even — 76-75 victory over Texas Christian on Wednesday, but the feel-good vibe couldn't completely overcome the dismay she felt at halftime.
Behind a career-best 26 points from senior Monica Engelman, including 18 in the second half, KU rallied from 22-point deficit at the half and a 23-point hole early in the second half at the Daniel-Meyer Coliseum.
"We were just terrible," Henrickson said of the Jayhawks' first half. "I don't know I've seen us that bad in a long, long time. But like I told them in the locker room, I've never been so darn mad and so darn happy in an hour-and-45-minute swing. I couldn't be more proud just to hang in and hang in."
The 22-point halftime deficit overcome was the largest in school history. The previous high was 16 against Iowa State in 1988.
"We were incredibly proud of ourselves," said Engelman, who hit nine of 16 field goals, two of six threes and six of eight free throws. "We realize we shouldn't have put ourselves in that position, but when we got out of it, it was such a sense of relief, (that) we can do this. It was kind of a lesson learned."
Kansas trailed, 49-27, at the half and by a game-high 23 at 52-29 just after intermission.
The Jayhawks improved to 15-8 overall, 6-6 in the Big 12, while TCU fell to 7-16 and winless at 0-12 in the league.
Zahna Medley led TCU with 35 points.
KU opened the second half with an 11-3 run, behind four points by Angel Goodrich, to close the deficit to 52-38 with 16:07 left. The Jayhawks cut the lead to 60-53 with 7:50 remaining, thanks to a 9-2 run. Medley scored five-straight points for TCU, and the Horned Frogs pushed the lead back to 65-53.
Engelman's jumper off the left wing with 3:28 left capped a 15-2 run and gave the Jayhawks their first lead, 68-67.
In the final three minutes, the lead changed five times, and twice in the final minute KU's Carolyn Davis gave the Jayhawks a one-point lead on layup baskets. The final Davis bucket gave KU its 76-75 lead with 12.5 seconds on the clock.

TCU's Kamy Cole missed the potential game-winner with three seconds left.
Sophomore Chelsea Gardner grabbed a career-high 18 rebounds and added a career-high six blocked shots for the Jayhawks, while Davis posted her second-straight double-double and the 21st of her career with 19 points and 13 boards.
Asia Boyd also added 14 points for KU, including three critical second-half three-pointers.
KU will host Oklahoma on Sunday for the annual "Jayhawks for a Cure" game. Tipoff is 1:30 p.m. at Allen Fieldhouse.