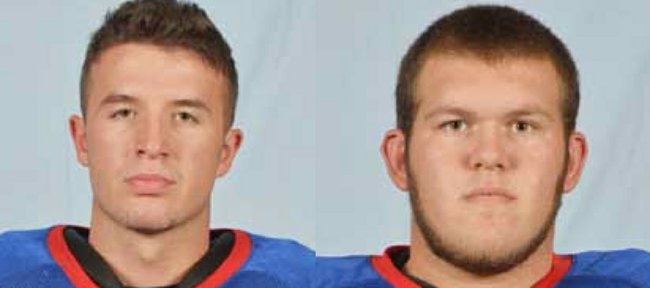 In the weeks leading up to signing day, most of the attention was focused on the football players with stars next to their names and scholarship offers on the table in front of them.
On Wednesday, however, a few unfamiliar names made their way onto the Kansas University football radar on national signing day. Sure, these guys are preferred walk-ons, which is to say they were encouraged to join the program but will not receive a scholarship, so their impact may be minimal. But there are tales of former walk-ons who have made good, so it's worth taking a quick look at who these guys are.
It's worth noting that even though the additional members in the class will be walking on, the NCAA still has rules against coaches speaking about them too soon. There also are strict rules concerning how recruited walk-ons are handled before arriving on campus. Coaches are not allowed to initiate more than one phone call to a potential walk-on, and those players are not allowed to take official visits. What's more, there is paperwork that must be taken care of before coaches can announce the addition of walk-ons, should they choose to do so. Some don't. KU coach Charlie Weis does.
The one walk-on Weis was able to introduce on signing day was former Hutchinson Community College place kicker and Hutchinson native Michael Mesh, who already has enrolled in classes and is in Lawrence. Mesh will be joined in walking-on at KU by HCC teammate Colby Hamel, a 6-foot-3, 305-pound offensive lineman.
Mesh earned second-team NJCAA All-American honors in 2012, connecting on 12 of 15 field-goal attempts, including a long of 47 yards. He also drilled 63 of 69 extra points and boomed 17 touchbacks in 57 kickoffs.
"Michael's coming here to win the job as our place kicker," Weis said. "He's not been guaranteed anything, none of these guys have, but I think he has a very good opportunity for that to happen."
Weis said recent walk-on tryouts produced eight athletes who would join the team for spring practice, which begins March 5. In order to return in the fall, these players not only will have to meet any football requirements but also will have to finish the semester with a grade-point average of 2.75 or better.
"There's other guys coming, too," Weis said. "It's just I can't talk about 'em. And there's some really good players."
Included in that group is Mishawaka, Ind., running back Michael Whitfield, a 5-11, 190-pound running back who attended the same school as current KU long snapper Reilly Jeffers.
Whitfield, who announced his intentions on Twitter, ran for 1,409 yards and 23 touchdowns on 163 carries in 2012. He also chipped in 405 yards and seven TDs as a receiver and added one kickoff return for a touchdown.
Joining Whitfield as a potential diamond in the rough is long snapper John Wirtel, a 6-3, 207-pound specialist from Chicago.
Wirtel is rated as a five-star prospect by Chris Rubio, a long-snapping guru of sorts who runs camps and clinics for specialists each year.
Here's the feedback on Wirtel on Rubio's website:
"Wirtel is ready for the next level," it reads. "He has great length and a solid frame that could easily put on 30 (pounds). He listens well and is very coachable. Snaps a nice, smooth ball that is on target. He moves well on his feet and his going to be a very accurate/consistent long snapper at the next level. Not flashy, but he doesn't need to be. Excellent work ethic."
When dissecting his latest recruiting class Wednesday, Weis pointed to opportunity as the reason for the interest from players without scholarships.
"People can see themselves getting into the mix," he said. "So even though we might not have a spot, (they're coming)."
More like this story on KUsports.com