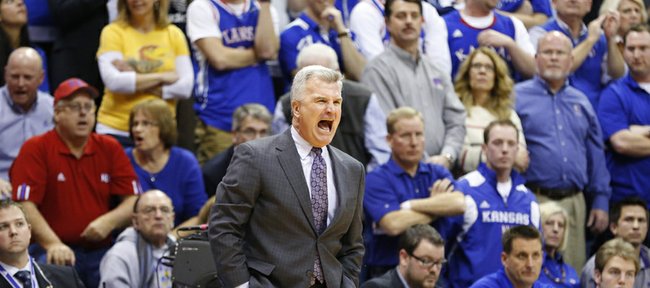 Photo Gallery
Kansas basketball v. Kansas State
Images from Monday night's game against Kansas State at Allen Fieldhouse.
Podcast episode
KU coach Bill Self talks after his team's 83-62 victory over Kansas State on Feb. 11, 2013.
Podcast episode
Kansas players Jeff Withey, Ben McLemore and Naadir Tharpe talk to reporters following the Jayhawks' 83-62 victory over Kansas State on Feb. 11, 2013.
Podcast episode
Kansas State coach Bruce Weber, Rodney McGruder and Will Spradling talk after KSU's 83-62 loss to Kansas on Feb. 11, 2013.
Kansas State coach Bruce Weber knew his team had a higher ranking, was facing a Kansas University team on a three-game losing streak and could benefit from all kinds of doubt surrounding the Jayhawks heading into Monday night's match-up at Allen Fieldhouse.
What Weber did not know was that his team would be so kind in helping the Jayhawks heal.
Behind a 30-point explosion from red-shirt freshman Ben McLemore, who hit six of 10 three-pointers, and a spirited effort that included toughness on the court and thunder in the bleachers, the Jayhawks drubbed Weber's Wildcats, 83-62, to complete the regular-season sweep.
"It's a tough environment and we caught 'em at the wrong time," Weber said. "But it should've been more of a game."
For the first seven or so minutes, it was, as Weber's 10th-ranked Wildcats (19-5 overall, 8-3 Big 12) matched muscle and pace with the 14th-ranked Jayhawks (20-4, 8-3) and appeared to set the stage for a scrap-fest. But when the home team elevated its game, the visitors could not reach as high.
"All the things that got us where we are: our defense, our toughness, our discipline ... they weren't there today," Weber said. "You can't have excuses. That's just part of basketball."
Excuses they might not have been, but Weber had plenty of answers for why the Jayhawks turned a 12-7 slugfest into a 47-29 laugher in the final 13 minutes of the first half.
"They got us strung out, they got us in transition, way too many layups and we just broke down defensively," K-State's first-year coach said.
Junior guard Will Spradling, who carded 10 points in 35 minutes, said it was more than layups that hurt the Wildcats.
"They made a lot of threes," Spradling said of KU's 8-of-21 night from long distance. "But they also got a lot of easy dunks, and that's something we didn't give up the first game (59-55 KU win in Manhattan). When they get dunks at home, it gets the crowd going too, and they feed off that crowd really well."
Weber agreed with Spradling's claim that KU's three-point shooting was not the biggest blow in this one. Instead, he pointed to the painted area around the rim, where the Jayhawks outscored the Wildcats 34-16 and benefited from K-State's early foul trouble while snagging 19 second-chance points.
"That's the difference in the game," Weber said.
Early in the second half, the Wildcats trimmed KU's lead to 16, and Weber said he sensed his team had a run brewing. But that vibe quickly disappeared when the Wildcats played too fast and gift-wrapped more easy buckets for the Jayhawks.
"We talked at the timeout about each four minutes cutting four off and we did a great job to start it," Weber said. "And then I thought we tried to hit grand slams without anyone on base."
Despite the loss, Weber remained upbeat about his team's position and outlook for the future.
"It happens," he said. "We're still in first place, and I told 'em, 'If we win the rest of our games, we win the league.' I know that's gonna be tough, but that's how we gotta approach it."
As for star senior Rodney McGruder, who led KSU with 20 points, including 17 in the second half, he said walking away from Allen Fieldhouse without having tasted success was not something that would bother him — yet.
"You just gotta get over it," he said. "It's not something you can dwell on. That's something I can dwell on when my career's over."