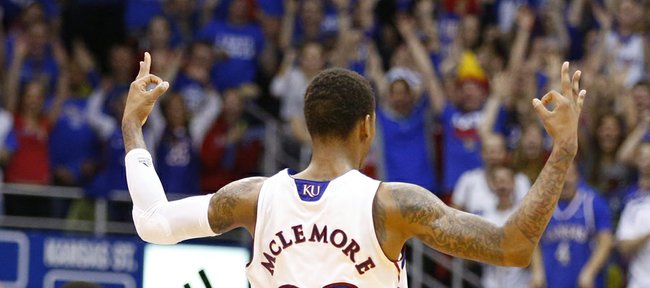 Photo Gallery
Kansas basketball v. Kansas State
Images from Monday night's game against Kansas State at Allen Fieldhouse.
Podcast episode
KU coach Bill Self talks after his team's 83-62 victory over Kansas State on Feb. 11, 2013.
Podcast episode
Kansas players Jeff Withey, Ben McLemore and Naadir Tharpe talk to reporters following the Jayhawks' 83-62 victory over Kansas State on Feb. 11, 2013.
Podcast episode
Kansas State coach Bruce Weber, Rodney McGruder and Will Spradling talk after KSU's 83-62 loss to Kansas on Feb. 11, 2013.
Kansas University's students stuck around to serenade birthday-boy Ben McLemore as he conducted an ESPN interview after exploding for 30 points in the Jayhawks' 83-62 slump-busting victory over rival Kansas State on Monday night in Allen Fieldhouse.
"Happy Birthday to Ben, Happy Birthday to you," the students sang as the 20-year-old freshman guard headed through the northwest tunnel to the winner's locker room with a big smile on his face.
Not only was he thrilled to score 30 off 9-of-13 shooting (6-of-10 from three) and 6-of-6 free throwing, but elated the squad snapped its three-game losing streak and avoided losing four in a row for the first time since the 1988-89 season.
"I mean it was great coming back home to Allen Fieldhouse," McLemore said after he became the first freshman in KU history to score 30 or more points in two conference games. He had a career-high 33 versus Iowa State.
"It was great having fun with my teammates. My teammates got me in a zone especially Naadir (Tharpe, eight assists, one turnover, seven points) finding me on the wing. Last week was a bad week for us. This was great," added McLemore, who credited assistant coach Kurtis Townsend for "telling me to start on the defensive end. It's all I focused on ... defense."
McLemore — he had 17 points the first half in helping KU race to a 47-29 lead against a team the Jayhawks needed to beat to forge a tie in the league standings — was energized playing before a batch of family members and friends.
"He had 30 people here," said his AAU coach, Darius Cobb, grinning when told McLemore scored one point for each of the guests. "He wanted to play well for a lot of reasons, one being his mom (Sonya) and dad (Ben) were here."
Ben McLemore Sr. indicated he was "very proud" of his son after KU improved to 20-4 overall and 8-3 in the Big 12; KSU dropped to 19-5, 8-3.
"We had a little birthday party last night with cake and ice cream. It was a lot of fun. He had a great birthday," Ben Sr. said of an outing at Wayne and Larry's, followed by bowling at Royal Crest Lanes.
"Not too good," KU's McLemore said of his bowling scores.
"He wasn't very good," agreed Ben's brother, Kevin. "He was saving it for tonight. I thought he was going to get 40. But he was great getting 30 and getting the win."
Also, Jeff Withey had 17 points, 10 rebounds and five blocks in surpassing Greg Ostertag as the school's all-time leader in rejections (263, one off the Big 12 record of 264 set by Texas' Chris Mihm).
"Jeff was great tonight and has been great all year long," KU coach Bill Self said. "He and Ben were on a different level tonight.
"Ben is a big-time guy," Self added. "These are just kids and they are facing different pressures than what they have ever faced in their life (in losing three in a row). I think that Ben, the last week or two weeks, hasn't had the same smile, that same youthful exuberance that you would expect him to have. Tonight he just played. He is such a talented kid that when he just goes out and plays and has that bounce, he is hard to guard."
Kevin Young contributed 13 points and nine rebounds, while Travis Releford had 10 points as KU got back on track.
"Our guys really manned up," Self said. "They showed up. They fought tonight."
KU will next meet Texas at 8 p.m. Saturday, in Allen.