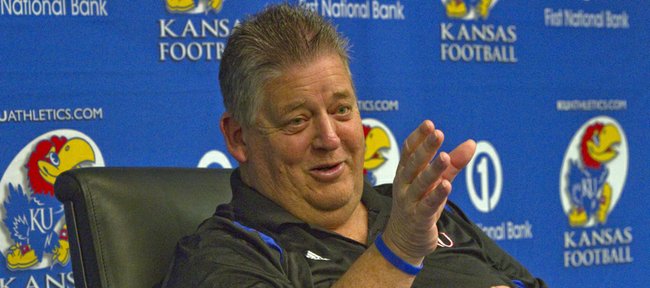 Charlie Weis isn't always on target in his projections for recruits. He twice thought he landed a whopper when he hauled Dayne Crist into the boat. Strikeouts didn't make Reggie Jackson stop swinging for the fences, and they won't make Charlie hold the hype.
Besides, Charlie's overthrow on Crist doesn't make his encouraging words about his newest recruits any less melodic to his audience. We always want to believe that the next generation will be the greatest generation, especially in sports. And in the case of KU, it's easy to believe an upgrade from 1-11 has been set in motion.
It was especially nice to hear Weis crow on signing day about the four junior-college defensive backs who signed letters of intent with Kansas.
"The secondary didn't play great, but how many guys would you have played last year? I mean, would you have had any confidence in them going out there and playing? We already talked about dime (package, six defensive backs)," Weis said. "That word was never even uttered last year. We were trying to get four out there. Yesterday, we talked about dime and we talked about quarter. Quarter is seven DBs."
Weis said he didn't have a sixth defensive back in 2012 he trusted.
"You've got a linebacker covering a wide receiver, you've got a bad deal," he said.
Not any longer, Weis is convinced.
"You talk about all those guys leaving from last year, well, you've got a bunch of really good football players coming in here who aren't high school kids who are ready to rock 'n' roll," Weis said of the secondary.
The four men partially responsible for putting Weis in such a jolly signing-day mood:
Isaiah Johnson, 6-foot-1, 207 pounds: He has three remaining years of eligibility and is coming off an eight-interception season. He brings a thick build and was pursued aggressively by Missouri, Texas Tech and Wisconsin after committing to KU. Born to play safety and isn't a receiver learning how to tackle.
Dexter McDonald, 6-2, 203: Back at KU after a side trip to Butler, McDonald brings size and speed.
Cassius Sendish, 6-2, 190: Another keeper.
"He's a natural leader with big character and big intelligence," Weis said. "Too many times in junior college, you get these guys stereotyped: 'Well, they all went there because they couldn't read and write.' Trust me, with Cassius that's not the case. He's a very impressive young man."
Kevin Short, 6-2, 185: Early last Tuesday, he reneged on his commitment to KU, but it only took Weis and assistant Clint Bowen 30 minutes to talk him out of attending New Mexico. Weis dubbed Bowen, "Five Alarm," for putting out the fire.
The beauty of Weis' heartfelt hype: It sells the program, which leads to bigger crowds, which circles back to upgraded recruiting.