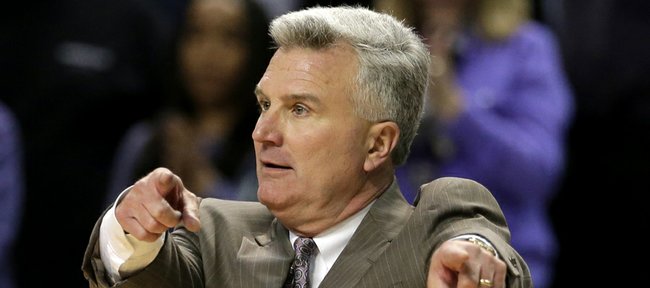 Bruce Weber, who has coached in dozens of arenas in his 15 years as a head college basketball coach and 19 as an assistant, today experiences game day in Allen Fieldhouse for the first time.
"I'll be honest. I've never been there. I've watched it on TV," the 56-year-old first-year Kansas State coach said of Kansas University's hoops mecca, where his Big 12-leading Wildcats (19-4, 8-2) will meet second-place KU (19-4, 7-3) at 8 tonight.
"They've won a whole bunch of games there. They've got good teams. He (Bill Self) is a great coach, and we're going to have to play a really good ballgame to win there. But we've won on the road, and we're just going to go after it and see what happens," Weber added.
The Wildcats, who fell to KU, 59-55, on Jan. 22 in Bramlage Coliseum in Weber's first Sunflower Showdown, take a 5-1 road record (4-1 in Big 12) into tonight's battle.
"I think every game's different. They're going to be fired up. They're hurting (having lost three in a row). They're going to play at a high level. We've just got to go and play basketball the way we've played," Weber said. "I'd like to say we can't be intimidated, but that's going to be a key thing — blocking out the crowd. I've said since the beginning, we depend on our seniors. If they play well, we have a much better chance of winning."
Senior Rodney McGruder, who scored 13 points off 4-of-12 shooting (3-of-9 from three) in the first KU-KSU meeting, continues to lead the Wildcats with a 15.0-points-a-game average.
"I don't like answering questions like that," McGruder said, asked if he's the most prepared he's been to play a game in Allen. "Because it seems like people always try to amp that Kansas game up more than any other game. It's just any other game, and I feel like we're prepared.
"We were prepared today (in Saturday's 79-70 home victory over Iowa State), so we're going to be prepared on Monday."
KU has won six straight and 17 of the last 18 over KSU in Allen.
"First of all, just tell the younger players we have to treat it like any other game," McGruder said of advice he'll give the underclassmen. "You can't say, 'Oh, man, we've got Kansas,' and get wrapped up into the rivalry and things like that. We have to treat it just like Iowa State, Oklahoma State, anything like that, and just tell them the atmosphere is different than any other place. Not try to scare them, because you tell them too many things they might get afraid. Just to keep them mentally ready and prepared to go in there and compete."
The Jayhawks have lost three in a row for the first time since the 2004-05 season. KU last lost four in a row overall in 1988-89 and hasn't dropped consecutive home games since that '88-89 season.
"If they win and have a two-game lead, that would put us behind the 8-ball," KU coach Bill Self said. "It's a big game for us from a conference standpoint. We've been behind a game in the league race going into the last seven, eight games of a season before.
"I wish we had a couple days to prepare. They probably wish they had a couple days to prepare, also. I think the crowd will do a great job getting us jacked back up. Big Monday always helps. Playing a rival always helps. I think we'll play with great energy Monday."
As to how the Jayhawks might snap their skid, Self said: "I think we can defend better. It seemed we are missing a lot of shots. We get a lot of shots inside two to three feet that we are not completing. With that said, I never blame losses on bad shooting. We need to keep doing things we've been taught to do and execute a little better than what we have been, do a better job getting to loose balls and things like that."
Withey watch: Jeff Withey needs one block to pass Greg Ostertag as KU's all-time leader in blocked shots. Both have 258. He is six blocked shots from the Big 12 career record of 264 (Chris Mihm, Texas, 1998-2000).
Rankings: KSU's Angel Rodriguez on the Wildcats' most likely entering the game ranked higher than KU. KU was No. 5 last week, KSU No. 13.
"It feels good to be ranked and all that, but that's not our goal," said Rodriguez, second on the team in scoring at 9.9 ppg. "Our goal is to win the Big 12. We could be unranked, and if we win the Big 12, that's what we want. That's what we work for. That's our target."
Self on KSU's McGruder: "I have a lot of respect for him. He is one of my favorite players in the league we don't coach. He does a lot of good things. He handles himself beautifully out there. He seems like a terrific young man. He is competitive. He has definitely improved every year he's been there. He moves without the ball better than anybody in the league."
McGruder, a 44.4 percent shooter, has made 35 of 97 threes for 36.1 percent.
Of KSU, Self said: "They run motion probably as well as anybody in the country as far as read and react. Bruce has done a great, great job with them. I also think there's some carryover in intensity (from Frank Martin era) and how hard they are playing back when Frank was there."
This, that: KU has won 45 of the last 48 meetings dating to the 1994 season. KU has won 10 of the last 11 match-ups and holds a 184-91 all-time series advantage. KU is 42-18 over KSU in Allen Fieldhouse. ... Since the inception of the Big 12, KU is 29-3 in regular-season battles and 36-3, including Big 12 Championship meetings, versus KSU. ... Bill Self is 20-3 versus KSU, 19-3 as KU coach. Weber is 0-2 versus KU, losing once at Illinois and earlier this season. ... In KU's 59-55 win over KSU in Bramlage, Withey had 11 points and 10 rebounds. Travis Releford had 12 points and Ben McLemore 11. Shane Southwell had 19 to lead all scorers.
More like this story on KUsports.com