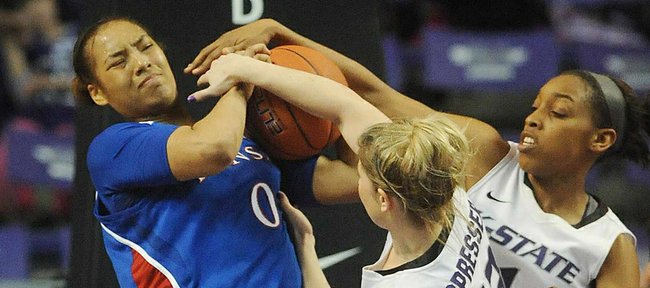 When the Kansas University women's basketball team knocked off West Virginia 60-59 to move to 2-0 in Big 12 play on Jan. 5 in Morgantown, W.Va., sophomore guard Asia Boyd played just four minutes and was stuck in a stretch in which she had played single-digit minutes in seven of nine games.
At 2 p.m. today, when the Jayhawks (14-7 overall, 5-5 Big 12) welcome the Mountaineers (13-9, 5-6) to Allen Fieldhouse for just the second time in history, Boyd figures to play a much larger role.
The 6-foot-1 sophomore from Detroit has become one of the key pieces of a suddenly thin team in the days since sophomore starter Natalie Knight went down with a season-ending knee injury.
Boyd's minutes are up — she's averaged 17 per game since the first meeting with WVU and 28 per game since Knight's injury — and so is her confidence, something KU coach Bonnie Henrickson said has done wonders for a roster that has just seven players in its regular rotation.
"She'll be on the floor," Henrickson said of Boyd, who has become KU's first guard off the bench. "It's a need and she brings a great strength to the floor for us. Her minutes are going to be there and they'll get even better as she produces more."
Boyd has averaged 10 points per game since Knight's injury and started to flash her deadly range from three-point land.
"She's caught it and shot it, she's made plays off the dribble and she's made it look simple," Henrickson said. "That's what the best players do."
Boyd came to Kansas as one of the most highly touted recruits in school history but her freshman season was largely disappointing and she rarely was able to show the skills that made her one of the top high school players in the country. Although she's still far from a finished product, Boyd has taken great strides, mentally, toward freeing herself up to make a major impact.
"She's had the discipline to do that and that's really a credit to her," Henrickson said. "For her to figure that out and kind of settle down has really helped us. She has spent a lot of time in the gym, getting extra shots up and earning confidence. And now that she's taking that shot and has been successful, her confidence has gone up."
With the Jayhawks set to enter the final phase of conference play, a stretch that will determine if they'll be able to develop dreams of another run to the Sweet 16 this postseason, Boyd's presence has been a huge shot in the arm. But there's no question that the team still runs through seniors Angel Goodrich and Carolyn Davis. Blending Boyd's improvement with their experience and the rest of the roster has become a key focus.
"The thing for us is consistency," Henrickson said. "We just want to get to the point where we're playing consistent basketball every night. Because when you play up and down and up and down, that's when you put yourself in a tough position."
More like this story on KUsports.com