Thursday, February 7, 2013
Photo Gallery
KU vs. TCU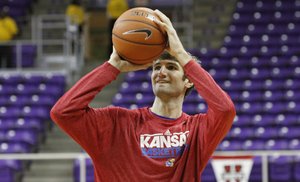 The Jayhawks played against the TCU Horned Frogs Wednesday, Jan. 6, 2013, in Fort Worth, Texas.
Podcast episode
Kansas coach Bill Self talks after his team's 62-55 loss to TCU on Feb. 6, 2013.
Fort Worth, Texas — Texas Christian University basketball coach Trent Johnson didn't appear to be overly excited following his team's stunning 62-55 victory over No. 5 Kansas University on Wednesday.
There was a reason for that, he said.
"I've got a lot of respect for the team we just beat. I've got a lot of respect," Johnson said. "That guy that coaches that team (KU coach Bill Self) is not one of the top five best coaches in this country; he's one of the top five coaches in basketball, period.
"Trust me when I tell you, they might as well crown them now. Teams go through lulls."
Johnson only took partial credit for his team's first conference win as part of the Big 12.
"The only way you beat a great team, a well-coached team, a team with the kind of tradition they have (is for them) to not be at their best," Johnson said. "Let's not kid ourselves."
Johnson finally let out a big exhale with seven seconds left and his team up eight points while at the free-throw line.
The 14th-year coach had seen too many crazy comebacks in his life to take it easy before that.
"It means a lot for everybody who's a fan," Johnson said. "It means a lot for these kids, because they were struggling."
TCU (10-12, 1-8 Big 12) entered the contest winless in conference play. The Horned Frogs' closest game was a nine-point home loss to Texas Tech on Jan. 5.
"Obviously, we've had tough years, and we're having a tough year right now," TCU senior Garlon Green said. "But this is a big win, and we need to carry this momentum."
TCU benefited from a great start defensively.
Johnson's defensive plan was for his players not to let KU center Jeff Withey get position deep while also jamming KU guard Ben McLemore to take away his initial move.
The Jayhawks scored just two points in the game's first 12:05, making one of 13 field goals with seven turnovers.
"We knew going in that we were going to have to play extremely well offensively and defensively — extremely hard — and they were going to have to help us," Johnson said. "When I say help us, obviously, they missed a lot of shots they probably would (normally) make."
It was TCU's first victory over a top-five opponent in 21 tries.
"We come out here every day, put our heart and soul into it every night, every morning," Green said. "I've grown up, since being 3 years old, having a dream to beat Kansas or beat anybody. I've always believed in myself."
At the end of his news conference, Johnson asked to be excused so he could try to get four hours of sleep instead of his customary three.
He was heading on a recruiting flight at 9 this morning, he said. And after that, TCU had seven conference games to go — including a Feb. 23 rematch against KU.
"We have to go to Lawrence," Johnson said, "and that's not going to be fun."