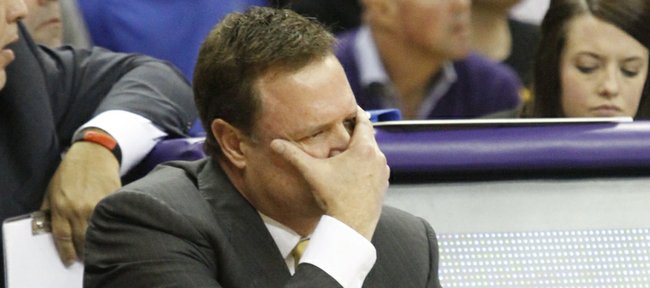 Bill Self isn't going to throw Kansas University's basketball playbook out the window and start diagramming new offensive and defensive sets.
KU's 10th-year coach isn't going to toss the names of his 15 players in a hat and pick five to form a new, radical starting lineup.
Self, in a Thursday interview with the Journal-World, said he does not plan to overreact in the wake of consecutive losses to Oklahoma State and TCU. He says he'll stay the course with his Jayhawks (19-3, 7-2), who following Wednesday's 62-55 loss at TCU remain tied for first place with Kansas State in the Big 12 race.
"I don't know what else you do. This team has won. It is 19-3," Self said. "We would take 19-3 before the season. Everybody would with the schedule we play. We'd take 19-3 right now. The problem is, we've played really poorly the last five days.
"We'll get it back. We've got good players. We haven't played as well as we should. We haven't gotten them as prepared as we should the past week. Hopefully we'll do a better job of getting a little mojo back going to Norman (for 3 p.m. game Saturday versus Oklahoma)."
The Sooners will take a 14-7, 5-4 mark into the rematch of a 67-54 KU victory on Jan. 26 in Allen Fieldhouse.
"Every team goes through a funk. That was a bad funk we went through in Fort Worth, obviously," Self said. "I haven't had a team that hasn't had games where they didn't play well. That was magnified and looked so bad because obviously we couldn't score the ball."
The Jayhawks, in compliance with NCAA rules on practice time, took their regularly scheduled day off Thursday — a day after opening 1-for-17 shooting and scoring just 13 first-half points versus the Horned Frogs (10-12, 1-8).
"The thing is," Self said, "if we were going to have changes, we would have done that over Christmas break. You can't change when you have one day of practice or two days of practice. You can tweak something or put something in that can help you a bit. The meat and potatoes ... that's done.
"This is who we are. This is how we play. We do need to develop more of an identity we can hang our hat on," added Self, who has complained about lack of toughness of late. "Still a lot of teams would like to be where we are at right now, although we are not happy at all where we are at because everything has happened negative in the last five days."
Self has said a team does not truly become a team until it goes through adversity. Back-to-back losses for the first time since the 2005-06 season (KU hasn't lost three in a row since 2004-05 to Texas Tech, Iowa State, OU) would classify as adversity.
"This has been such a non-stressful-type year so far, in large part because the guys have won," Self said. "You go 85 days without losing a game (80 days between the Michigan State loss on Nov. 13 and the Okie State loss on Feb. 2) you probably get a little bit too much of a comfort zone. We haven't become a team yet the way we hopefully can become a team, because you can't do that until you go through some stuff.
"All coaches will tell you that. I think we'll learn from it. I'll tell you this: The reason we played poorly is not from a lack of effort. The reason we played poorly is we just played poorly. It's a fine line. We've had two of our better practices of the year Monday and Tuesday. We had a really good shoot-around on Wednesday. None of our practices translated to the games. We have to keep practicing hard, well and tough, and over time it'll certainly translate."
Self remembers instances in which the 2008 NCAA title team and last year's NCAA runner-up squad became a true team.
"Were we a team because everything was so easy losing to Davidson and at Missouri?" Self said of last year. "Were we a team because everything was so easy after we lost three of five in the national title season (3-4 in seven-game stretch)?" Self added. "We lost to Michigan State, and there was a built-in excuse (so early in season). I'd rather go through crap and win. We need to go through some stuff. I hope this is the turning point we can look at and say, 'Hey, we became a team.' Who knows? If we can grow from it, we might become pretty good."
As far as the technical aspects of Wednesday's horrific start ...
"We had some open looks. We rushed our shots. We played sped-up after we missed our first several shots," Self said. KU hit three of 22 shots overall the first half, 18 of 61 shots total (29.5 percent) and three of 22 threes for the game. "We didn't go strong to the hole. We just didn't play very well, which is evident. It wasn't from lack of effort. I thought we tried. We just didn't play very well.
"Even though we didn't make shots and didn't play well offensively, what probably should have been the case is we should have been down four or five points instead of nine (22-13 at half). We didn't close the first half out right defensively — 18-13 or 17-13 wouldn't have been a good score, but we would have been better off, because in a game like that, nine points is a lot. They controlled the ball most of the possessions."
More like this story on KUsports.com