Photo Gallery
KU vs. TCU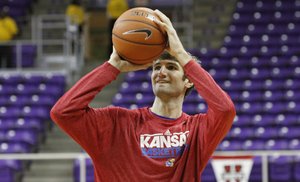 The Jayhawks played against the TCU Horned Frogs Wednesday, Jan. 6, 2013, in Fort Worth, Texas.
Podcast episode
Kansas coach Bill Self talks after his team's 62-55 loss to TCU on Feb. 6, 2013.
If James Naismith had known Kansas University one day would butcher the game of basketball as badly as it did in the first half of a stunning loss Wednesday night in Fort Worth, Texas, he not only might have thought twice about starting the program, he might have passed on the entire idea of inventing the sport.
It looked that awful from my couch, where I watched because I thought the better story, Charlie Weis' strong signing day, was in Lawrence. Certainly, that's where the happier story was for KU. Weis landed enough strong prospects that his team should be able to pull off plenty of victories that now would be considered upsets. But it would be awfully tough to score one the magnitude of TCU's 62-55 shocker.
Has there ever been a bigger upset in Big 12 history? Has a first-place team ever played such a poor first half of basketball? Anybody? Didn't think so.
In a first half that set the sport back decades, Kansas scored 13 points and trailed by nine points to a school that came into the game with an 0-8 record in Big 12 play and came within single digits of an opponent just once, and that was in a nine-point loss to a dreadful Texas Tech squad.
As usual, KU's offensive struggles started with addled point guard play. But it certainly didn't end there. Elijah Johnson and Naadir Tharpe combined to make five of 27 shots, three of 14 three-pointers. As a team, Kansas made three of 22 threes, two of the makes by Johnson too late to make a difference. Travis Releford scored one point. Ben McLemore misfired on all six three-point attempts.
What a first half. It took 3:23 for either team to score, and it was TCU. It took 7:18 for Kansas to score, and it wasn't until 6:06 remained in the first half that the Jayhawks scored their third and fourth points on Jeff Withey's free throws. With 4:29 left, Withey's jumper cut TCU's lead to 17-6. Even in this year of peach-basket scoring rates casting a pall over college basketball from coast to coast, the scoreboard that wouldn't budge seemed so bizarre.
"This is not a bad loss," Bill Self told Greg Gurley during a postgame radio interview. "It's an unbelievably bad loss. ... We're probably in the worst funk I've ever seen a Kansas team be in."
Self spoke to what the upset will do for the confidence of future KU opponents.
"It's not so much that we lost, but it's that we were kind of the bullies of the league, and we let people think that they could whip us, and when they did, everybody now thinks that they can whip us," Self continued. "I mean, hey, we just opened the floodgates. If we're going to get everybody's best shot two weeks ago, think now what it's going to be like when everybody thinks they're going to win?"
It can't possibly get worse than it was Wednesday night. Or could it?