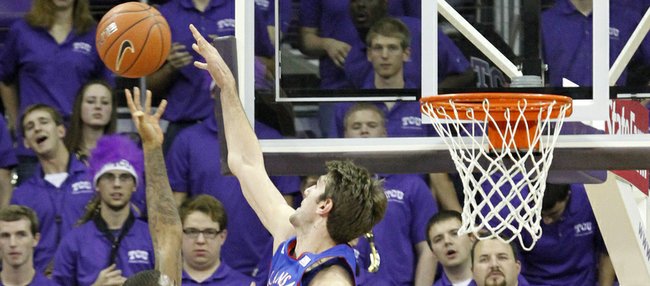 Photo Gallery
KU vs. TCU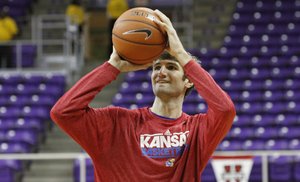 The Jayhawks played against the TCU Horned Frogs Wednesday, Jan. 6, 2013, in Fort Worth, Texas.
Podcast episode
Kansas coach Bill Self talks after his team's 62-55 loss to TCU on Feb. 6, 2013.
Fort Worth, Texas — Kansas University senior center Jeff Withey admits team morale is "pretty low" following Wednesday's 62-55 loss to TCU, the last-place team in the Big 12 Conference.
"Losing two in a row is tough," Withey said after scoring 12 points off 4-of-6 shooting and grabbing eight rebounds in 33 minutes.
"We have a lot more to play. We have a quick turnaround. We play at OU (Oklahoma) Saturday. We can't ever let one (loss) become two, which we've already done. Now we have to nip it in the bud. We still have a chance to be great."
KU fell at home to Oklahoma State, 85-80, on Saturday.
Individual notes
Withey, who had three blocks, is one rejection shy of tying KU's career-blocked-shots mark. Withey has 257 blocks, Greg Ostertag 258. ... Freshman Perry Ellis made his third career start Wednesday and his first since the Michigan State game (11/13). That meant for the first time in 18 games, senior forward Kevin Young did not start. He checked in for the first time at the 14:39 mark. ... Sophomore G Naadir Tharpe hit a three-pointer at the 9:18 mark, keeping KU's streak of games with at least one trey alive. Last game in which Kansas did not hit a three was a 100-90 win against Baylor (2/9/08). ... Red-shirt freshman G Ben McLemore's 15 points marked the 10th-straight contest he has scored in double-digits. ... McLemore's three assists are the most for him in a Big 12 game (career-high 5 vs. SE Missouri, 11/9/12) ... Senior point guard Elijah Johnson had zero points with a minute left in the game. He finished the night with eight thanks to two three-pointers and two free throws. ... Young is the only Jayhawk to have a steal in every Big 12 game this season. He collected one more on Wednesday. His 16 steals in league play leads the team.
Team notes
KU was the highest-ranked team to play TCU in Daniel-Meyer Coliseum since Dec. 1, 2003 – when TCU played host to then-No. 1 Kansas. KU won that game. ... KU's three field goals in the first half marked the fewest since the Jayhawks hit just five (5-for-18) in at Texas Tech earlier this season (1/12/13). ... KU's 17 field goals (17-for-57) are the lowest since tallying 17 at Kansas State (1/14/06). ... The Jayhawks didn't score until the 12:43 mark, going 0-for-4 with six turnovers in the first seven minutes. Red-shirt freshman F Jamari Traylor scored first with a layup and the assist from McLemore. ... Kansas was shooting 5.9 percent (1-for-17) before Withey hit the team's second shot of the game with 4:27 remaining. ... KU's 16-point deficit (37-21, 11:14 (2nd) marked its worst deficit of the season. ... TCU set an attendance record with 7,412 fans. The team's last sell-out crowd occurred against then-No. 7 BYU on Feb. 19, 2011. ... Kansas grabbed 44 rebounds to TCU's 39. KU has outrebounded 19 of 22 opponents in 2012-13. ... Kansas was out-shot (39.1 percent/29.5 percent) for only the fourth time this season (vs. Michigan State, at Texas, vs. Oklahoma State) and the first time it occurred in back-to-back games this year.
This, that
KU leads the all-time series vs. TCU, 4-1. ... It marked TCU's first-ever win against a top-five team.
Frankamp pots 48
Future KU guard Conner Frankamp scored 48 points in Wichita North's 71-63 victory over Wichita East on Tuesday in North's gym.
Frankamp has three games of 40 or more points this season and seven in his career, most in Wichita City League history. He holds the top two single-game outbursts in league history (52 and 48).
Frankamp hit 11 of 20 floor shots, five of 12 threes and 21 of 22 free throws on Tuesday.
"He's been shooting it well in practice lately," North coach Gary Squires told the Wichita Eagle. North is 13-2, 10-1 in the City League. "I knew that one of these nights, he'd just go for a big night because in our shooting drills and stuff, he's been lighting it up. When he gets it going ..."
Frankamp is averaging 34.0 points a game. He's 150 points behind Ellis on the all-time city league scoring list. Frankamp has 2,081 points. Frankamp recently missed a couple games because of a concussion.
About TCU
Bill Self likes the addition of TCU to the Big 12 Conference.
"I think TCU is good for our league. Selfishly, I think it's good for us from a recruiting standpoint," said Self, who recruited NCAA title team member Darrell Arthur from the Dallas/Fort Worth area.
Wesley's family attends
KU junior Justin Wesley told his hometown Fort Worth Star-Telegram he left 22 tickets for family and friends for the game.
In a pre-game article, Wesley discussed his playing the role of Wilt Chamberlain in an upcoming independent film, "Jayhawkers."
In one scene, Wesley was forced to cry.
"My father passed away when I was 4, and sometimes when the right song comes up maybe I'll tear up," Wesley said. "(Shooting) that scene was really quiet. It was so awkward."