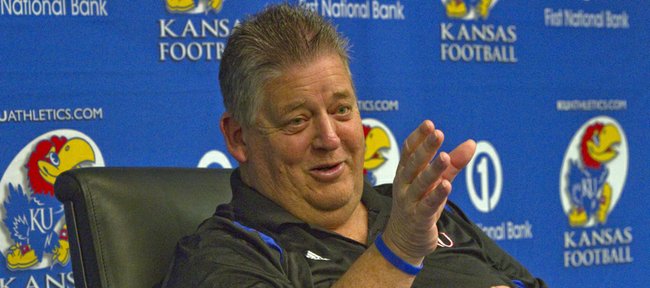 The official signing-day release from Kansas University's football program says the 2013 Jayhawks return 35 letter-winners and 12 starters from last season's 1-11 team.
Those who earned letters will get to keep them, but not everyone will be keeping his job.
That much was made abundantly clear by Charlie Weis on Wednesday afternoon when KU's second-year head coach talked for the first time about the incoming recruiting class that has been one of the most anticipated groups in recent memory.
"We've been putting a lot of tread on our tires and went a lot of places and have reaped the benefits of having several fine young men to bring into our program," Weis said. "I'm very pleased with how things turned out."
The bulk of this year's class (18 of 25) is made up of junior-college prospects Weis believes are ready to play right away. Although Weis is still relatively new to juco recruiting, he seems to have figured out that there's a difference between slowly integrating high school athletes into a program and throwing more mature and experienced players onto the field immediately. If things go the way Weis believes they can, several members of the Class of 2013 will hold down key roles this fall.
"Personnel-wise, the overhaul on defense is going to be dramatic," Weis said. "I don't think it's going to be slight. I think it's going to be dramatic. And the best part is, I think it's going to be solid for years."
With all four starting spots open in the secondary and the Jayhawks coming off three straight seasons of sub-par play on the defensive line, KU's latest class was formed, at least in part, to address those glaring weaknesses.
"If you look at the volume of front-line junior-college guys on the defensive side of the ball, we could have a whole bunch of starters coming out of that group," Weis said. "I don't want to downplay anyone because they're all in the mix."
Weis is convinced a juco player's experience, advanced age and burning desire to prove he can play Div. I football are traits that will lead to winning.
How soon?
"You'd like to think that things could happen in a hurry," Weis said.
Now that this class is signed, sealed and almost fully delivered, Weis said he and his staff could begin thinking that way a little more.
"Today, as you can start plugging different players into that vision, things became a lot easier," he said.
Upgrading the talent and adding depth was not the only reason the Jayhawks went after so many junior-college prospects this offseason. There also was the idea of motivating the returning players. So far, that seems to be working, as well.
"They run on Tuesday and Thursday afternoons," Weis said. "And watching that (on Tuesday) versus the first time I watched these guys last year was actually comical. It was actually funny to watch. I (was) thinking about what I was looking at versus what I am looking at, and it lifted my spirits tremendously."
Jackson out of football
Weis announced Wednesday that junior-to-be Marquis Jackson, a fullback, would no longer be playing football because of an undisclosed health reason.
In light of losing a running back, Weis also revealed that he had decided to move incoming freshman Colin Spencer from defensive back to running back in time for spring ball.
"I didn't want us to get thin at running back," Weis said. "And I thought (Spencer was) too good of a prospect to get buried walking in the door. One of my plans that we're gonna do on offense … he might be useful for what we're gonna do, whether that's this year or next year."
Midyear transfer update
Ten of KU's 25-member recruiting class signed letters of intent in December, but only eight of those players have made it to campus. Wednesday, Weis addressed the academic hold-up that has kept defensive lineman Marquel Combs and offensive lineman Zach Fondal off campus.
"No, Combs isn't on campus yet. No, Fondal's not on campus yet, and do I know exactly when they're gonna be here? No, I don't know that either," he said. "But welcome to the world of junior-college recruiting. They will be here. You will see them on the field when we play in September, but I can't tell you exactly when they're gonna be here."
Walk-on news
While evaluating this year's class, Weis included Hutchinson Community College place kicker Michael Mesh, a preferred walk-on who will join the team this summer and compete for a starting role.
Although Mesh was the only walk-on Weis could identify, several others have emerged during the past week, some from KU's walk-on tryouts and others via commitments. Two such players became public Wednesday, as Marian High running back Michael Whitfield, of Mishawaka, Ind., and John Wirtel, a 6-foot-3, 207-pound long snapper from Chicago, both announced they would be coming to KU as preferred walk-ons.
Wirtel is one of the top-rated long snappers in the country, and Whitfield, a 5-11, 190-pound back who recorded more than 1,800 yards and 31 touchdowns as a senior, comes from the same high school as current KU long snapper Reilly Jeffers.
What's next?
With three spots still available in the current class, Weis said he still had "some action going on," but added that no future additions were imminent. Last year, KU picked up a couple of players after signing day, and the same could happen this year. According to Weis, one thing that won't happen is KU adding a player just to fill a roster spot.
"With those three that are left, if we were going to take a college graduate, we're bringing in a guy we think can start," Weis said. "I mean, a guy who can be a difference-maker. Other than that, I'm not really listening."