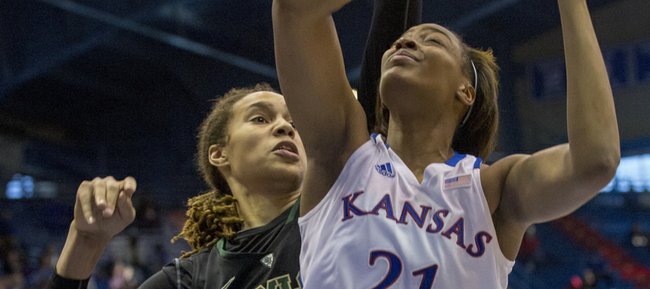 The last time the Kansas University women's basketball team faced top-ranked Baylor, KU coach Bonnie Henrickson listed everything the Jayhawks would have to do to have success against BU center Brittney Griner, the reigning national player of the year.
No drives. Make open jump shots. Box out. Play tough defense.
Although the underdog Jayhawks succeeded in some areas of their gameplan, Griner's final line — 33 points, 7 rebounds, 3 blocks — told much of the story in the Bears' 22-point victory on Jan. 13 at Allen Fieldhouse.
As is the case in most games she plays, the 6-foot-8 senior was by far the most dominant player on the floor. Despite the Bears' owning a double-digit lead throughout most of the game, Griner played all 40 minutes and shot 14-of-24 from the floor and 5-of-7 from the free throw line.
"I didn't recruit 'em to sit," said Baylor coach Kim Mulkey following the Bears' 82-60 victory. "There was no need to rest Brittney; she was pretty much dominating the game."
Griner does that. A lot. But the KU women — more than familiar with the Baylor star's dominance after four seasons — think they know how to minimize the damage in tonight's match-up at 7 in Waco, Texas.
"There's not much you can do," KU forward Carolyn Davis said. "At the end of the day, you have to try to limit the production of the players around her."
The Jayhawks did a fair job of that in the first meeting. Only two other BU players reached double digits in scoring and, without Griner's numbers, the Bears shot just 39 percent from the floor.
Unfortunately for the Jayhawks (14-6 overall, 5-4 Big 12), it's Griner's defense and presence around the basket that often have the biggest impact.
"If she's in the paint anywhere, it's not a drive and finish at the rim situation," said Henrickson of Griner, who has 76 blocks this season. "You're adding to her career blocks if you do that. Just the energy they get from her blocking shots and then they get out and run; they feed so much off of what she does."
Despite the odds being stacked against them and the fact that Baylor (20-1, 10-0) now has seen KU's gameplan to get Griner away from the bucket, which worked well in the first meeting, Henrickson said her team would be ready for the challenge.
"I've always been impressed by the excitement our guys have to be able to play someone at that level," Henrickson said. "It's one thing to be excited about the opportunity, but you have to be smart, too. You have to temper that enthusiasm and understand that you still have a gameplan."
Added senior guard Angel Goodrich, whose late three-pointers kept KU alive in both of last week's victories: "With a team like that, you have nothing to lose so you might as well just put everything on the line."
More like this story on KUsports.com