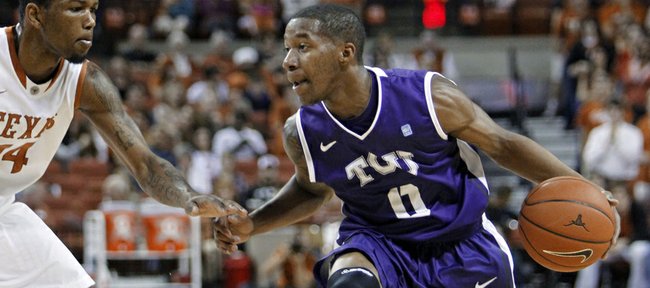 Fort Worth, Texas — Kansas University basketball coach Bill Self has fond memories of the Jayhawks' last game contested in TCU's Daniel-Meyer Coliseum.
His first KU team, which moved to the top of the Associated Press poll during the afternoon of Dec. 1, 2003, used 24 points from Fort Worth native Keith Langford — and a stellar performance off the bench from Jeff Hawkins — to pound the Horned Frogs, 85-66.
"I know 'Hawk' made five threes (19 points) and I think it was a pretty good turnout (of KU fans)," Self said. He's hoping the Jayhawks' large contingent of alumni in the Dallas/Fort Worth area again gobble up tickets for today's 8 p.m. contest against TCU in the Frogs' 7,166-seat arena.
"That's when Neil (Dougherty, former KU assistant) was coaching (TCU). I believe our guys will be very excited to get back on the court and play," Self added.
A lot has changed at TCU since KU's last visit. A member of Conference USA in 2003, the Horned Frogs now are in their first season in the Big 12. Today TCU (9-12 overall, 0-8 Big 12) meets a powerful KU team (19-2, 7-1) that is stinging following Saturday's 85-80 home loss to Oklahoma State.
"They are going to be competitive," Self said. "Trent (Johnson, first-year coach after stops at LSU, Stanford and Nevada) is in his first year and during that transition period, you always have some situations that don't go smoothly. He's building for the future, and they've actually recruited very well thus far.
"His teams will guard you. They don't give up a lot of points (58.5 ppg while averaging 54.1 ppg). They'll be much better moving forward. It wasn't that long ago that Trent built up the Nevada program — the same Nevada program that went to the Sweet 16. He certainly did a great job at Stanford, following a legend in Mike Montgomery and did a great job there. He knows what he's doing. It's just a matter of time."
Johnson, whose squad hasn't won since Dec. 30 vs. Mississippi Valley State and averages just 4,376 fans per home game, is known as a master rebuilder of programs.
"What I learned in those middle two years at LSU ... I don't know what it's like to die. But I got close to dying those two middle years," said Johnson. His Tigers followed a 27-8 season with consecutive 11-20 campaigns before going 18-14 a year ago.
"Let's make no secret about it. You need to have good players that are committed and you need to do a good job of recruiting on a consistent basis. But I tend to stay away from the word 'rebuilding.' I don't know where that label got thrown at me in my career. I'm always in a situation we're trying to win as fast as we can and play as fast as we can and play well."
His squad has double digit scorers in 5-foot-11 sophomore Kyan Anderson (11.2 ppg), 6-7 senior Garlon Green (10.2) and one player averaging double digits in Big 12 play — Adrick McKinney (6-8 senior, 10.3).
"There's been spurts the last two games we sort of shut down," said Johnson. His team is coming off a 60-43 loss at Texas and 82-56 home setback to Baylor. "I told them going into this year we are not individually talented enough or good enough for guys to look for their own shots. We've got to stay with the system and try to fight."
In facing an apparent mismatch on paper, Johnson said: "We'll go into the game like we always would. Our preparation will be the same. For me personally it will be neat for our kids to see what elite basketball, elite players and elite coaching is like. Kansas has been one of the premier programs since (James) Naismith invented the game. What Bill has done since he's been there is very impressive. I echo what a lot of coaches in this league, a lot of coaches across the country have said, that they play the game the right way. Physically they are tough. Mentally they are tough. He's going to get their attention (after loss)."
Johnson noted that it is "a supreme challenge for us and our fans. I think it's going to be great for them to get an opportunity to see what it's like to have one of the elite teams on our home floor. Am I personally looking forward to it? No. I've been in situations like that before where I've been on the side where you won and on the side where you lost. We'll prepare like we have always prepared and we will try to get guys play confident and fight through some things."
Self said his Jayhawks need a bounce-back win.
"They guard," Self said. "We need to have great focus and hopefully get a little 'mojo' back if we've lost any. I'm not saying we have. We need to go play well together as a unit. Going on the road, you can't take anything for granted. We need to give a great effort."
Is tonight the night?: KU senior center Jeff Withey needs four blocked shots to tie, five to pass Greg Ostertag as KU's all-time leader in blocks. Ostertag, who played from 1992-95, had 258 blocks; Withey has 254. Withey is 10 blocks from the Big 12 career record of 264 (Chris Mihm, Texas, 1998-2000).
Withey has recorded most of his stats the past two seasons.
"We've had a lot of guys come far. Travis Releford or certainly, Thomas Robinson. Or Cole Aldrich. We've had some guys come a long ways," Self said. "But Jeff has probably surprised me, pleasantly, as much as anybody we've had. He's just been terrific."
Asked about Withey's development, Self said: "I would say he is stronger, which breeds confidence. But the biggest thing is that he's fallen in love with basketball. When you're not in love with it and you play because you're tall or whatever, then you go through it and start seeing some success. He's fallen in love with that. And I think that has as much to do with it as anything."
This, that: Last time KU played TCU a Langford was on KU's roster. This time, it's Keith Langford's brother, junior Justin Wesley. ... KU is 4-0 all-time versus TCU. The series dates to 1952 when the Jayhawks defeated the Frogs 68-64 on March 21 in the NCAA Midwest Regional at Municipal Auditorium in Kansas City, Mo. KU defeated TCU, 94-78, on Dec. 20, 1997, at Kemper Arena in Kansas City, Mo. KU swept a home-and-home series with TCU in 2003 and 2004 with an 85-66 win in Fort Worth on Dec. 1, 2003, and a 93-74 victory on Dec. 9, 2004, in Allen Fieldhouse. ... KU coach Self is 8-3 all-time against TCU, including 2-0 while at KU. TCU coach Johnson is 1-0 against Kansas. In Self's first season at Kansas, Johnson's Stanford team defeated KU 64-58 on Dec. 6, 2003, in Anaheim, Calif., in the Wooden Classic.
More like this story on KUsports.com