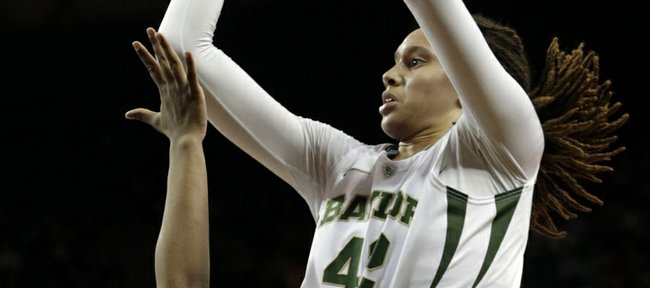 Document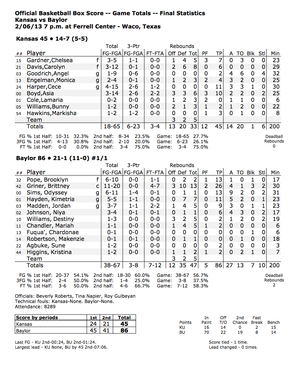 Waco, Texas — Kansas University needed to play a near-perfect game to have a chance at beating Baylor. With the Jayhawks only getting two points out of Angel Goodrich, they had no shot.
Goodrich was held to just two points in the Jayhawks 86-45 loss to top-ranked Baylor on Wednesday night.
She came into the game averaging 14 points. She hit KU's first basket but then missed her eight other field-goal attempts and was 0-for-6 from behind the three-point line.
Kansas' other offensive threat, Carolyn Davis, had been second in the conference in field-goal percentage but made just three of her 12 field-goal attempts and finished with six points, four in the second half. She had been scoring nearly 16 points a game.
"I think Odyssey (Sims) is one of the best perimeter on-ball defenders in the country," KU coach Bonnie Henrickson said. "She gets into Angel, and Angel got sped up a little bit. We're a team that's kind of built to play in the paint, and that's difficult to do against these guys with that kind of size. Angel (likes to) drive and finish at the rim, and Carolyn is a low post, so it's who she's had to be against with these guys the last couple of years.
"We could have had her one-on-one on the block. We're not going to post Carolyn under the rim and have Brittney (Griner) add to her blocked-shot list. We have no intention of doing that."
Griner has 678 blocks in her Baylor career, an NCAA record for men or women.
"They would drive in and kick it when they saw me come to help. So, not too much going in when I was in there," Griner said. "When I came out, they started going in a little bit more. But I didn't really see them coming into the paint too much."
Griner, who is also the Big 12 Conference's all-time leading scorer, had 19 points in the first half. She finished with 26 points and 13 rebounds. The 6-foot-8 senior moved into 10th all-time on the Div. I scoring list, passing Penn State great Kelly Mazzante. Griner has 2,929 points in her career.
Brooklyn Pope and Sims each added 13 for Baylor (21-1, 11-0 Big 12) while Kimetria Hayden had 11 points.
Cece Harper had 11 points, and Asia Boyd scored 10 for Kansas (14-7, 5-5).
Baylor led 45-24 at the break and just blew Kansas away to open the second period. Baylor opened the second half on a 22-5 run, with Pope scoring seven and Hayden hitting back-to-back layups. After a Kansas turnover, Sims heaved a three-quarter court pass to Griner under the basket for an easy layup that gave Baylor a 68-29 lead with 13:11 to play, prompting Henrickson to call her fourth timeout of the game.
Kansas then scored the next four points, on two free throws by Boyd and a short jumper by Davis. Baylor then went on another run, with Sims hitting a pair of baskets and Niya Johnson making consecutive layups, leaving Baylor with a 78-33 lead with 6:55 remaining in the game. Kansas went nearly five minutes without a point.
"Yeah, they got us in transition," Henrickson said. "We didn't get to the offensive glass. Odyssey pushed hard in transition. We didn't get on the ball. We tried to play some zone, but she's loose, and a great passer and a great point guard in transition."
Baylor took control early, using a 22-4 run to go up 29-9 with 8:07 left in the first half. Griner scored nine and had an assist during the streak.
"We took care of the ball better," Baylor coach Kim Mulkey said. "When you can hold Angel Goodrich to two points and then Carolyn Davis to six points, that's hard to do. I just thought that those kids that guarded those two players really took it upon themselves to make sure that they didn't have good nights."
More like this story on KUsports.com