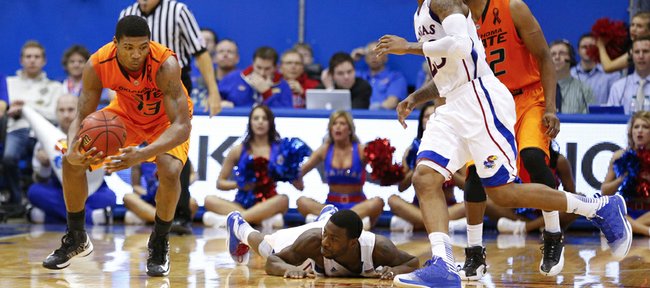 Photo Gallery
Kansas basketball v. Oklahoma State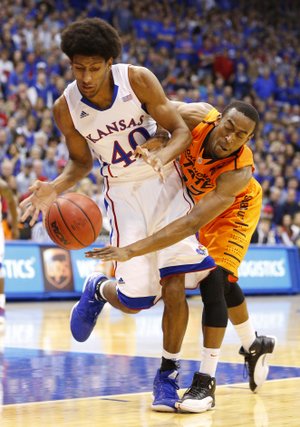 Images from Saturday's game against Oklahoma State at Allen Fieldhouse.
Podcast episode
Kansas coach Bill Self talks after his team's 85-80 loss to Oklahoma State on Feb. 2, 2013.
Podcast episode
Kansas players Kevin Young, Jeff Withey and Ben McLemore talk after the Jayhawks' 85-80 loss to Oklahoma State on Feb. 2, 2013, at Allen Fieldhouse.
Podcast episode
Oklahoma State coach Travis Ford talks to reporters following his team's 85-80 victory over Kansas on Feb. 2, 2013.
Six seconds less than a minute remained and the home team trailed in Allen Fieldhouse by eight points. In fairy tales, and sometimes even in real life, this is when the senior leader straps the team to his back and carries it home safely. It didn't go that way Saturday for Kansas University senior guard Elijah Johnson. Not much has so far this winter for the second-year starter whose move from shooting guard to point guard has equated to a shift from efficiency to inadequacy.
You can't lead a team to a dramatic comeback victory from the bench and that's where Johnson headed with 54 seconds left, replaced by seldom-used freshman Andrew White III. When White signaled to Johnson to let him know he was replacing him, Johnson appeared to freeze in disbelief for a second and then headed to the bench.
"It's sad," Kansas coach Bill Self said of having to make that move at that moment. "But we needed something and we were definitely a better team with him over there sitting down next to us and putting somebody else in the game."
That somebody else, White, hit a three-pointer, made three of four free throws, scored six points and made a crucial steal in 54 seconds.
Johnson's brief eternity on the bench lasted 30 seconds. He still had a chance to put perfume on a stink bomb, and he looked as if he were primed to do so. After Oklahoma State's magnificent man-child of a freshman point guard, Marcus Smart, made one of two free throws with 24 seconds left to put the Cowboys up three, Self flashed two fingers, reminding Johnson a quick two was the play. Johnson, faster speeding straight ahead than he is quick moving laterally, turned on the jets and needed just five seconds to go the distance for a layup that trimmed the deficit to a point with 19 seconds left.
After Phil Forte — son of former KU football player (1983-86, defensive lineman) of the same name — made a pair of free throws with seven seconds left to pump the lead to three points, the last chance to keep alive an 18-game winning streak was placed in the hands of Johnson. Most in the building figured that Oklahoma State coach Travis Ford wouldn't let it come to that and would order a foul since all the research shows it's the smart play. Ford went against conventional wisdom.
Johnson dribbled the ball to the right wing and attempted to get past Smart with a cross-over dribble. For what purpose? Kevin Young said afterward Johnson's intention was to pass it to Ben McLemore for a three-pointer. Self wasn't sure what his intention was, and Johnson was unavailable for comment. Whatever the design, it blew up. Smart stole the ball and pitched it forward to Forte for a layup at the buzzer. Oklahoma State 85, Kansas 80.
Smart responded to the final buzzer with a backflip, which would have qualified as a "did-I-just-see-that?" moment if he hadn't already pulled off so many amazing plays at winning time.
Of all the aspects of Johnson's rough day (3-for-14 overall shooting, 1-for-7 from three, six assists and four turnovers), the final play ate at his coach the most.
"I thought they'd foul and they didn't foul," Self said. "They backed off and Elijah had a wide-open three. All he had to do was bounce it and shoot it. He tried to go past him and crossed over right in front of a guy. I mean, I had no idea where he was going, but certainly not a good play. We had a shot. They backed off."
Nobody made more big shots for Kansas in its improbable run to the NCAA title game last season than Johnson. That was when Tyshawn Taylor, too quick for any one man to guard, broke down the defense and created opportunities for others. Filling Taylor's role has made for a tougher challenge for Johnson, who in the past seven games has as many turnovers (24) as assists.
Self the general manager has made life tougher this season on Self the coach than in most years.
"We don't have a point guard," Self said. "We're playing with two guards, which is OK, a lot of people have to do that."
What's lacking?
"Poise," Self said. "Understanding of the game, getting us into rhythm. We're really not doing much of anything on either end. I mean, it was bad defense too. It's disappointing because we're better than what we played. The thing about our team is, and it's not hard to see if you watch it, we've only got one ballhandler in the game. Travis (Releford) and Ben (McLemore) are recipients of other people's ballhandling. They're not guys who go do it themselves. And when you put them in positions to be your play-makers or be the guy who controls the ball, and that's not who we are. That's not how you can run good offense and look good."
When Kansas climbs back from big deficits, such as Saturday and in the Big 12 opener in Allen Fieldhouse, it seems McLemore finds a way to get more shots up, so for him and teammates to bring some of that urgency to all game situations can't hurt. But it all starts with the primary ballhandler.
"We've obviously got to get some things corrected and get better guard play and I'm not putting it all on Elijah, but that was a really poor game, obviously on both ends," Self said.
Kansas lost this game when Smart said no to Self and yes to Ford.
"He was terrific down the stretch," Self said of the 6-foot-4, 225-pound native of Flower Mound, Texas. "He definitely whipped our guards. I mean he whipped them. That was a physical beat-down that he put on our guys."
If anything, point-guard play becomes more important in mid-March, when the Cowboys will be in good hands with Smart at the controls. Kansas? It usually finds a way to overcome its flaws, Saturday being the exception, not the rule.
"Our ballhandling and our guard play has been terrible all year," Self said. "And certainly today was no exception."