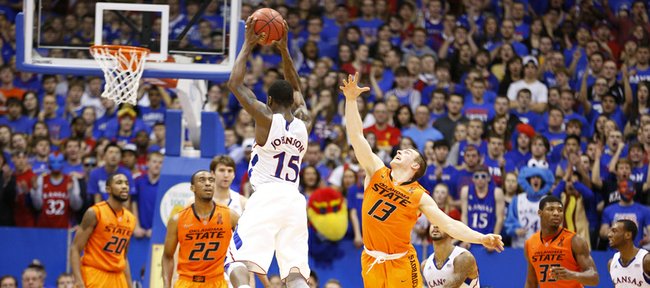 Photo Gallery
Kansas basketball v. Oklahoma State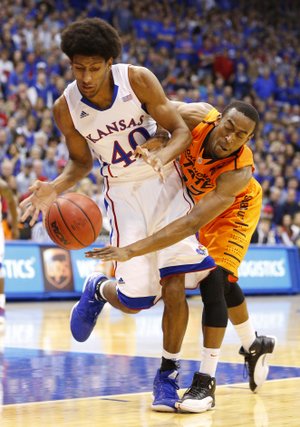 Images from Saturday's game against Oklahoma State at Allen Fieldhouse.
Podcast episode
Kansas coach Bill Self talks after his team's 85-80 loss to Oklahoma State on Feb. 2, 2013.
Podcast episode
Kansas players Kevin Young, Jeff Withey and Ben McLemore talk after the Jayhawks' 85-80 loss to Oklahoma State on Feb. 2, 2013, at Allen Fieldhouse.
Podcast episode
Oklahoma State coach Travis Ford talks to reporters following his team's 85-80 victory over Kansas on Feb. 2, 2013.
Phil Forte, who played football at Kansas University from 1983 to '86, knows how difficult it is for an opposing basketball team to win in Allen Fieldhouse.
That's why the former KU defensive lineman, who was known as one of the most quotable players during the Mike Gottfried-Bob Valesente eras, was momentarily at a loss for words Saturday when approached by a Journal-World reporter after Oklahoma State's 85-80 victory over KU.
His son, Phil, an OSU freshman guard, had 11 points for the surprise victors.
"My goodness, there's no words," Forte said, before coming up with some thoughts. "As a dad, I'm so proud. It's kind of heart-wrenching. I've got my alma mater and my son. You go with your son right now. Of course, I'll be a Kansas fan for life."
Phil's son hit two free throws at :28.9 to give the Pokes an 80-76 lead and two more with 7.9 ticks left to stretch a 81-80 lead to 83-80. He also hit a layup to beat the final buzzer after teammate Marcus Smart stole the ball from Elijah Johnson and pitched ahead with OSU up by three.
"Phil struggled in the first half. He kept his composure and hit some big free throws down the stretch," Phil Sr. said. Indeed, Phil Jr. missed four shots and didn't score the first half; he had 11 points off 3-of-9 shooting and 4-of-4 free throwing the final half.
Dad explained the love for KU in the Forte household in Flower Mound, Texas.
"Philip as a kid ... I took him ... we saw Kansas lose in the (NCAA) championship game against Syracuse. I took him to New Orleans. He was in third grade," Forte said of KU's loss in the 2003 national title game. "I took him to California when we lost to UCLA out there in the Sweet 16 (Elite Eight, 2007). Of course he was there when (Mario) Chalmers hit it and they won it (vs. Memphis in 2008 title game in San Antonio). I think Philip was in eighth grade.
"Of course this was a dream of his," he added of playing in Allen. "When KU would lose, he'd cry. For him to come in here today ... KU's program is incredible. They have a great team."
The ex-Jayhawk football standout said he's looking forward to following not only his son but his alma mater the rest of the season.
"They'll be fine, absolutely," Phil Sr. said of 19-2 KU. "I wish we didn't have to play them again (Feb. 20 in Stillwater)."
Rare feat: Oklahoma State's Travis Ford pulled off a rarity. He now has won in Allen as a player (at Missouri) and as a coach.
Withey block party: KU center Jeff Withey, who had three blocks, passed Cole Aldrich for second on KU's all-time shot block list. Withey, who has 254, is four behind all-time KU leader Greg Ostertag, who had 258 blocks from 1992 to '95. Aldrich had 253.
"This one hurts, definitely," Withey said. "We don't really lose at home. The other time was against Texas two years ago. We wanted to pull this one off for coach (Bill Self). I know he wants to win against Oklahoma State every time just because it is his alma mater. We can spin this into a positive just like we have in the pass with losses. We're going to get a lot better from this loss. We thought we were a lot better than what we were obviously and a loss like this will bring us back to the reality. We're going to go get to work in the gym and get better," Withey added.
Senior Kevin Young on whether a loss could actually benefit the team: "Yeah, I think we can learn from it," he said. "Like coach said we've been playing on borrowed time. We've been cutting it close a lot. I mean it was bound to happen. Now that it did, we just have to spin it into a positive and come out and get better tomorrow in practice."
Kind words: Young on what he told senior point guard Elijah Johnson after the game. Johnson had a key turnover on KU's final possession.
"I just told him to keep his head up. This isn't a one person loss. It's on the whole team," Young said. "Throughout the whole game we all made some mistakes that we could have changed."
This, that: KU had won 16 straight over OSU in Allen Fieldhouse. ... The loss snapped KU's NCAA-leading 18-game win streak. ... It ended KU's 33-game homecourt win streak, which was second longest in the country (Syracuse, 35). ... It marked KU's first home loss since a 74-63 decision to Texas on Jan. 22, 2011. ... It marked the eighth loss in Allen Fieldhouse during Self's 10 years at Kansas.
Team notes: KU outscored OSU, 11-7, in the final minute, highlighted by six points in 39 seconds from freshman Andrew White III. ... KU's 14-point deficit in the first half (26-12, 10:58) marked KU's largest of the season (previously 12 vs. Chattanooga, 11/15/12). ... Markel Brown's seven threes were a career-high. His 28 points were a season-high (30 career). ... Brown's 7-for-10 three-point shooting is best by a foe since Alex Kragel of UNC-Asheville went 7-for-10 on Jan. 2, 2003. ... The eight offensive rebounds by Marcus Smart are most by a foe since Richard Howell of NC State grabbed nine on March 23, 2012. It's the most in a conference game since Justin Hamilton of Iowa State grabbed eight on Feb. 13, 2010.
Individual notes: Ben McLemore hit his first five shots of the second half. ... Travis Releford (eight points) did not score in double figures for the first time in 16 games. Releford was scoreless at halftime for the first time since the Chattanooga game (11/15/12). ... Jamari Traylor tied a career-high with five rebounds. ... After not playing the first 39 minutes, freshman Andrew White III hit a clutch three-pointer in the final minute of the game; his first three in 12 games (last vs. Belmont, 12/15/12).
More like this story on KUsports.com