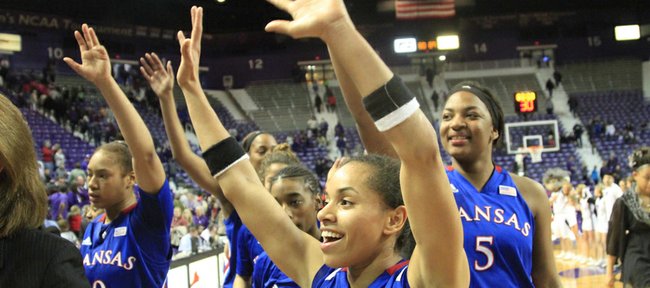 Manhattan — Prior to Saturday's match-up with Kansas State, Kansas University senior forward Carolyn Davis said the Sunflower Showdown would be decided by which team was better able to play to its advantage.
Boy, was she right.
Behind 29 points and nine rebounds from Davis and 19 points from sophomore forward Chelsea Gardner — including 17 of KU's 29 in the two overtimes — the Jayhawks came away with a huge 89-80, double-overtime road victory at Bramlage Coliseum and swept the Wildcats for the first time since the 2000-01 season.
"That's what rivalry games are supposed to look like, right?" KU coach Bonnie Henrickson after said the hard-fought victory, KU's first in Manhattan in its last 12 tries. "This was a big, big, big win for us."
It might have been unintentional, but Henrickson's use of the word big pretty much summed up what went right for Kansas — big buckets by their biggest players at big moments.
Never was that more clear than at the start of both overtimes, when Davis and Gardner scored eight straight to open both extra periods. The pound-it-inside mentality was by design, Henrickson said.
"We didn't feel we were maximizing our advantage," Henrickson said. "So, at the start of the second half, we put both of them on the low block and said, 'Just throw it to those guys, and let 'em go to work."
Added Gardner, who handled the interviews because Davis was busy getting stitches after taking an elbow to the mouth late in the second overtime: "I thought we did a great job. It was awesome. It was a lot of fun out there today."
The big outing was particularly sweet for Davis, who made a triumphant return to the building where she blew out her knee last season. Henrickson said the Jayhawks went to Manhattan on Friday night and went to Bramlage early on for a shoot-around so Davis could get past the haunting memory of last year's season-ending injury.
"I didn't know if it would help," Henrickson said. "But I thought maybe it wouldn't be so overwhelming then. At the end of the day, it didn't matter what I did, that kid played her tail off."
Down the stretch, when possessions became more critical, Davis and Gardner's ability to score and pass out of the post forced the Wildcats to play each straight up, and that led to easy buckets for the Jayhawks, who benefitted from Davis' directing the offense with head nods and her eyes.
"Kansas is just a really hard team to guard for us," KSU coach Deb Patterson said. "I just don't feel we competed with the mental toughness and resolve that our opponent brought to the floor."
Somewhat lost in the dominating performance by KU's post players was the three-pointer by Angel Goodrich with 6.9 seconds to play in OT that saved the day. That's two straight games (and who knows how many for her career?) in which a Goodrich three-pointer allowed the Jayhawks to steal victory in the final five minutes. Goodrich finished with 11 points and five assists. Asia Boyd added 11 points, six rebounds and four assists, and Monica Engelman chipped in a dozen points.
Although the Jayhawks' size and strength turned out to be the difference on offense, KU's lack of a post presence on defense kept the Wildcats in it. Throughout the game, but particularly in the second half, the Wildcats picked up easy buckets right at the rim. They also snagged a whopping 16 offensive rebounds in the final 30 minutes, a headache-inducing stat that left Henrickson less than pleased but also relieved.
"Ugh," Henrickson said. "That was a product of poor rotation rebounding and biting for too many fakes. At one point, I told them to just stop leaving their feet. We got a little better at it, but not much."
Those second, third and sometimes fourth chances for the Wildcats hardly mattered, though.
Davis and Gardner were nearly unstoppable down the stretch, as KSU shot just 33 percent for the game, including 29 percent (5-of-17) in the two overtimes. All-conference KSU guard Brittany Chambers finished with 14 points and 11 rebounds but was just 5-of-20 shooting. Freshman guard Bri Craig, who drained four three pointers, including two that kept the Wildcats alive late, connected on just five of 22 shots.
"I'd like to think we had a little something to do with that," Henrickson said. "But I don't know. I've seen those girls make a lot of the shots they missed today."
The victory, which came with sophomore starter Natalie Knight in street clothes because of the torn ACL she suffered Wednesday, pushed KU to 14-6 overall and 5-4 in Big 12 play. KSU dropped to 12-9 and 3-6.
The Jayhawks will play at top-ranked Baylor at 7 p.m. Wednesday.
More like this story on KUsports.com