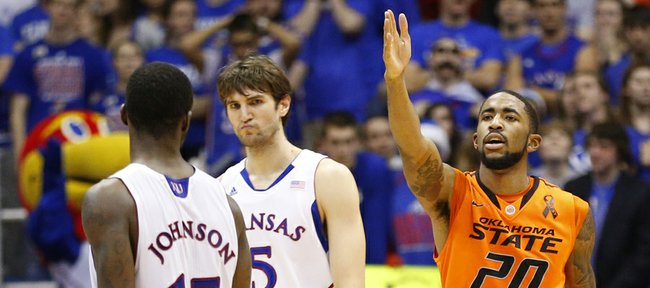 Just after the final buzzer, in the middle of a group embrace with assistant coaches, Oklahoma State men's basketball coach Travis Ford turned to assistant Steve Middleton.
"Oh my god," the coach said with raised eyebrows, as if he couldn't believe what had just happened following his team's 85-80 victory over Kansas University on Saturday at Allen Fieldhouse.
The 16,300 fans who attended the game were stunned as well. KU, which had won 102 of its last 103 games at home, fell to an OSU team that had gone 1-22 in its last 23 Big 12 road games.
"Everybody talks about, 'Coach Ford can't win on the road,'" OSU sophomore Le'Bryan Nash said. "This should get the monkey off his back. Because at Kansas? It doesn't get any better than that."
Clearly, the Cowboys understood the significance of the moment. A few seconds after his game-sealing steal — and after the final seconds ticked off the clock — freshman guard Marcus Smart flipped a cartwheel into a backflip in front of press row.
"We couldn't believe it. We just beat them," Smart said. "We were just celebrating and very excited about it."
Smart said he'd performed a backflip twice in high school after games at state. This one was spontaneous.
"I just had so much adrenaline," Smart said. "I was so excited and ecstatic about the victory that it was just kind of second nature. It just came to me to do it."
Smart dominated the second half, scoring 15 of his 23 points after halftime on 5-for-7 shooting. He also had seven rebounds in the final 20 minutes, which included six on the offensive end.
"We encouraged him in timeouts to start rebounding," Ford said. "We needed him to start rebounding."
Junior guard Markel Brown was the star of the first half for OSU, scoring 22 of his 28 points then with help from 5-for-7 three-point shooting.
"I missed the first shot, and I kind of got down on myself," Brown said. "My teammates said, 'Keep shooting.' After I made my first shot, I think it was a three-pointer, I kept shooting it, and it kept going in for me."
After leading by as many as 14 in the first half, OSU fell behind, 46-45, with 15:16 left following a Ben McLemore three.
"I told our team what's impressive ... 98, 99 percent of all teams who get a big lead in here and then lose it in the second half very rarely, if ever, come back," Ford said. "It takes so much out of you. That's probably the biggest thing I was proud of."
With his team leading, 83-80, with seven seconds left, Ford called a timeout and told his team not to foul KU. It worked, as Smart poked a steal away from KU guard Elijah Johnson.
"We had our rebounders out of the game, so if you go to the free-throw line, you don't have our main rebounders in the game," Ford said. "So I told our guys, 'We are going to switch everything and protect the three-point line, but if you get beat, then we can foul, and we'll take our chances.' I told them, 'Let's D up. Let's make them miss.'"