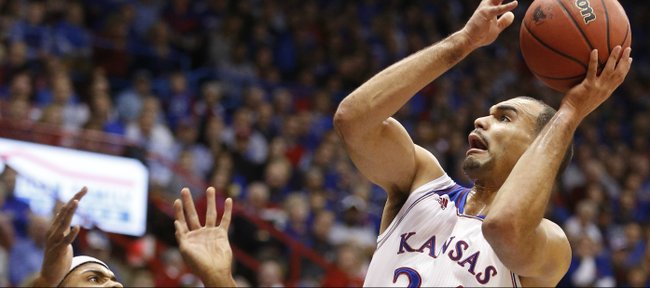 Perry Ellis' mother asked her son a simple, yet serious question, a time or two over the Kansas University basketball team's recent four-day Christmas break.
"I kept saying, 'Who are you? What is your name?' He always had the right answer," Fonda Ellis said of her 6-foot-8, 225-pound sophomore son, who was whacked in the head and spent the final 18 minutes of the Jayhawks' Dec. 21 victory over Georgetown suffering concussion-like symptoms in the locker room.
Photo Gallery
Kansas basketball v. Toledo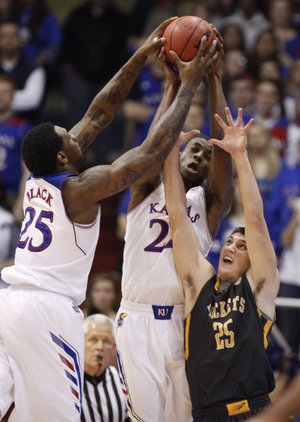 Images from Monday night's game between the Jayhawks and the Rockets at Allen Fieldhouse.
KU-Toledo Box Score
Podcast episode
Bill Self bemoans defensive effort after 93-83 victory against Toledo
Podcast episode
Naadir Tharpe, Perry Ellis and Andrew Wiggins dissect KU's win over Toledo
"Somebody called him on the phone (when he was home in Wichita last week) and said, 'Who are you?' He said, 'Perry,''' she added, smiling.
Perry Ellis' name was on the tips of the tongues of 16,300 fans in Allen Fieldhouse on Monday night, who watched in amazement as he scored 21 points (three off a career high) and grabbed a career-best 11 rebounds in the (9-3) Jayhawks' 93-83 victory over previously undefeated (12-1) Toledo.
He had his second career double-double just nine days after taking a scary hit to the back of the head from a Georgetown player.
"It's still a little bit numb," Perry Ellis said of his neck. He was diagnosed with both a mild concussion and bruised nerve in his neck.
"I got to be at home and got to recover a little bit (reporting with his teammates for practice last Thursday). I felt good out there. I was glad I could be able to play tonight.
"I came into practice trying to be aggressive and not worry about it. It happens in basketball. You get hurt sometimes. I didn't worry about it," Perry added.
He might be a little bit modest, considering he's playing with a strange sensation in his neck area.
"The doctor said it could be a couple weeks to a month for the numbness to go away," mom Fonda said, noting Perry passed all his concussion tests after being cleared to practice Thursday. "It was a little scary (after the initial hit to the head happened). We went into the locker room with Wayne Simien. I gave him (Perry) a hug and he said, 'I'm all right.'''
Ellis impressed his teammates on a night Naadir Tharpe scored a career-high 20 points and Andrew Wiggins went for 20. Last time KU had three players score 20 in a game was Dec. 4, 2002 when four Jayhawks had 20 against Central Missouri State (Keith Langford 23, Nick Collison 22, Simien 22 and Aaron Miles 20).
"He was rebounding the ball well for us the first half, second half, offensively and defensively, just being aggressive," Tharpe said of Ellis. "Attacking, being the scorer he is. We are going to need him to score like this all the time."
Ellis hit nine of 15 shots and buried his only three-point attempt. He also had six offensive and five defensive boards and made two of four free throws.
"I thought Perry rebounded the ball," coach Bill Self said. "They are a good rebounding team and we dominated the glass (44-28). Perry on the offensive end was good."
Ellis had nine points and seven boards the first half as KU led, 43-36, at the break. He had eight points in a 12-5 run that stretched a 45-38 lead to 57-43 in the second.
The Jayhawks were unable to bury the Rockets despite leading by as many as 16 points. Toledo wound up scoring 83 points off 46.4 percent shooting. KU had 18 turnovers while forcing just eight. KU had four steals compared to Toledo's 10 thefts.
"We have a lot to learn defensively as a group," Ellis said. "It takes aggressiveness and really think and not want your man to score. If we get that mentality, we'll be so much better."
KU next will meet San Diego State at 3:30 p.m., Sunday, in Allen.