Monday, December 30, 2013
There can't be many things more frustrating for a visiting coach at Allen Fieldhouse than watching his team play darn near exactly the way he hoped it would and still come out on the losing end.
Photo Gallery
Kansas basketball v. Toledo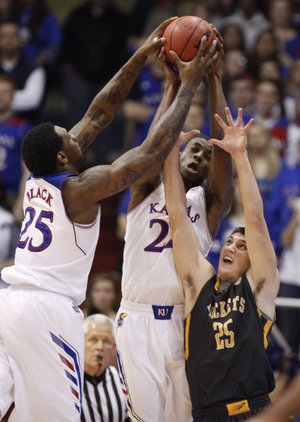 Images from Monday night's game between the Jayhawks and the Rockets at Allen Fieldhouse.
KU-Toledo Box Score
Podcast episode
Bill Self bemoans defensive effort after 93-83 victory against Toledo
Podcast episode
Naadir Tharpe, Perry Ellis and Andrew Wiggins dissect KU's win over Toledo
Toledo coach Tod Kowalczyk knew that feeling all too well following Monday's 93-83 loss to the 16th-ranked Jayhawks, and he had very few negative things to say about his team's showing.
"Gameplan-wise, we played 'em the right way," Kowalczyk said. "No regrets. None."
While that might not be the expected soundbite from the losing team's locker room, the statistics showed that Kowalczyk did not have much reason to be disappointed. Toledo, which fell to 12-1, shot 46 percent from the floor — a respectable percentage by Allen Fieldhouse standards — 56 percent from three-point range and turned it over just eight times while swiping 10 steals and forcing 18 turnovers.
"I thought we were there," Kowalczyk said. "... If we could be in the game with five minutes to play, I honestly thought we were gonna win the game. But, obviously, we weren't quite close enough."
After trailing by as many as 16 in the second half (68-52), Toledo trimmed KU's lead to 79-70 with 6:46 to play but could crawl no closer than eight the rest of the way.
While the Rockets and Jayhawks (9-3) battled back and forth throughout the opening minutes, KU took control late in the first half by doing what Toledo knew it would — pounding the ball inside.
"Oh yeah," said senior guard Rian Pearson, who hails from nearby Raytown, Mo. "A 7-footer inside, Perry Ellis … we knew they were going to attack us inside."
And there wasn't much Toledo could do to stop it. The Jayhawks outrebounded the Rockets 44-28 and outscored them 54-30 in the paint. Ellis led Kansas with 21 points and 11 rebounds — six offensive — and three other Jayhawks snagged at least three rebounds.
"We certainly had some trouble in the second half guarding around the basket with their size," Kowalczyk said. "Getting into foul trouble certainly didn't help us."
Asked to divulge the Rockets' strategy for handling KU's size advantage, Kowalczyk did not hide anything.
"Pack it in," he said. "That's all we could do."
In keeping with Toledo's theme of doing things right but watching them go wrong, the Jayhawks responded to that gameplan by hitting seven of 14 three-pointers. Junior point guard Naadir Tharpe made four of the five he attempted.
"That was big," Kowalczyk said. "I thought a couple of those were just defensive mistakes. We rotated to a non-shooter and left a shooter."
Despite the loss, Kowalczyk said his team remained upbeat and planned to benefit from the experience.
"We came here for two reasons," he said. "No. 1, I wanted to take Rian Pearson home. And, No. 2, I wanted our guys to experience the best atmosphere in college basketball, and we're gonna be a better team for coming out here."