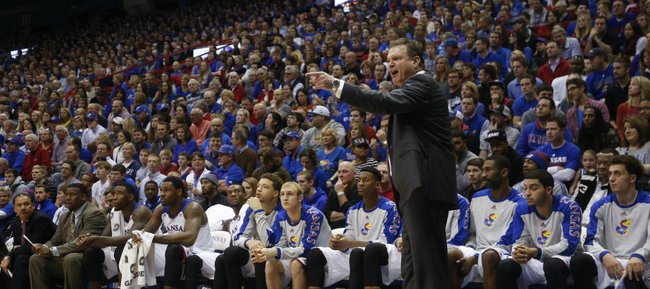 Kansas University basketball coach Bill Self cited one disturbing defensive statistic as he peered at the stat sheet following Monday's 93-83 victory over Toledo in Allen Fieldhouse.
"When's the last time in a non-conference home game did an opponent have eight turnovers (total) and we only get four steals (total)?'' Self asked a group of media members in the interview room.
"I bet you could go back to the 1990s. I could be wrong on that, but I bet you could where both stats are that low playing at home. Now on the road, I can understand that, playing at home that's totally inexcusable to me," Self added.
Photo Gallery
Kansas basketball v. Toledo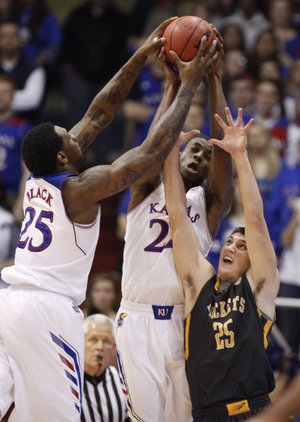 Images from Monday night's game between the Jayhawks and the Rockets at Allen Fieldhouse.
KU-Toledo Box Score
Podcast episode
Bill Self bemoans defensive effort after 93-83 victory against Toledo
Podcast episode
Naadir Tharpe, Perry Ellis and Andrew Wiggins dissect KU's win over Toledo
A check of the record books shows KU actually had just one steal against Temple's four turnovers during last year's 69-62 home victory over the Owls.
Kenpom.com, by the way, tracks percentage of possessions that end with a steal. KU's defense ranks 197th of 351 Division I teams with an average of 8.6 percent, compared to a national average of 9.0 percent.
Self also was disturbed that Toledo hit for 83 points off 46.4 percent shooting. The Rockets hit nine of 16 threes and 10 of 14 free throws. Toledo's 83 tallies were most KU has surrendered in a nonconference home game since a 91-84 win over Siena on Jan. 6, 2009.
"Obviously teams that play here shouldn't give up 83 (points) at home and certainly give up 83 at home when you only give up 10 free throws," Self said. "You could give up 83 if it's a free throw fest, but at a time when you only give up 10 free throws that was obviously as poor of defense as a team can play, collectively, I believe.
"The biggest thing; you scored 93 points you should win that game by a bunch of points and we don't ever give up 70 at home let alone 83 especially when the other team only makes 10 free throws, that's unacceptable."
Self spoke to his team about defense in the locker room after the game.
"I'm frustrated," he said. "I told our team afterward, 'Are we better defensively today than we were when we played Duke (KU's 94-83 win on Nov. 12)?' We spend a lot of time on it and I'd say the answer is probably no. I think Toledo scored easier today than Duke did."
Happy New Year: Self, who spent much of his postgame media session bemoaning bad defense ended with ... "I'm in a great mood and I think there's a lot of things we did well and everybody have a damn Happy New Year," he said, smiling.
Nobody's hurt: Nine Jayhawks played five or more minutes. Self said the players who did not get in the game were DNP/coach's decision. They were not injured.
Game notes: KU outrebounded its opponent (44-28) for the 11th time in 12 games. ... KU hit 56.3 percent of its shots, marking the eighth time the Jayhawks have been over 50 percent. ... KU hit a season-high 50 percent from three (seven of 14). ... KU is shooting 41 percent (25-of-61) from three-point range in its last four games after hitting 29.8 (36-of-121) percent in its first eight games. ... The Jayhawks blocked six shots, marking the sixth time KU has tallied six or more blocks in a game. ... KU's 66.7 percent shooting the second half marked its second-most accurate half of the year (69.2 vs. Towson). ... KU's bench was outscored for just the second time, by the largest margin of the season, 23-10. ... Toledo set KU opponent season-highs for: field goals (32), field goal attempts (69), three-point field goal percentage (56.3) and tied season-highs for assists (15) and steals (10).
Individual notes: Naadir Tharpe scored a career-high 20 points and had a career-high four threes in five tries. ... Perry Ellis' only other double double occurred one year and two days ago (vs. American). ... Ellis (21 points, 11 boards) led the Jayhawks in scoring for the fifth time this season, tying Andrew Wiggins for the team lead. ... Joel Embiid had his second-career double-double with 14 points and 10 rebounds. ... Embiid had a career-best six offensive rebounds, the most by a Jayhawk this season and three blocks. ... Ellis and Embiid's double-doubles marked the first team two Jayhawks have recorded double-doubles in the same game since Elijah Johnson and Jeff Withey teamed up against West Virginia on March 2, 2013. ... Wiggins has converted 22 of his last 23 free throw attempts. ... Frank Mason dished a career-high seven assists and is now boasting a 12:2 assist-to-turnover ratio over his last three outings.