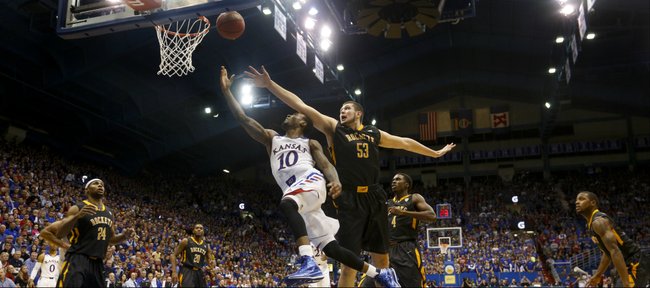 In the time it takes for a college basketball shot clock to expire, Kansas University had turned the ball over twice on bad passes from Naadir Tharpe and Andrew Wiggins and surrendered a three-point shot after Tharpe was taken out of the play by a high ball screen.
Bill Self had seen enough and called a timeout. If Tharpe had a pair of ear plugs hidden in his sock, he might have considered standing behind Joel Embiid long enough to put them in his ears without the coach noticing. Tharpe knew who was about to enter them with short words delivered at high volume.
Photo Gallery
Kansas basketball v. Toledo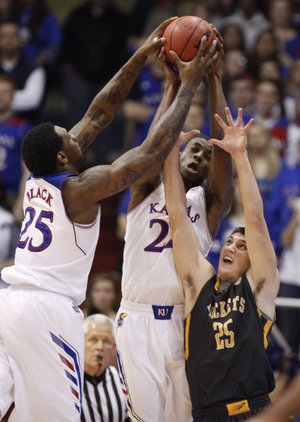 Images from Monday night's game between the Jayhawks and the Rockets at Allen Fieldhouse.
KU-Toledo Box Score
Podcast episode
Bill Self bemoans defensive effort after 93-83 victory against Toledo
Podcast episode
Naadir Tharpe, Perry Ellis and Andrew Wiggins dissect KU's win over Toledo
As the point guard and most experienced player, it's Tharpe's job to get his team off to a good start. He didn't do that at either end and Self let him have it.
Tharpe spent the rest of the night making up for it. The junior guard from Worcester, Mass., scored a career-high 20 points, made seven of eight shots and four of five three-pointers, to go with eight assists and five turnovers.
"I screwed it up because I should have taken a timeout five seconds into the game after our first turnover," Self said of Tharpe's errant pass to Wayne Selden in the corner, a turnover pinned on Selden 13 seconds into the game. "I don't know if I've ever taken one that fast before, but I think I could have helped our team a little more if I would have taken it earlier because that wasn't a great way to start the game."
Tharpe used the tongue-lashing as inspiration, not as a reason to make his confidence run away and hide. He made his first four three-pointers, made good decisions on when to shoot, when to keep the ball moving and when to attack with the dribble. He also played well on the wing when he and freshman Fearless Frank Mason (seven points, one assist) played together.
"I actually told him after the game I thought the showed some guts to respond," Self said of Tharpe. "To me, how we start a game is more dependent on a point guard's mindset and how he starts the game. After that, I thought he responded great. I thought he defended well. After he got that little turnover bug out of his system, he took care of the ball better and certainly he shot the heck out of it."
Tharpe always has had a nice-looking three-point shot, one that usually looks as if it's going in when it leaves his hand. Yet, until a recent stretch of hot shooting, his three-point attempts teased with hope more than anything. He shot .273 from long range as a freshman, .330 as a sophomore. And in his first five games this season, his percentage stood at .333.
In the past six games, Tharpe has made 11 of 23 three-pointers, a .478 percentage, boosting his season number to .429.
"He's been shooting great in practice," Self said.
Tharpe said his recent shooting streak is the result of him becoming more aggressive.
"I'm going to miss shots, but I feel like I can shoot the ball well and I feel like the next shot I take is going to go in," Tharpe said. "If I just keep that mentality and my teammates keep on encouraging me as well as the coaching staff, I'm going to be able to keep shooting this well. Hopefully."
Looking back on the quick timeout, Tharpe paraphrased his coach's words, rather than directly quoting him, yet another good decision from the developing point guard.
"Just for me to pick it up, really," Tharpe said. "I was letting my man score too easy. He hit two shots right away. It kind of got them going a little bit. He just kind of let me know that what I was doing wasn't good enough."
N.G.E. Not good enough. Tharpe became better as the fast-paced, entertaining game progressed. But his big night did not leave him complacent.
His best game in a Kansas uniform?
"I wouldn't say, like, all-around best game because I still had a couple of lapses at the defensive end," Tharpe said. "They scored a lot of points, but I shot the ball pretty well. I guess this was one of my best shooting games here, but I still had five turnovers. I have to do better on that, but I thought I played well. My teammates helped me out, encouraged me to keep shooting and stay aggressive."
When Tharpe went to the bench for a brief stay with his fourth foul, Mason did a terrific job running the team and found Perry Ellis under the hoop with a long, on-target pass that put KU up 11 points with 3:58 left. Toledo shaved its deficit to eight points and Tharpe pumped it back to 11 with a strong drive to the hoop from the left wing with 2:14 left.
Point guard doesn't need to be KU's strongest position, but it can't be a liability either, and recent progress from both Tharpe and Mason is an encouraging sign for the young, talented Jayhawks.