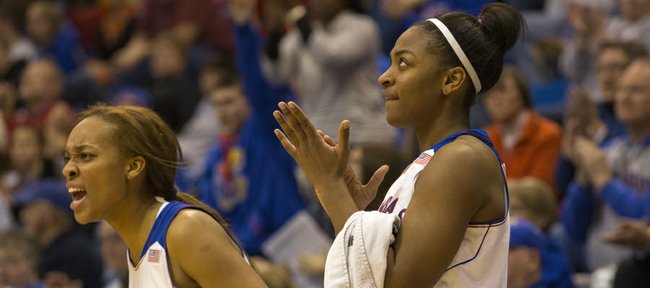 After a few days off to recharge their minds, spend time with loved ones and get away from basketball over winter break, the members of the Kansas University women's basketball team returned to Lawrence Thursday with some extra energy.
Just in time, too, as the Jayhawks (6-5) had only a couple of practices to prepare for Sunday's 2 p.m. matchup with Yale (5-6) that will mark the end of nonconference play.
"It was quick," KU coach Bonnie Henrickson said of the break. "But it was good for them to get some time off, spend some time with their families and get back into it. The freshmen have had really good pop, and sometimes they're the hardest ones to get back into it."
Sunday's matchup with Yale will bring to a close one of the more interesting nonconference stretches in recent years for the KU women. Most years, the Jayhawks have used the nonconference portion of the schedule to rack up a bunch of victories and get some confidence heading into the tough Big 12 schedule. This year, those wins have been tougher to come by and the Jayhawks have struggled with consistency.
Because of that, Sunday's game means a lot more to the players and coaching staff than one might think the 12th game of the regular season would.
"I think it's real important for us to end (nonconference play) with a good, solid win," junior guard Natalie Knight said. "We haven't had one of those in a while and that would help us feel good going into conference play."
While the Jayhawks have struggled to stay above .500 for most of the non-conference schedule, the inconsistent results make sense when considering the strength of KU's opponents. The Jayhawks have faced two ranked teams and others who were on the verge of getting hot. They didn't beat many of them, though, and that's a particular problem when considering that, after Sunday, eight of KU's next 18 games are against currently ranked teams.
"I think we really need to find ourselves in this next game," said senior point guard CeCe Harper, who leads the Jayhawks in assists, steals and minutes played. "We need to spark something to get ready for (Big 12) play and give us confidence going into the conference."
The Bulldogs enter Sunday having lost five of their last seven, and they have scored more than 67 points just three times all season.
Despite what Yale has and hasn't done, the Jayhawks spent the extra downtime focusing on themselves.
"What's been good for us is the opportunity to get in the gym and practice," said Henrickson of her squad, which has played just three games in the past 25 days.
That practice time has led to more confidence, and a victory Sunday would add to it.
"I feel like we have been progressing," Harper said. "Everyone's giving a bit more than they were at first and we're kind of finding where Bonnie wants us to be and getting into the system and what needs to be done. ... We're growing, but we still have a long ways to go."