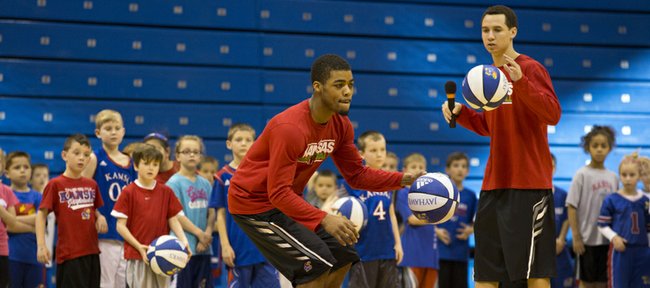 The best present Kansas University freshman point guard Frank Mason received for Christmas was the gift of time spent with loved ones back in Petersburg, Va.
"It was good to go home. I got to see my son, my family, close friends. It was really nice going home," Mason said after Saturday's practice and before the Jayhawks' holiday basketball clinic in Allen Fieldhouse.
"He liked everything he got for Christmas. He was very happy. There were a lot of smiles," Mason added of 2-year-old son, Amari.
Mason, who said being a dad has taught him about "taking more responsibility on a lot of things, a lot of discipline and making me look at things differently," took charge in instructional drills with about 500 young KU basketball fans at the 2 1/2-hour clinic.
The 5-foot-11 dynamo has already come a long way in the leadership department at the major college level.
"I need to create more opportunities for my teammates to get open shots, to get shots for the bigs. I'm trying to be more vocal and be more of a leader," said Mason, who has started three games and come off the bench in eight for the Jayhawks, who take an 8-3 record into Monday's 7 p.m. game against 12-0 Toledo in Allen.
"Whatever the coach feels is best for me, I'm willing to do," added Mason, who the last two games has settled back into a reserve role. "Right now I'm coming off the bench. I just want to give a great spark for the team, do whatever they need me to do."
Mason — he averaged 17 points and eight assists a game last season at Massanutten Military Academy in Virginia — has averaged 7.9 points with 29 assists against 15 turnovers while logging 19.6 minutes a game.
He's made 39.1 percent of his shots, but cashed just five of 22 threes.
"I'm not satisfied at all. I know I'm capable of shooting way better than what I'm doing," Mason said. "I know it will take a little time, just stay confident in my shot."
Asked if he's a better long-distance shooter than what he's shown, he said: "For sure I am. I guess it will come with the flow of the game. In high school I shot more of a set shot but now in college I've got to jump. I'm adjusting to that.
"I feel like spotting up in the corner and waiting (for a pass) ... there's a better chance of me making the shot. But off the dribble, like going to the right ... I really have to work on that because it's not comfortable, for real. Pulling up from the left is comfortable, and I like that a lot."
He said he's been working on his form with KU assistant Kurtis Townsend.
"It's the way I'm releasing the ball. I'm aiming it and not just shooting," Mason said. "I think that's the reason (the shot's been off)."
KU coach Bill Self believes the shots will start falling.
"Frank can shoot it ... without question," Self said. "The percentages aren't great so far this year from three (but) Frank's a good shooter."
Mason would like to start piling up the assists and move the ball crisply against both the man and zone.
"In man, you can break a defender down and you kick it out to the open guy," Mason said. "The zone is pretty much packed in. You have to know what you are going to do before you do it."
Ellis, White practicing: KU sophomore Perry Ellis, who suffered concussion-like symptoms early in the second half against Georgetown on Dec. 21, "is fine from a health standpoint. He may be a little stiff like he's got a little crick in the neck, but he's fine," Self said.
Of Andrew White III, who missed two games because of a hip pointer, Self said: "He's full speed, too."
Tyler likely to red-shirt: KU sophomore guard Tyler Self, who has not played in a game this season after tearing a ligament across the top of his foot in a preseason practice, is "probably" going to red-shirt the season, Bill Self said Saturday.
"He's three or four weeks away (from playing)," Bill Self said of his son. "It's not quite healed yet. We think we can avoid surgery if he takes more time off. I don't think he'll mind at all (red-shirting). When players red-shirt ... from an academic standpoint, it's a good thing."
Prayers for Hinson's family: Self has been saddened by the death of Niles Thomason, 31-year-old son-in-law of former KU director of basketball operations Barry Hinson, who is coach at Southern Illinois. Thomason died of natural causes on Christmas Day while visiting family in Carbondale, Ill.
"Obviously it's a terrible thing ... Barry will be a rock for his family. He always has been. He and his family do need everyone's thoughts and prayers right now," Self said. "They are going through a lot now."
The lion saga continues: Self and freshman Joel Embiid had a funny exchange at Saturday's clinic when Self introduced the 7-foot Cameroon native to the campers.
"(Standing) next to Naadir (Tharpe) is the only guy on our team who has actually physically killed a lion. Isn't that right, Jo?" Self asked Embiid, who was standing in a team lineup. "How many lions have you killed? Just one? Did you do it with your bare hands? Oh you had a spear?" Self added, relaying Embiid's answers to the crowd.
"You know, Jo is from Cameroon. He has a lot of personality and a very difficult time telling the truth," Self concluded amid a roar of laughter from the attendees.
Red-shirt gets time off: Red-shirt center Hunter Mickelson did not attend the clinic. "I told Hunter he didn't have to come back (from hometown of Jonesboro, Ark.) until tomorrow. As a red-shirt, he gets a couple extra days with his family," Self said.
Close-knit team: Freshman Wayne Selden said everybody was happy to reunite after a four-day break. "We love being around each other. That's the biggest thing. We actually missed each other being home. We couldn't wait to get back in that sense, so that was good," the Roxbury, Mass., native said.
Alexander dominates: KU signee Cliff Alexander scored 37 points (with 10 dunks), grabbed an unheard-of 26 rebounds and had five blocks in Chicago Curie High's 74-73 overtime win over West Aurora on Saturday at the Pontiac (Ill.) Tournament. The 6-foot-9 Alexander, who is ranked No. 4 nationally by Rivals.com, dunked to beat the final horn for the winning shot/slam.
Alexander scored 16 points with 12 rebounds and seven blocks in Curie's 62-59 win over Simeon in the Pontiac final on Saturday night. He was MVP of the tourney.
More like this story on KUsports.com