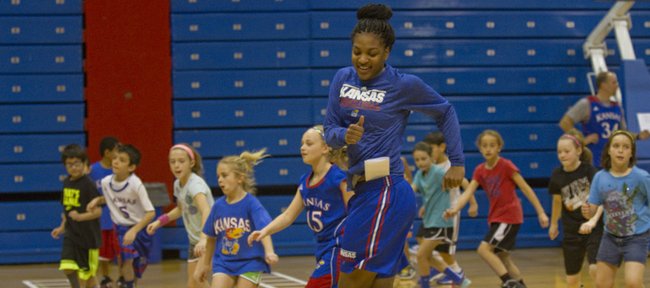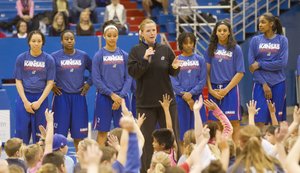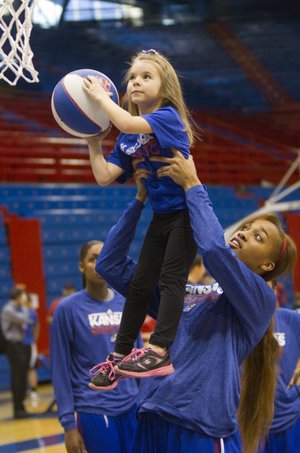 For Kansas University junior Bunny Williams, a day like Friday was nothing new.
Rather than being overwhelmed by the 225 loud and proud little Jayhawks who attended the KU women's team's annual holiday hoops clinic, Williams simply flashed back to her childhood, when her mother, Ton'Nea Williams, hosted similar camps for children of all ages.
"I was maybe 5 years old when I went to my first basketball camp, and I spent every summer at things like this," the KU forward said before hitting the floor at Allen Fieldhouse for two hours of fun and entertainment.
Williams and her teammates, along with the KU coaching staff, spent the afternoon going through a variety of basketball-related drills with their youngest fans. Parents came to watch — some even suited up, as well — and more than 50 registration forms were filled out on a walk-up basis. The Jayhawks, who practiced before the event and will return to action at 2 p.m. Sunday against Yale, took the floor with one thing on their minds.
"The most important thing for us is just to give great energy," KU coach Bonnie Henrickson said. "It's access. They're here to get their autographs and spend time with (the players), and we want to impart our love of the game and any wisdom we might have on (the fans)."
Henrickson, whose program gets involved in a number of community-outreach events throughout the year, seemed particularly jazzed about this one.
"We all have a soft spot for little kids," Henrickson said. "And to watch their excitement for what we get to do every day is awesome. How many people participate in this just because of the building they get to walk into or because they get to dribble a ball in Allen Fieldhouse?"
Henrickson said all of her KU teams had done a great job at this event in the past but thought this year's group was particularly equipped to run it because of their love of children.
"Most of them have younger siblings," Henrickson said of her players. "I would bet 10 out of our 12 have younger siblings, so they're used to it and they're comfortable with it."
Beyond that, with so many members of this year's team being first-year players, Henrickson said their youthful exuberance came through.
"They're probably the most outgoing group we've had, and it's really important to them to give back," Henrickson said. "... It's so much fun. It's so cute."
Different members of the KU team set up at stations designed to teach everything from ball-handling and shooting to rebounding and defense and the groups rotated to each one throughout the afternoon.
Williams was in charge of the rebounding station but she couldn't help but laugh when thinking back at some of her favorite moments from years past.
"The little boys are funny because they think the girls can't shoot and they're like, 'I got it, I got it,'" Williams said.
Asked to pinpoint her favorite part of the event, Williams needed no time to brainstorm.
"I think it's just seeing how happy they are to see us and how happy they get when they make a shot and stuff like that."
Added junior guard Natalie Knight, one of KU's sharpshooters who taught the youngsters how to use the glass at her station: "A lot of them are here just to have fun and we want all of them to have fun but we do try to teach them a little something and hope they walk out of here knowing a little bit more than they knew already."
More like this story on KUsports.com