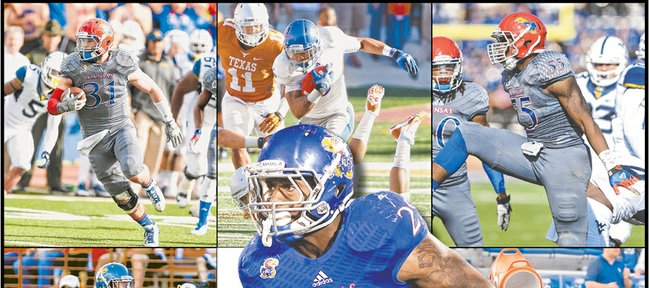 Whether you're one who views the season's 3-9 record as a sign of progress or impending doom, there were plenty of moments worth highlighting during the 2013 Kansas University football season.
Because of the offense's season-long struggles and the tally marks that continued to pile up on the wrong side of the win-loss column, the top moments and top players from head coach Charlie Weis' second season in charge of the Jayhawks may not pop into your head with ease. But that's where we come in, to help you remember the good, bad and ugly moments of another season of Kansas football.
Here's one final look back at 2013:
Offensive MVP
James Sims — For the fourth straight season, Sims led the Jayhawks in rushing, this time finishing with a career-best 1,110 yards. Changes on the offensive line made the yardage tougher to come by this season for the Irving, Texas, native, but Sims got every inch he could and finished his career in third place on KU's all-time rushing list, with 3,592 yards. He also finished second on KU's career rushing touchdowns (34) and 100-yard games (15) lists, making him one of the most productive backs in school history.
Runner-up: Tony Pierson — Here's the thing about Pierson's 2013 season, which was cut short because of head injuries: Even while playing just half of the team's games, Pierson still wound up as the Jayhawks' leading receiver, with 333 yards and a touchdown on 24 receptions.
Defensive MVP
Ben Heeney — While his 2012 campaign put him on the map, his 2013 season established him as one of the top defensive players in the Big 12 Conference. Heeney missed a couple of games because of injury this season, but he still finished fourth in the Big 12 with 8.7 tackles per game and reached double-digit tackles in six of the 10 games he played. The KU defense made strides around him, but Heeney remained by far the unit's leader and most impressive performer.
Runner-up: Isaiah Johnson — Johnson's contribution was nothing short of remarkable for a player going through Div. I football for the first time. The Iowa Western transfer finished second on the team with 73 tackles and also led the Jayhawks in interceptions with five, placing him second in the Big 12.
Offensive Rookie of the Year
Darrian Miller — It's hard to call Miller a rookie given the fact that he could've won this award in 2011 during his first stint with the Jayhawks. But he did step away for a year, and his return makes him eligible. Miller also missed several games down the stretch, but while he was out there he proved to be a nice complement to Sims. Miller finished second on the team in rushing with 322 yards in eight games and 603 all-purpose yards.
Runner-up: Jake Heaps — A lot of people are down on Heaps for the numbers he delivered this season. And if you're looking at it from the viewpoint of numbers only, that's fair. If you take into account his leadership, effort, attitude and the fact that he was playing behind a broken offensive line and with butterfingered receivers, I think he deserves some credit for hanging in there and throwing for 1,300 yards and seven TDs during his first season at KU.
Defensive Rookie of the Year
Isaiah Johnson — Johnson was the Big 12 Conference's newcomer of the year, so giving this to anyone else would be foolish. Luckily, he's more than deserving of both honors.
Runner-up: Dexter McDonald — Like Miller, McDonald's 2013 season was his second stint at KU after a year away. This time he stood out, finishing with two interceptions, 10 pass break-ups and 29 tackles as KU's top cornerback. Perhaps the most telling statistic about McDonald's season was the number of times opposing quarterbacks challenged KU's other starting cornerback, JaCorey Shepherd, instead of testing McDonald, a 6-foot-1, 200-pound junior with pro potential.
Game of the Year
Kansas 31, West Virginia 19 — The goal posts came down, the 27-game conference losing streak was snapped and smiles and joy returned to Memorial Stadium. Forget the fact that this was not actually much of a game in a competitive sense, there isn't anyone anywhere who would argue with the win over West Virginia being KU's best moment of the 2013 season.
Runner-up: Oklahoma 34, Kansas 19 — Sure, the Jayhawks won two other games, but neither was particularly impressive. Playing mighty Oklahoma within seven points late in the fourth quarter was.
Offensive Play of the Year
James Sims' 68-yard touchdown run against West Virginia — With the Jayhawks clinging to a 10-7 lead and content just to run out the clock on the first half, Sims broke through the left side of the offensive line and ran untouched to the end zone to put KU up 17-7 at the half. The run, which was one of many big gains for the KU ground attack that day, inspired those in attendance and those in the locker room to start thinking that Nov. 16 could actually be the day KU's Big 12 losing streak would come to an end. It was.
Runner-up: Jimmay Mundine's 22-yard touchdown reception in the fourth quarter against Louisiana Tech — The first of four touchdowns on the season for the junior tight end was one of the top individual-effort plays of 2013 and kept the Jayhawks alive in a game they won at the buzzer.
Defensive Play of the Year
Michael Reynolds' strip of running back Kenneth Dixon that saved the Louisiana Tech game — With Tech driving for a game-winning score and 90 seconds remaining on the clock, Reynolds made the type of winning play that Kansas has not seen much of lately. The image of junior tackle Keon Stowers emerging from the pile with the ball and sprinting to the KU sideline is one of the moments that will stick in my head for a while.
Runner-up: JaCorey Shepherd's pick-six interception return against TCU — The KU offense was struggling mightily, and the defense was doing all it could to keep KU in the game. Finally, Shepherd decided that enough was enough and took the scoring into his own hands — literally. The touchdown, which came midway through the second quarter, was KU's first of the day. It tied the game at 10 and provided notice that the Jayhawks were there to compete.
Special Teams Play of the Year
Matthew Wyman's 52-yard field goal to beat Louisiana Tech as time expired — Sure, this was a game-winner, and it set off a heck of a celebration, but had it not been for a couple of colossal mistakes from Louisiana Tech, it wouldn't have happened at all. Still, with the game on the line, the walk-on kicker who came out of nowhere to win KU's starting job stepped up and drilled the kick to help KU improve to 2-1 and erase an overall sub-par effort.
Runner-up: Any one of junior punter Trevor Pardula's booming punts — For a while, Pardula was among the top punters in the country. He still finished with an average above 44 yards and delivered a whopping 23 kicks of 50 yards or longer.
Most Improved Player
Michael Reynolds — Left for dead after a couple of underwhelming seasons, the junior from Wichita worked his tail off to become an every-down player and wound up having a monster season. He finished with 37 tackles but made them count, recording 6.5 sacks, 10 tackles for loss and added four pass break-ups, three quarterback hurries and two forced fumbles.
Co-runners-up: Kevin Young and Keba Agostinho — The seasons turned in by these two fifth-year Jayhawks were more about character than anything else. With the Jayhawks doing everything they could to bring in better players on the defensive line, lesser men would've rolled over and given their jobs away. Instead, Agostinho and Young turned in the best seasons of their careers, combining for 58 tackles, 10 for loss and 3.5 sacks while proving to be two of KU's most consistent defensive linemen all season.
Feel-good Moment
Weis hires offensive coordinator John Reagan — The Louisiana Tech miracle and West Virginia victory were memorable games, but neither brought the kind of hope as did the news that Weis was hiring help for the offense late in the season. During his first two seasons in town, KU's offense has struggled with consistency, and the news of the 2014 return of Reagan re-energized the fan base.
Runner-up: Justin McCay's five-yard touchdown reception in the season opener — It didn't wind up being an accurate predictor of a solid season ahead for McCay or any of KU's receivers, but it did put to rest all that talk about a receiver not catching a touchdown during 2012.
Feel-not-so-good Moment
Losing 23-14 at Rice during the second game of the season — At the time of the loss, the Jayhawks still had plenty of season ahead of them and hopes for a solid showing, but you could not help but feel the anxiety and uneasiness that the loss in Houston — KU's second in a row to the Owls — had this team a little worried about what was to come.
Runner-up: Getting housed by 1-9 Iowa State in Ames, Iowa — It had been 27 games since the Jayhawks were shut out, and no one saw it coming in this one. Awful weather, poor field conditions and a hungry Cyclones squad had a lot to do with the 34-0 outcome, but this loss had to go down as the most disappointing of them all during 2013.