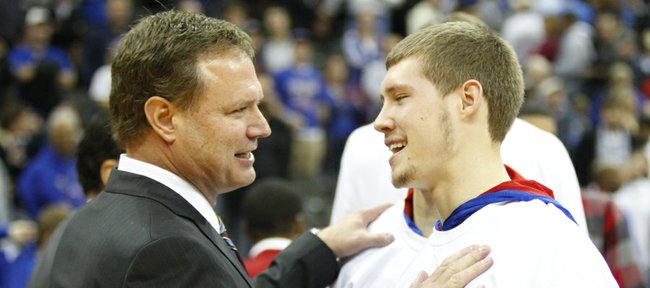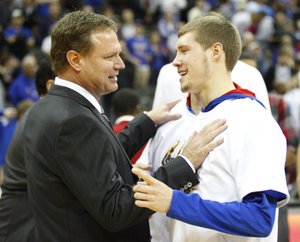 Coaches are prohibited from paying their players cold, hard cash in accordance with NCAA extra-benefit rules.
One exception, however, is if the player happens to be a blood relative of the coach.
It's definitely not against the letter of the law to give one's own son a Christmas present or two.
"I can't do anything for him, but his mother spoils him rotten," KU coach Bill Self joked, asked by one of his "Hawk Talk" radio show callers if he can slip his son, KU sophomore guard Tyler Self, some money, and if assistant coach Norm Roberts, dad of senior Niko Roberts, can do the same for his son.
"There are advantages of having your son on the team," Self added. "I do not expect Tyler to tell me anything going on with the guys. He cannot betray the locker room. What happens in the locker room stays in the locker room, or on the court. Same with Niko. They all handle that very well.
"Tyler has a unique way of telling me stuff without telling me, without coming out and saying whatever. Like, 'We can do something to help so and so play better.' Stuff like that when he knows that's what needs to be done. He does a good job with that."
Tulsa talk: Danny Manning's second Tulsa team is off to a 4-8 start.
"They played a hard schedule to start out," Self said. Tulsa has lost at Oklahoma, Missouri State, Creighton and TCU and against TCU and Green Bay in the Great Alaska Shootout. The Hurricane also lost to Wichita State and Oral Roberts at home, while beating Indiana State, Texas Southern, Grand Canyon and UA Little Rock.
"You lose one maybe you think you have a great chance to win, the others you are underdogs in. He'll do fine. I've talked to Brett (Ballard, Tulsa assistant, former KU staff member). He says they are a lot better than last year (17-16). It's a matter of time before they get it rolling. Danny will do a great job.
"It's a great job," former Tulsa coach Self added of the Golden Hurricane post. "For a first job, it's unreal. My first job (at Oral Roberts), I lost 18 in a row. For Danny to get that first gig, that's a great job. They've been a little down (as program). They've had a lot of coaches the last 15 years. Not a lot of coaches have stayed a long period of time. Tulsa is a great place to live. It's a good situation."
Reunion: Manning's Golden Hurricane recently beat Grand Canyon, 66-65, in Tulsa. Grand Canyon, which led by nine points in the second half, is coached by Manning's former 1988 U.S. Olympic teammate Dan Majerle, who also played with Manning on the Phoenix Suns.
Graduate, then transfer: Self does not like the controversial rule that allows a college basketball player to transfer and not have to sit out a year if that player has already received his undergraduate degree.
KU benefited from that rule when senior Tarik Black left Memphis for KU last summer.
"It's one of the bad rules we have," Self said. "If a kid is going to transfer, he should sit. Everybody sits across the board. Even in Tarik's situation, he graduates in three years. If you want to go somewhere else and play, do so and allow the red-shirt (season) to happen. If you want to work on your masters, you get two years, which ensures the masters. I wish there was more an academic component to it.
"The way the rule reads, you can be eligible immediately as long as the institution offers something you don't have at your previous institution. If you graduate in three years and have one left, sit a year, and that gives 'em an extra year. It's the smartest thing from an academic standpoint."
Black received his undergraduate degree in organizational leadership. Armed with that degree, Black left Memphis for KU last summer. He's in the Masters program at KU.
Self said, in retrospect, he's lucky that Black happens to be a top-notch person.
Self didn't have a lot of time to get to know him during a quick recruiting process.
"You don't know a kid until after his season is over. It's April before he decides to leave," Self said. "I went into his home for the first time at the end of April. You get to know a kid two to three weeks. You think you know what you are getting. Since he got here, Tarik has won everybody over. He is so smart and articulate and kind-hearted. He makes such a great first impression, you can't help but respect him."
More like this story on KUsports.com