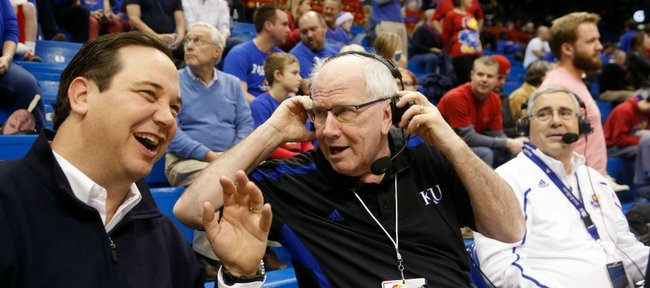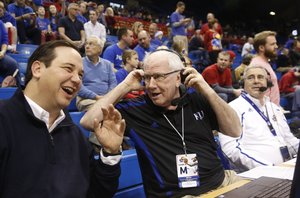 Bob Davis, a 2006 inductee in the Kansas Association of Broadcasters Hall of Fame who has been named the state's Sportscaster of the Year 13 times, isn't the type of person to boast about his own accomplishments.
"I am not the event or 'the thing,'" Davis, the radio play-by-play voice of Kansas University basketball and football, said good-naturedly.
"The players and coaches are the deal. That's how you have to approach it."
Davis, who normally chronicles the stories of others, is one of the stories surrounding KU athletics this school year.
The 1967 Washburn University graduate — he was born in Iola, but also lived in Independence, Manhattan, Topeka and Hays — is more than halfway through his 30th-anniversary season covering the Jayhawks' two highest-profile sports.
"Absolutely," Davis said, asked if the 30-year milestone classified as a personal "thrill."
"There have been a lot of great highlights, a lot of conference championships. We've been to eight Final Fours (1986, 88, 90, 93, 02, 03, 08, 12), five national championship games (88, 91, 03, 08, 12) and won two national championships (88, 08). Great highlights, great players. Three Hall of Fame coaches to work with. Two of them are already in (Larry Brown, Roy Williams), and one will be (Bill Self)," he added, starting out discussing his basketball memories at an interviewer's request.
Davis' first hoops assignment turned out to be one of his most eventful. KU toppled Maryland, 58-56, in a first-round Great Alaska Shootout game on Nov. 23, 1984. In cold weather, Davis was under the weather.
"I was hoping I could survive the Great Alaska Shootout that opened the season because I had a terrible cold and could hardly talk," Davis said. "We were up there when Doug Flutie threw the 'Hail Mary,'" added a man his peers say has a great memory.
Davis and his co-workers watched on TV as Flutie led Boston College to a memorable 47-45 football victory over Miami on the first day of the shootout.
But he digresses …
Davis called the 50th-anniversary NCAA title game — KU's 83-79 win over Oklahoma on April 4, 1988, in Kansas City, Mo.
That game was deadlocked, 50-50, at halftime.
"I knew they had to play really well, and they did. It was considered an upset," Davis said of KU pulling out a win over an OU team that had defeated the Jayhawks twice in that 1987-88 season. "Danny (Manning) was superb. That was quite a Final Four ... Duke and Arizona were really good, too. It was such a weird deal being in Kansas City and in Kemper Arena, with two Big Eight teams and the Big Eight the host. The stars were aligned."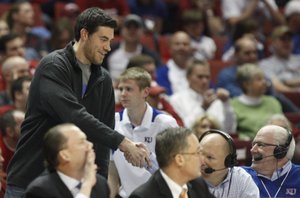 Twenty years later, he called KU's 75-68 overtime victory over Memphis in the 2008 title game in San Antonio.
"When he missed the first of the two free throws, I said, 'It's not over yet,'" Davis said of Memphis' Derrick Rose bricking the first free throw, then making the second, giving the Tigers a late 63-60 lead.
"By gosh, it wasn't over yet," Davis added.
Mario Chalmers hit the biggest shot in KU history — a three with 2.1 seconds left — to force that thriller into overtime.
"The coolest thing about that, and I think Bill (Self) said this ... as soon as Mario made the shot, they went into defensive mode because there was time for a 'Hail Mary' from Memphis," Davis said.
A last-second shot clanged, however, forcing the extra session.
"When you got to overtime," Davis said, "you had a feeling ol' mo(mentum) had put on the Red and Blue."
Self, the man who coached KU to that title, is grateful Davis was the person on the historic call.
"Bob is a consummate pro," Self said. "I don't know if anybody in America has a better play-by-play guy than we have at the University of Kansas. We are fortunate to have him. He is a fun guy to work with."
Davis has plenty of memories working football games, as well.
"The Orange Bowl was great," he said of KU's 24-21 victory over Virginia Tech in 2007 in Miami. "So was the Missouri game the next year (40-37 victory at KC's Arrowhead Stadium). Tony Sands rushing for 396 yards (vs. Missouri in 1991). Beating UCLA in Hawaii (51-30 in 1995 Aloha Bowl), the first time they beat Nebraska (40-15 in 2005)."
Davis has had only four color announcers in his 30 years at KU. They are: Max Falkenstien, Chris Piper and Greg Gurley in basketball and Falkenstien and David Lawrence in football.
"Whether it be a three-point basket at the buzzer or a breakaway run for a touchdown ... nobody is going to make that sound better than Bob Davis," Lawrence said. "Nobody can produce and make highlights sound as good as what Bob Davis can do.
"It's exciting to be in the booth with him. Just to be there ... sometimes I get caught up into being with him on that highlight."
Perhaps the best thing about Davis is he's such a pleasant person to be around.
"You go places, and everyone knows him and has tremendous respect for him," Lawrence said. "He has a great memory. He can remember games, remembers people he covered at Hays (working 16 years broadcasting Fort Hays State sports). He's very humble. He's just great to be around."
Davis, who is in the Fort Hays State Hall of Fame, is also known for the jokes he tells and the poems he writes and recites as emcee at banquets.
"What people probably don't know is how funny he is," Lawrence said. "Sometimes he'll wear you out before a game because you'll laugh for hours before the game starts. It's an honor for me to be able to call him a partner."
Davis, who said all of his color announcers have been "great," borrowed one of the lines from his baseball sidekick of 11 years, Paul Splittorff.
Yes, Davis also worked 17 years as a member of the Kansas City Royals broadcast team.
"This can be both (fun and a job)," Davis said of his calling games. "When I did Royals games with Paul, he had the line: 'You know, somebody has to do these games, and if we weren't doing them we'd be watching, so we might as well be doing them,'" Davis added with a laugh. "I think like most (broadcasters), we appreciate what we're doing."
Davis and wife, Linda, are proud parents of son, Steven, who also is a broadcaster. The former KU basketball manager, who graduated with honors from KU in 2005, broadcasts minor-league baseball and UMKC basketball.
"I think it's neat. It's great," Bob said of Steven calling games.
"I hope so. I think he wants to," Bob added of his son making it a long career. "He's good at all three sports, really," added Bob Davis, who certainly knows what it's like to be "good" in the big three of football, basketball and baseball.
More like this story on KUsports.com