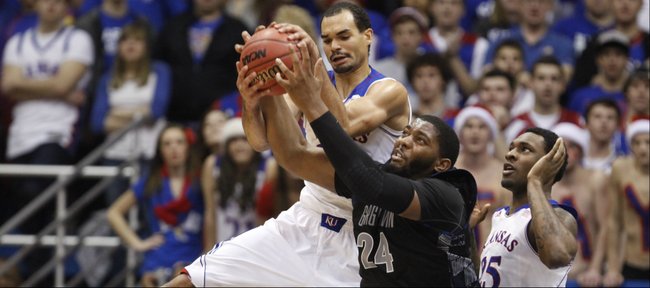 Photo Gallery
KU basketball v. Georgetown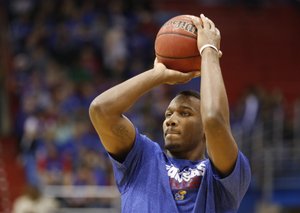 Images from Saturday's game between the Jayhawks and Hoyas at Allen Fieldhouse.
Podcast episode
Bill Self postgame vs. Georgetown, Dec. 21, 2013
Podcast episode
Tarik Black, Joel Embiid, Naadir Tharpe postgame vs. Georgetown, Dec. 21, 2013
A hard shot to the back of the head delivered by Georgetown's Nate Lubick on a second-half shooting foul ended Kansas University forward Perry Ellis' day Saturday in Allen Fieldhouse.
Ellis — who missed badly on a free-throw attempt before giving way to substitute shooter Wayne Selden on the second try — headed to the locker room for good with 18:16 left in the Jayhawks' 86-64 victory.
"I am not a doctor, so I don't know the medical terms, but if he had a concussion it's very, very, very slight," KU coach Bill Self said. "He got hit and bruised a nerve in his neck, and that caused the (disorientation) problem. It'll be something he'll be able to come back from, the doctors thought, in a very short period of time. I don't think it'll be a problem at all.
"He got hit hard," Self added. "If he didn't have a concussion, it certainly appeared he did after his first free throw. They said when it hits this nerve here (in back of head), it caused him to not have good equilibrium. That was the reason he had to come out."
KU senior Tarik Black said Ellis, who is not expected to miss any practice time, told him he was fine.
"In the back (locker-room area), he told us he was good," Black said. "He said when he shot that free throw he felt like he was going with the ball.
"I got hit like that. When I was trying to dunk the ball, Josh (Smith, Georgetown) caught me. It makes you disoriented for a second. It throws you off."
More bumps, bruises: KU junior point guard Naadir Tharpe scored 10 points off 4-of-6 shooting with four assists against one turnover despite playing with a sore shoulder.
"I thought he played really well," Self said. "He's had a stinger on his shoulder. He practiced yesterday (Friday) some. Two days before that, he didn't really practice, he just shot. I know he was sore."
KU sophomore Andrew White III was unable to play because of a bruised hip. He wore suit and tie and sat on the bench.
All in the family: Tarik Black's mom, Judith, and dad, Lawrence, who live in Memphis, attended.
"I saw my mom before the game, and I looked up and saw her in the stands. I am used to being able to look up in the stands back home when I was playing (for Memphis three years) and knew exactly where she sits during games," Black said. "She'd give me pointers sometimes. It was crazy. Now, having her here this time was special. It's what I'm used to."
He said his mom "has been to two or three games and my father two to three games already. They come out and support me."
Flagrant foul: Josh Smith was hit with a flagrant foul after elbowing Black in the first half. Black made both free throws.
"I was moving my feet side-to-side trying to defend him. You know he is a big guy, very talented," Black said. "He caught the ball. I think I was on his left side, and I shifted over, and that is the way he went with his move. He came over with his elbows high, and when he came back on his move he caught me a little bit on the cheek. That is basketball, though. It is a rough sport."
Wiggins three speaks volumes: After having words with Aaron Bowen and Jabril Trawick after some physical play, Andrew Wiggins immediately responded by hitting a three-pointer. Wiggins hit two of five threes and three of 10 shots total for 12 points with four assists and three turnovers in 33 minutes.
Full arena on rotten weather day: The fieldhouse was full for KU's first home game in 29 days.
"I thought the crowd was great," Self said. "I was kind of nervous that people wouldn't show up because of the weather (forecast of ice and snow that started falling after game). I've said that 20 times since I've been here. It seems to me it doesn't matter. (Fans say), 'We'll worry about the weather after the game is over.' I thought they were excited to see their team back in the building, and I know we were excited."
Faces in crowd: Former KU golfer Gary Woodland attended, as did former KU basketball players Aaron Miles, Conner Teahan and Travis Releford.
Stats, facts: Naadir Tharpe has made at least one three-pointer in eight of 10 games. Wiggins has made at least one trey in eight of 11 games. .. Joel Embiid is 9-for-10 shooting and 17-of-22 from the line the last two games. ... Jamari Traylor completed two three-point plays on his way to a career-high eight points. ... Evan Manning hit a free throw for his first point of the season. ... KU has won 67 consecutive nonconference games in Allen. ... KU (seven blocks) has had five or more rejections the last five games. ... Frank Mason's two free throws opened a 29-13 run that turned a 21-15 deficit into a 44-34 halftime lead. ... Georgetown trailed by as many as 28 points in the second half. The Hoyas' largest second-half deficit was previously seven against Northeastern. ... KU's 46 free-throw attempts were most since KU shot 46 against Baylor on Feb. 9, 2008. ... The 31 free throws made were most by KU since cashing 32 against Kent State on Dec. 1, 2008.