Photo Gallery
KU basketball v. Georgetown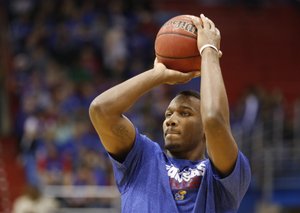 Images from Saturday's game between the Jayhawks and Hoyas at Allen Fieldhouse.
Podcast episode
Bill Self postgame vs. Georgetown, Dec. 21, 2013
Podcast episode
Tarik Black, Joel Embiid, Naadir Tharpe postgame vs. Georgetown, Dec. 21, 2013
Right about the time the nasty weather hit Lawrence, Georgetown coach John Thompson III uttered words that should make us all shift our focus from the future to the present when discussing basketball prodigy Joel Embiid, Kansas University's 7-foot center from Cameroon.
Thompson said Embiid, "has a chance to be a special player." Then the coach realized that in a way he had made an understatement and added, "He might be at that point already."
Embiid's positive imprint was all over another impressive KU victory Saturday in Allen Fieldhouse, 86-64, against Georgetown.
Expectations have risen so rapidly for Embiid, keeping pace with his improvement curve, that he wasn't even the story on a day he contributed 17 points, eight rebounds, two blocked shots and a steal in 21 minutes. Tarik Black, scoreless in each of his previous four games, stole the spotlight with 17 points in 20 minutes on a day the two centers combined to make nine of nine field goals and 16 of 21 free throws.
"He gets better, if not daily, it's weekly, and he's still just scratching the surface," Kansas coach Bill Self said. "He scores 17 points today and takes four shots. What about if he's taking 12 shots a game? We need to play through him more."
That can't possibly be a bad idea. Kansas did find him often enough for him to go to the free-throw line for a season-high 12 shots, a function of the Hoyas not knowing how to stop him without roughing him up. It's not a bad way to go when facing a guy who shoots .683 from the field. But not a great way, either, considering it's a prescription for foul trouble and given that Embiid appears to be improving as a free-throw shooter, along with every other aspect of the game. In the past two games, Embiid has made nine of 10 field goals and 17 of 22 free throws (.773).
Numbers don't capture the extent to which Embiid rattles the opposition, makes opponents dig deeper into their benches because of foul trouble and ignites the home crowd, which energizes teammates.
"He's efficient, and he can affect the game in many ways," Self said. "He's probably not our best passer, but if he's not, he's not far off. And then, of course, he's as bright as anybody on our team, as far as picking things up and reading things. The way he helps is far more than just on the stat sheet."
Embiid and Black combined for 34 points, 14 rebounds and three blocked shots and limited Georgetown center Josh Smith to five points and no rebounds in 19 minutes before fouling out. As a freshman playing for UCLA in Allen Fieldhouse, Smith totaled 17 points and 13 rebounds.
Embiid and Black kept the hefty Smith huffing and puffing all day.
"We need to play through our bigs," Self reiterated. "That's the strength of our team. We haven't been a really good passing team so far to take advantage of that."
That no doubt will be a point of emphasis during the break between semesters, and the guards will become better at feeding the post. Mix in Embiid's steady improvement, and it's frightening to think how much of an offensive force he can become by the time Big 12 play starts.
There I go thinking about what he will become instead of appreciating what he is.
It's very difficult not to look at him that way and very easy to watch him play basketball already.