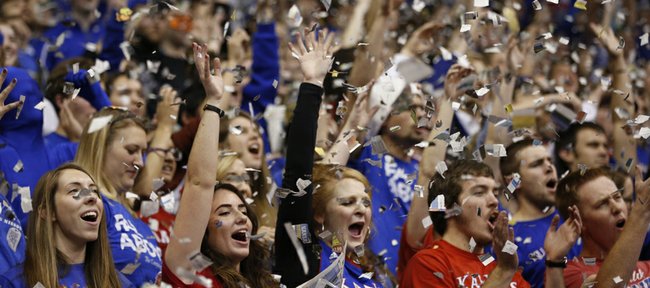 After a trip to the Bahamas for three games, plus stops in Colorado, Florida and Kansas City, Mo., Kansas University's basketball team finally returns to Allen Fieldhouse today.
"It's been awhile. We're excited to be back home," KU freshman guard Andrew Wiggins said.
The No 18-ranked Jayhawks (7-3), who play host to unranked Georgetown (7-2) at 11 a.m. today, last played at home on Nov. 22 — a 30-point win over Towson. The 29 days between home games classifies as the longest stretch away from the fieldhouse in Bill Self's 11 years at KU and longest since a 31-day drought from Dec. 17, 2000 to Jan. 17, 2001.
"Without obviously a rodeo or the Ice Capades performing in here, I don't know why you'd ever spend this much time away from home. But we certainly did, and I'm excited to get back home," KU coach Bill Self joked. "We need to play at home, and our players need to feel the home crowd and get themselves juiced up. I think it'll be a great atmosphere and our guys will be excited."
KU's opponent will be playing its first true road game of the 2013-14 season.
Georgetown is 5-0 at home and 2-2 on neutral floors. The Hoyas lost to Northeastern (63-56) and defeated Kansas State (90-63) and VCU (84-80) in the Puerto Rico shootout and lost to Oregon (82-75) in the Armed Forces Classic in South Korea.
"They'll probably be as galvanized as they have at any time this year coming in here, and I'm sure they're going to expect to play great, just like we're going to expect to play great," Self said.
"It should be a fun game. Of course their reputation and their program speaks for itself. Over the years, and of course he (coach John Thompson III) has had a tremendous run. We had a great game with him two years ago that basically came down to one or two possessions."
KU beat the Hoyas, 67-63, in the quarterfinals of the 2011 Maui Invitational. Georgetown won the only other meeting between the teams, 70-57, in a 1987 NCAA Sweet 16 game in Louisville.
"They've added some nice pieces, especially Josh. He's certainly a load and has given us fits in the past when he was at UCLA. It should be a big-time college basketball game," Self said.
UCLA transfer Joshua Smith, a 6-10, 350-pound junior, averages 14.1 points and 3.9 rebounds a game. He scored 17 points and grabbed 13 rebounds in UCLA's 77-76 loss to KU on Dec. 3, 2010, in Allen.
Sophomore guard D'Vauntes Smith-Rivera and senior guard Markel Starks average 16.9 and 15.7 points per game, respectively, for the team picked to finish second in the Big East in the league's preseason poll.
Wiggins shines at practice: Wiggins, who is headed to Toronto for Christmas after the game — the Jayhawks don't have to return to Lawrence until the 26th — has had a "great week" of practice, Self said.
"I thought that against New Mexico ... that was probably one of his least effective man-to-man defensive performances," Self said of Wiggins guarding Kendall Williams, who had 24 points. "And he wasn't bad, I'm just used to his man not ever scoring, but he had a really good guy. I think he's getting better every day, especially on that end."
Of KU's play during its stretch of six games away from home in which KU won three, Wiggins said: "I think we had spurts of not using our advantage — being athletic on the court, running the floor, taking pride in defense. I think it'll all change now. We've been working hard in practice. I don't think it'll happen any more."
White out: KU sophomore Andrew White III will not play today because of a bruised hip, Self said. White had practiced on a limited basis since getting hit in practice last week.
Naadir at the point: Self was asked if junior Naadir Tharpe figures to remain starting point guard the rest of the season. He returned to the opening lineup last game after two straight starts by Frank Mason.
"I would hope that that's the case, but I don't know. If somebody plays better then they'll start," Self said. "But I certainly think Naadir has got a great opportunity and a huge role to fill, if, in fact, he does what we think he's capable of doing, and that's leading us because we definitely need him to be the quarterback for us."
Self reiterated that Joel Embiid would remain starting pivot for the third straight game with Tarik Black coming off the bench.
Releford in the house: Former KU guard/forward Travis Releford will sign copies of his book, "Relentless" from 9:30 a.m. until 11 today at the gift shop in Allen Fieldhouse.
Self had Releford speak to the team after KU's win over New Mexico last Saturday in Sprint Center.
"I said, 'Trav, have you got anything for our guys?' He said, 'Yeah, soft,'" Self said of Releford's message that the team played soft. "I said, 'Travis explain that.' He said, 'Two loose balls to start the second half. They hit the floor before anybody. Soft.'
"He said, 'Coach, I watched the game. Loose balls bounce.'"
Releford, who will return to Belgium, where he plays professionally, in coming days, recently had surgery to repair a stress fracture in his foot.
"I like it a lot," Releford said. "My teammates are great. There are other guys from the States. They understand what it's like being a rookie from the States."
Don't forget Landen: KU red-shirt freshman Landen Lucas on Friday admitted that, earlier this season, he "didn't know if I was really going to get a chance" to crack a lineup that includes a batch of talented big men. But he's coming off a 10-minute outing against New Mexico in which he scored two points with five rebounds.
"What I want to bring and what I think I can bring is just some energy off the bench — some hustle and rebounding. That's really what I do," Lucas said.
More like this story on KUsports.com