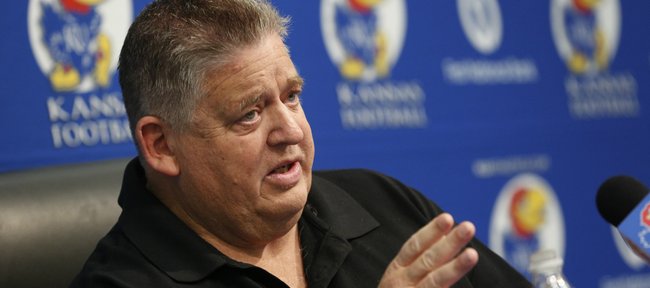 Podcast episode
Charlie Weis Dec. 19, 2013 press conference
Kansas University football coach Charlie Weis on Thursday made it clear that KU fans would see a different offense under newly hired offensive coordinator John Reagan.
"It's his," Weis said of the freedom he's given to Reagan, a former Kansas assistant who worked under Mark Mangino and spent the past four seasons at Rice.
"It'll be his system, but it'll be a combination of taking verbiage we had and verbiage he had and kind of putting it all together."
"Meshing" was the word Weis used to describe the process, but Reagan will decide which offense the Jayhawks will run and will select players for the starring roles.
Weis' willingness to open the playbook to Reagan came from observing the struggles of KU's offense as Rice's flourished.
This season, Weis kept an eye on a Rice offense he said was both "simpler" and "much more efficient" than what the Jayhawks were running.
"This was the guy I zeroed in on a ways back," Weis said. "... I wanted an offensive line coach that could coordinate. There's very few guys that fit into that."
Another reason Weis is so willing to sit back and let Reagan run the show — even going as far as to say Reagan and the offensive staff would determine next year's starting quarterback — is the state of the league.
"The game is different," Weis said. "The game is different in the Big 12. ... and I think that John is better suited than me. That doesn't mean that I think John is a better coach than me. I think he's better suited to handle the job in the Big 12 of coordinating the offense or else I wouldn't have done it."
As both the head coach and a man with an extensive background in calling and designing plays, Weis still will have input. But he made it clear that his input likely would come when Reagan asked for it.
"He said from time to time he's going to want me to come into the meetings," Weis said of Reagan. "At the end of the day, when I leave, it's going to be how they want to do it."
During Weis' first two seasons at Kansas, the Jayhawks' offense has been grounded. The passing game has struggled in all areas and used four different quarterbacks. The running game, though solid at times, has been inconsistent. For Weis, the experience of working with an offense stuck in the mud has been new, and after looking at all aspects of his operation, he reached the conclusion that letting someone else run the offense would be best for KU.
"If we were making changes on offense, I thought one of the things we needed was have somebody be the lead person on offense and not be me," Weis said. "I think I'll do a much better job of being the head coach with a guy like John being the coordinator."
Miller still around
Darrian Miller, a junior-to-be running back who figures to have a much greater role in the offense in 2014 after the graduation of James Sims, appears to still be a part of KU's plans despite his absence during the final few games of the season.
"Darrian will be OK," Weis said. "He'll be around. When we go into spring, I think you'll see him trotting out there just like everybody else."
Changes coming?
Weis said it was too early to determine whether everyone eligible to return for 2014 would be back next season. He said he spoke just the other day with 15 players who were considering their options but did not know how things would play out.
"There will always be some guys at mid-year that either graduate or just don't want to play football anymore," he said. "You're dealing with 105 different guys, so there's all sorts of issues that come into play."
As for any potential tweaks to his coaching staff, Weis the priority at this point was on recruiting.
Spring game set
Weis said Thursday that the 2014 spring game was scheduled for April 12. No time was given. It marks the second year in a row that the spring game will be played in mid-April. Weis reiterated that he scheduled the game earlier than normal so he and his coaching staff could spend the last two weeks of April recruiting junior colleges.