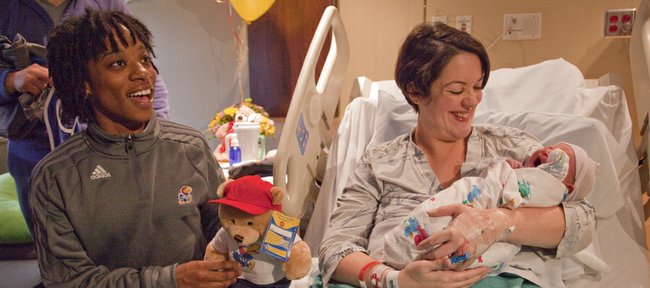 Basketball coaches are wont to get on their players' cases about not turning the ball over while on the court. When touring a maternity ward, however, you really, really want to make sure you don't drop what's in your hands.
"They all want to hold the babies," Bonnie Henrickson, head coach of the Kansas University women's basketball team, said of her team Thursday at Lawrence Memorial Hospital. "Can't have turnovers in that unit."
The Jayhawks stopped by the medical center for their annual trip to hand out gifts to various patients. The team started with the maternity ward, then split up to spread some smiles room by room throughout the rest of the building.
"We are spreading some cheer and some sunshine and wishing people happy holidays and wishing people to get healthy," Henrickson said.
The entire team showed up with, what Henrickson said, was up to $15,000 worth of Kansas merchandise to hand out one item at a time. Posters, license plate tags, hats, shirts and more were all on tap, and a public relations employee was seen with a fistful of Sharpies for autographs.
The first room they walked into happened to be occupied by two faculty members of KU's history department, Sheyda Jahanbani and Jonathan Hagel, and their less-than-a-day-old daughter, Zella.
"Do you think she's tall enough to play ball?" Jahanbani asked with a smile, as the team filed into the room.
The Jayhawks offered Zella a stuffed teddy bear as a gift. Before leaving, Jahanbani allowed point guard CeCe Harper to take hold of Zella for a few moments.
No turnovers.