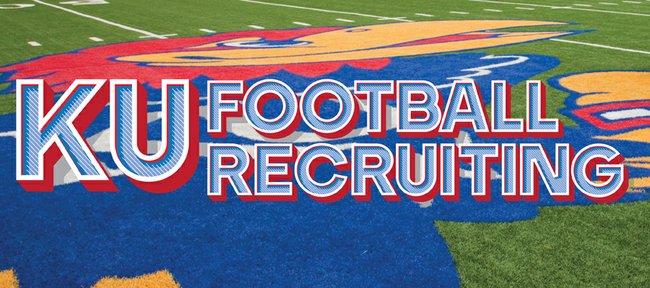 While it paled in comparison to last year's nine-man mid-year haul, Wednesday proved to be a productive day for the recruiting efforts of the Kansas University football program, which welcomed three players to the roster on the initial day of the mid-year junior-college signing period.
Defensive back Ronnie Davis, offensive lineman Keyon Haughton and signing-day-surprise Anthony Smithson, a safety from Hartnell Community College in Salinas, Calif., each signed and faxed his letter of intent to the football office by day's end.
For all three future Jayhawks, signing day proved to be a special experience. Davis, who joined the Jayhawks after two seasons at Northeastern Oklahoma A&M;, signed his letter in the library of his high school — Midwest City (Okla.) High — with his mother, grandmother, siblings and a handful of other supporters present.
"It was exciting more than anything because I feel like I've worked so long just to be able to sign my name on a Div. I letter," Davis said. "I felt good and I had my family and my coaches there with me. It was a great feeling."
Davis, who can play both cornerback and safety, said he prefers to play the nickel-back role because it keeps him in the middle of the field, "where the action is," and also allows him to utilize a variety of skills, from coverage and blitzing to supporting the run.
Davis, 6 feet, 170 pounds, chose Kansas after originally being committed to Utah State just a few weeks ago. He said he drew interest from Oklahoma during his high school career and heard from the Sooners early in the 2013 season at NEO but nothing materialized from there.
"That was kind of a driving factor for me," Davis said. "I was right here and (Oklahoma and Oklahoma State) didn't want to come get me, so I want to go to Kansas and show 'em what I can do."
Haughton, 6 feet, 295 pounds from Georgia Military College, was the first to send his letter of intent to Lawrence. He signed at his home in Baltimore at 6 a.m. and sent the letter to the KU football complex immediately.
Haughton already has played all five positions on the offensive line during his high school and junior-college career. He projects as a guard at Kansas but also could factor in at center.
"Either/or," he said. "As long as I'm in the middle."
Haughton, who picked Kansas over Florida A&M;, South Alabama, Southern Miss and others, said his versatility played a key role in his recruiting.
"It helped me work my footwork better and helped me get noticed," he said.
While Davis and Haughton were expected to make their commitments official on Wednesday, the Smithson signing came as a bit of a surprise.
Smithson, a 6-foot, 180-pound strong safety who has three years of eligibility remaining and four years to use them, chose Kansas over Oregon State, Utah and Wisconsin. Smithson seemed Utah-bound for much of the recruiting period but a recent change in the Utes' coaching staff led Smithson away from the school where his older brother played and onto the roster at Kansas.
The three-star prospect finished the 2013 season with 75 tackles and eight interceptions. He has not yet visited KU but told Jon Kirby of JayhawkSlant.com that the reputation of the KU coaching staff and his interaction with them over the phone left no doubt in his mind that Kansas was a good fit.
"I felt the energy from their coaching staff and how excited they were," Smithson said. "When I talked to my junior college coaches about it they didn't hesitate when I said Kansas."
All three players are expected to report to campus in the Jan. 17-19 range and participate in spring practices.
Counting Wednesday's trio of signees, KU's 2014 recruiting class now includes 13 players — five juco commitments and eight high school prospects. The Jayhawks figure to have room for nearly twice that many by the time national signing day rolls around on Feb. 5, when all non mid-year transfers in the class are eligible to make their commitments official.
Juco players on pace to graduate this month and report to Div. I campuses early have until Jan. 15 to sign their letters of intent.
More like this story on KUsports.com