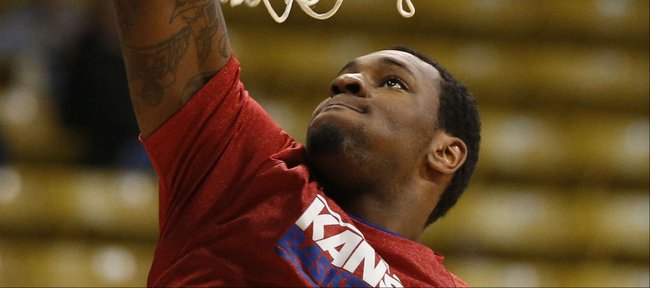 Kansas University basketball coach Bill Self hasn't given up on Memphis transfer Tarik Black, who has not scored and grabbed just seven rebounds total in limited action the last four games.
"Tarik ... today he was the best player in practice," Self said, praising the 6-foot-9, 260-pound senior on Monday's "Hawk Talk" radio show. "I know he'll have some moments, and I know he'll catch some breaks (in upcoming games).
"He wants it so bad. Sometimes he puts too much pressure on himself," Self added of the Memphis native who has come off the bench the last two games after starting the first eight.
Six of KU's "bigs" played two or more minutes in Saturday's 80-63 victory over New Mexico.
Black, who had two turnovers, worked two minutes, as did Justin Wesley, who had a rebound and hit one free throw. Perry Ellis had 21 points and nine rebounds in 31 minutes; Joel Embiid 18 points and six boards in 25 minutes; Landen Lucas two points and five boards in 10 minutes; and Jamari Traylor four points, three assists and a rebound in nine minutes.
"Jamari has been terrific," Self said of the 6-8 sophomore who had nine rebounds and five points in 17 minutes at Florida. "He makes two great passes for layups (vs. UNM). He's playing with energy.
"Landen gave us some good minutes," he added of 6-10 red-shirt freshman Lucas, "and Justin (6-9, senior) played late and did fine. We are a deep team up front, but with that being said, if the big fella keeps getting better ... he needs to be playing 30 minutes a game."
The big fella is Embiid, a 7-foot freshman from Cameroon who is progressing rapidly.
"He is certainly capable of being a guy that could put up pretty big numbers if he can stay out there a little longer," Self said. "He still gives you reasons to get onto him (at practice).
"He is a sponge. He wants to learn, wants to be a player. Certain things still bother him from a strength standpoint and things like that. He is very graceful on his feet."
Finals: KU's players continue to prepare for Saturday's 11 a.m. home game against Georgetown while also taking their final exams in the classroom.
"We have a master final exam schedule. We work around the master schedule," Self said of a list of the players and their exam times. "We had a four-hour window (Monday). The 2:30 (p.m.) range was the first time available (to practice). It was the same (Tuesday). Starting Wednesday, we'll go at 11 (a.m.) or 12 (noon) every day. That's the time slot available, which is not bad because we play at 11 Saturday.
"We'll be in the gym a lot when we come back (from holiday break on Dec. 26). We'll be in the gym a lot, not necessarily practicing all the time. There will be a lot of film and individual improvement and shooting and things like that. We'll be in there a couple times a day that can vary. We can practice any time on those days (until start of second-semester classes on Jan. 21)."
The players will leave for their hometowns after the game Saturday. Joel Embiid, who hails from Cameroon, will be the only one not heading home. He'll be able to hang out with players from the area as well as coaches and their families.
"They get four days off, which is a big number for what we usually get," Self said. KU will meet Toledo at 7 p.m., Dec. 30, in Allen.
Loud arena: NCAA.com on Tuesday deemed KU's Allen Fieldhouse the "loudest, most intimidating arena in the country." Duke's Cameron Indoor Stadium was ranked second, followed by the Carrier Dome at Syracuse, Gallagher-Iba Arena at Oklahoma State and The Pit at New Mexico. To see the video, click here. KU has won 66-straight games against nonconference competition in Allen.
Wiggins one, Embiid three: ESPN's Chad Ford on Tuesday updated his rankings of college players for the NBA Draft. KU's Andrew Wiggins remains Ford's No. 1 prospect for the draft. Embiid is the third overall pick, behind Duke's Jabari Parker. Wayne Selden is No. 19.
More like this story on KUsports.com