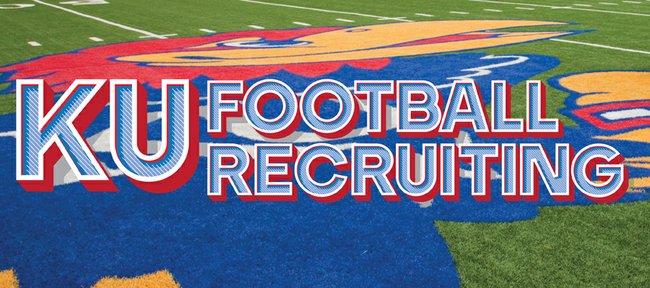 When Kansas University football commitment Keyon Haughton, an offensive lineman from Georgia Military College, first arrived at his junior college, he made fast friends with a player who shared his name but not the spelling.
When Haughton first arrived on the Georgia Military campus, Keon Stowers, a GMC graduate and current Jayhawk, was on his way out the door, having just signed with Kansas. Although the two worked out just a couple of times before Stowers hit the road, it did not take Haughton long to become impressed by the man who would go on to become a KU captain during his second season in Lawrence.
"When I first got there and heard that he was going D-I, I was surprised and excited that people from the school I was at were going D-I," Haughton recalled during a phone interview Tuesday night. "It just made me want to work that much harder."
Now, more than two years later, Stowers once again is in a position of making Haughton want to work harder than ever before.
Haughton, one of two junior-college players expected to sign national letters of intent with the Jayhawks today — Northeastern Oklahoma A&M; cornerback Ronnie Davis is the other — saw and heard all he needed to hear from Stowers earlier this month, when the KU co-captain served as Haughton's host on his official campus visit.
"He told us basically everything we wanted to know," said Haughton of Stowers. "He answered all of our questions and he gave us every answer we wanted to hear, so that made it easy. He's an impressive guy and he's come a long way. Seeing that just makes me want to get up there and work even harder than him."
That role is one Stowers has become accustomed to playing during his time at Kansas — leader, mentor, motivator. And having players like him is vital to the future of the program.
"He basically just told me to work hard and to make sure I'm ready to come do my best and ball out," Haughton said of Stowers' message.
The connection with Stowers was one reason Haughton chose Kansas, but the 6-foot-2, 295-pound offensive guard said there were others. The family atmosphere impressed him. The facilities wowed him. And the attention he received throughout the recruiting process was second-to-none.
"The coaches are really respectable and they showed me a lot of love," he said.
Haughton will come to Kansas with Georgia Military teammate Devon Williams, a 6-5, 335-pound offensive tackle who earned first-team juco All-American honors this week but won't be able to report to campus until June. Getting to town early — he'll arrive Jan. 17 — gives Haughton a leg up and will allow him to gain valuable experience during spring drills.
Haughton, who is back home in Baltimore, Md., for the winter break, plans to sign his letter of intent at 6 a.m. and fax it to KU immediately. He'll have a signing party this weekend.
"It's gonna be a little emotional," he said. "But I already know a little about what's to come. It's going to be more emotional for my parents, I know that. They've seen me go through high school, prep school, junior college and now this. They've seen me go through a lot to get to the point where I can take a big step like this."
Asked if the KU coaching staff told him much about the new offense that's coming with offensive coordinator/offensive line coach John Reagan, Haughton laughed.
"Not too much," he said. "They just told me that when I get there I'm going to be studying a lot of plays."
With recruiting, there's always the potential for last-minute surprises, both good and bad. So there's a chance that KU could add an additional player or two today or at any point during the mid-year signing period, which runs through Jan. 15. But whether they add more — 6-2, 285-pound offensive lineman Dontae Levingston (Santa Monica C.C.) could finalize his choice of KU or Texas Tech as early as today — or stand pat with the additions of Davis and Haughton, it's safe to say that this year's December recruiting excitement won't be anything like 2013, when the Jayhawks signed a massive haul of six defensive players, two offensive linemen and one punter — all of whom arrived in time for spring practice — and saw the birth of the #DreamTeam2013 hash tag on Twitter.
That's just fine with Haughton, who said the excitement of signing his own letter of intent was enough for him.