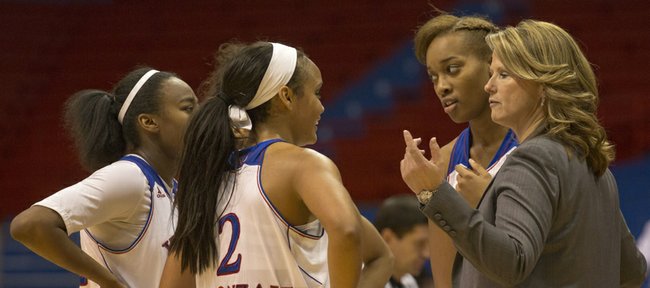 Comparing a pair of teams' results against common opponents is an inexact science at best. But if Kansas University women's basketball coach Bonnie Henrickson needed any more evidence of how good her team's next opponent is, she could simply look at how the Jayhawks and No. 18 Purdue handled their respective nonconference meetings with one of the top teams in the nation.
KU lost to No. 2 Duke, 73-40, on Nov. 30 at the EZ Global Payments Virgin Islands Paradise Jam.
The Boilermakers, who visit Allen Fieldhouse at 2 p.m. today, were the undefeated Blue Devils' next victim, and lost, 99-78, on Dec. 5 at Cameron Indoor Stadium.
"They're good," Henrickson said of Purdue (6-2). "They can score, boy. They scored 78 on Duke, which has done a really good job defensively."
The Boilermakers average 76.1 points a game (compared to KU's 68.2) and their only other loss of the season came against another powerhouse, No. 6 Stanford, at a neutral site.
Senior guards KK Houser (14.6 points per game) and Courtney Moses (14.5) lead a four-guard, perimeter-oriented Purdue attack, and the two have combined to drain 31 of the team's 56 three-pointers.
"They've got guys that can shoot the three," Henrickson said, adding the Boilermakers (36 percent as a team from downtown) also attack off the dribble and execute in the half-court.
KU (5-4) ended a three-game losing skid on Thursday, with a 105-78 home win over Texas Southern.
Junior forward Chelsea Gardner (team-leading 16.8 points and 8.3 rebounds) said the idea of making it to the NCAA Tournament for the third straight season drives much of what the Jayhawks do. That's why a victory today, against a top 25 team, would mean so much.
"I think that'll be a great opportunity, and we need that win to get us back on a (winning) streak," Gardner said, "and get our RPI back up."
Through games played on Thursday, Kansas had the No. 77 RPI in the nation, according to rpiratings.com. KU's victories this season came against Oral Roberts (268th), SIU-Edwardsville (289th), Creighton (83rd), Central Michigan (53rd) and Texas Southern (194th). Purdue is ranked 30th in RPI.
The Boilermakers last faced KU in 1999, in the second round of the NCAA Tournament, when they improved to 2-1 all-time versus the Jayhawks and went on to win their only national championship.