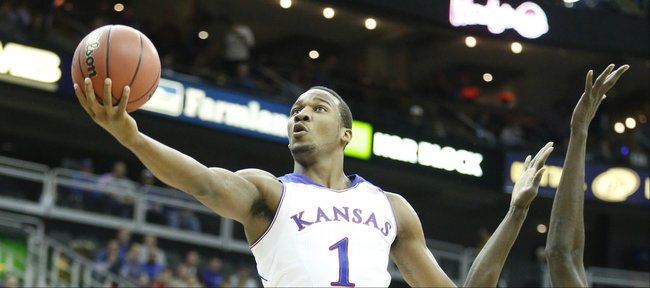 Photo Gallery
KU basketball v. New Mexico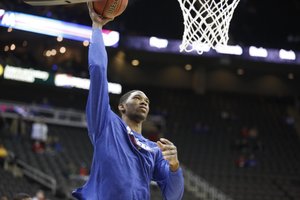 Images from Saturday's game against New Mexico at Sprint Center in Kansas City, Missouri.
Podcast episode
Bill Self postgame after KU's 80-63 victory vs. New Mexico
Podcast episode
Embiid, Ellis, Selden New Mexico postgame
Kansas City, Mo. — All week, as the New Mexico men's basketball team prepared for its showdown with No. 13 Kansas University at Sprint Center, the Lobos hoped the experience of starting three four-year veterans would make a difference against the young Jayhawks.
Minutes after KU's 80-63 victory, which came in large part thanks to a 41-25 second-half surge, that hope proved more optimistic than realistic.
"I think the age thing is overrated," New Mexico guard Kendall Williams, who tied teammate Cameron Bairstow with a game-high 24 points. "They have a lot of skilled players that didn't really get flustered."
The funny thing about New Mexico's second loss of the season was that the Lobos (6-2) did not really get flustered either. In the opening frame, behind a monster half of 16 points and four rebounds from Bairstow, UNM played KU within a point (39-38), using all-out effort, physicality at all five positions and 13-of-15 shooting from the free-throw line.
Energized by a put-back at the halftime buzzer from sophomore Arthur Edwards, the Lobos raced off the Sprint Center floor and appeared to be the team with more momentum. But the next time they stepped onto the floor, the Jayhawks raced up and down past them, en route to a 10-2 run to open the second half that put the Jayhawks (7-3) firmly in control.
"They came out to play in the second half, and I don't think we did," New Mexico coach Craig Neal said. "I kept telling them at halftime that we need to stop, score, stop and score to get where we want to be. But Kansas did that to us."
And it really did not stop.
The Lobos did pull within five (63-58) on a four-point play from Williams with 8:01 to play. But KU responded with five quick points and outscored UNM 17-5 to close the game.
"I think their little run, where I had to take a timeout, was the difference," Neal said.
Asked about the environment and playing in KU's home away from home, both Neal and Bairstow said they loved it.
"We played with great effort, and it was a great atmosphere for college basketball," Neal said.
Added Bairstow: "It was a great environment, and you could tell KU fed a lot of the crowd's energy."
As for the whole age-versus-youth thing the Lobos hoped would tip things in their favor, Neal agreed with his leading scorer about the Jayhawks' lack of experience being a non-factor.
"Guys, they've got a good team," he said. "They've got a bunch of young guys, but I think they are going to be really good late in the year, and I like their team."