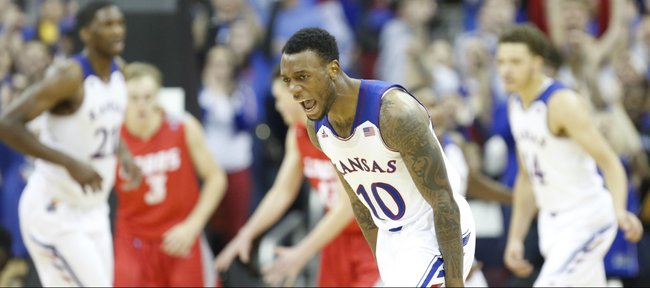 Photo Gallery
KU basketball v. New Mexico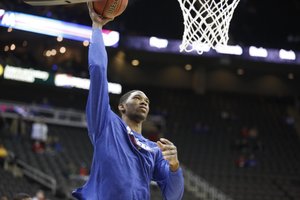 Images from Saturday's game against New Mexico at Sprint Center in Kansas City, Missouri.
Podcast episode
Bill Self postgame after KU's 80-63 victory vs. New Mexico
Podcast episode
Embiid, Ellis, Selden New Mexico postgame
KANSAS, CITY, MO. — Naadir Tharpe's return to the starting lineup after a two-game absence proved to be a resounding success on Saturday night in Sprint Center.
Tharpe, KU's junior point guard from Worcester, Mass., dished nine assists against four turnovers and scored eight points while playing 37 minutes in the Jayhawks' 80-63 victory over New Mexico. Freshman Frank Mason, who returned to a reserve role, had one assist and no points in six minutes.
"Naadir and I had a nice talk this week," coach Bill Self said. "He knows beyond a shadow of a doubt I'm disappointed in him, not in his play as much (but) his ownership and how he's helping the other guys. That was the thing I've been trying to beat into him. I think he responded really well.
"He has to take ownership for everything," Self added. "There's nobody else that can do it yet. He has to buy time for these guys to give them a chance to grow up and he hasn't done that as well as he can do. Today I thought he did a good job with that."
Self said Mason's minutes were cut because, "they played zone. Frank hasn't shot it well yet. I thought we'd be better off playing Brannen (Greene, five points, 16 minutes) or Wigs (Andrew Wiggins, 11 points, 28 minutes) or Wayne (Selden, 10 points, 34 minutes) on the wings and give the ball to Naadir and let him run the point the majority of the time."
Black blanked: Senior forward Tarik Black, who has come off the bench the last two games in favor of freshman Joel Embiid, did not score with two turnovers and a quick foul in two minutes. Red-shirt frosh Landen Lucas had two points and five boards in 10 minutes.
"This is not a knock to Tarik ... Landen gets in there and gets five rebounds in nine minutes and is obviously a factor," Self said. "I think that will be good for our team moving forward. He understands what we are doing about as well as anybody on our team. When you play heavy bodies like that (on UNM team) he's about as good as we have guarding those heavy bodies. I thought everybody who got in the game contributed in a favorable way."
Ellis excels: Sophomore forward Perry Ellis had 21 points off 9-of-14 shooting with nine rebounds in 31 minutes. He had 13 points and six boards the final half.
"I went into practice and kept working and I knew eventually good things would happen and just tried to continue playing hard," Ellis said.
Big picture: KU improved to 7-3 heading into next Saturday's 11 a.m. game against Georgetown in Allen Fieldhouse.
"If you told me before the season we'd be 8-2, I'd say that's fine, that's good," Self said. "We're probably a game off from realistically where I thought we could be."
Hip pointer: KU sophomore guard Andrew White III missed the game because of a hip pointer he suffered in practice Thursday. He's listed day to day.
"He tried to practice yesterday. It made it worse," Self said. "He was hurting today. Hopefully we'll get him back in practice this week."
Merv doesn't play: Former KU forward Merv Lindsay, a 6-7 red-shirt sophomore from Moreno Valley, Calif., did not play. He entered the game having hit his only shot attempt on the season. New Mexico used 10 players six or more minutes.
This, that: The game drew a crowd of 18,493. Sprint Center seats 18,500. ... KU's nine turnovers tied its season-low (Wake Forest, Nov. 28). ... KU had seven blocked shots, same number as against UTEP on Nov. 30. ... Naadir Tharpe hit a three-pointer at 11:39 in the first half that started a 14-4 run that that lasted 4:02. Within the run, KU regained the lead when Brannen Greene cashed a three-point basket for an 18-16 advantage. ... New Mexico senior forward Cameron Bairstow scored 16 points in the first half, the most scored by an opponent since Duke's Jabari Parker hit for 19, also in the first half. ... KU's 17-point lead (78-68) was the biggest since last month when the Jayhawks built a 17-point advantage over Towson. ... Justin Wesley scored his first point of the season with a free throw in the first half.

More like this story on KUsports.com