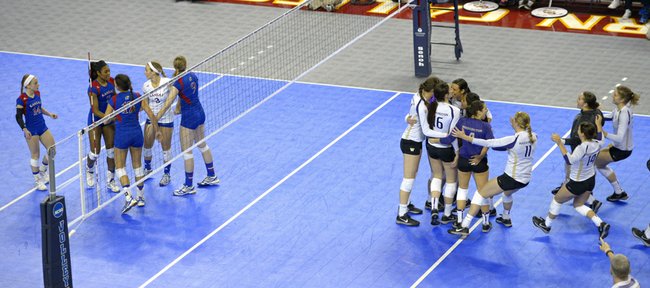 Los Angeles — Kansas University's tenacity proved insufficient against superior serving and blocking in the NCAA volleyball tournament regional semifinals Friday night.
Third-seeded Washington dominated the first two sets in a 25-18, 25-13, 26-24 sweep of the 14th-seeded Jayhawks at USC's Galen Center.
The three-set loss was the first for KU (25-8) since Oct. 12, 2012, when the Jayhawks lost in successive sets at Texas.
"We hadn't been beaten by a team 3-0 all year, and we're probably one of the few teams in the country that can say that," KU coach Ray Bechard said. "So that's very disappointing."
Despite the loss, senior libero Brianne Riley complimented her teammates as she spoke through tears.
"Our program has come a long way," Riley said. "Our whole team is talented, but, more than anything, we play with more heart than anybody. We might not match up with other teams talent-wise, but we play with a lot of fire."
But the Huskies (29-2) defused KU's attack. The Jayhawks committed 25 errors and hit a season-worst .082, including a minus-.059 in the second set. Sara McClinton punched a team-high eight kills, with Caroline Jarmoc and Catherine Carmichael adding seven apiece.
"We couldn't get into system, which is usually a strong point for us," Riley said. "They were a phenomenal serving team, and they set up a really solid block, and they're really consistent with it. We had a tough time getting around that in the first two sets."
Washington's serving style varied from Cassie Strickland's powerful jump serve to floaters with little or no spin from Jenni Nogueras and Melanie Wade. The Huskies amassed six aces, with Nogueras recording three.
"They don't really give you a break," Bechard said. "Many teams have two or three players who are pretty good servers, and then there are a couple who aren't. But all of them whacked it pretty good."
When KU attempted to attack, the Huskies' blockers were ready. Washington accumulated 18 block assists to the Jayhawks' six.
"If you set a high ball to your outside hitters, they're going to be organized to get the block or a good touch," Bechard said about the Huskies. "Then they transition and score.
"When you don't have options, like we didn't in the first set-and-a-half, you become very predictable."
KU took a 3-1 lead in the first set before Washington narrowed its deficit to 6-5. Then the Huskies used a 14-3 spree to move ahead 19-9.
After being overwhelmed in the second set, the Jayhawks made a stand in what would be the final set.
The teams forced 14 ties and exchanged the lead four times.
Washington's Lianna Sybeldon pounded a spike out of bounds to put KU ahead, 23-22. But Riley's ensuing serve hit the net, then Jarmoc's attempted spike sailed long, and the Huskies had a 24-23 lead.
The Jayhawks relied on Kylin Munoz's net violation to tie the score, but Wade's two kills ensured the Huskies' victory.
KU's position after two sets reminded Bechard of a preseason road match against 25th-ranked Wisconsin, in which the Jayhawks rallied to win the final three sets after losing the first two.
"That's what we talked about," Bechard said. "If we had gotten that third set going, maybe we could've gotten a little more momentum."
Riley added 12 digs, and Erin McNorton passed for 29 assists. Washington's Krista Vansant, the Pac-12 Conference's player of the year, smashed 10 kills.
More like this story on KUsports.com