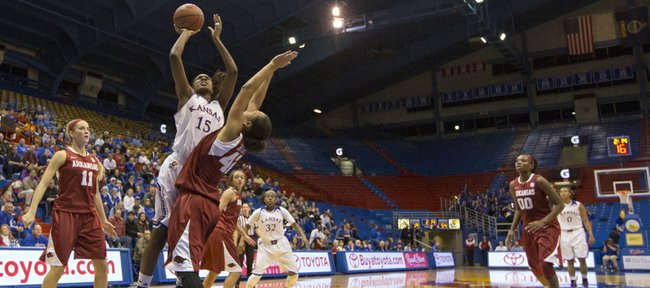 According to the schedule, Kansas University's women's basketball team should have been over its three-game losing streak by now.
Whether the Jayhawks would have handled their business this past Sunday at home against Texas Southern or extended their skid to four games, no one will ever know for certain, because dangerous winter weather conditions kept the Tigers homebound, in Houston.
Now eight days removed from its most recent setback, KU faces Texas Southern at Allen Fieldhouse, tonight at 7, and can finally take the next step in its season — whichever direction that may be.
Kansas (4-4) lost for the fourth time in five games, with a 64-53 home defeat at the hands of Arkansas on Dec. 4. With just four non-conference games remaining until the start of Big 12 play, coach Bonnie Henrickson said her team faces a bit of a crossroads.
"It's your record and your mentality. You oughta get a little tougher and fight more and, right now, as a group and as a team, we gotta keep fighting to get better," the 10th-year KU coach said. "You're either getting worse or you're getting better."
Against Arkansas at least, senior guard CeCe Harper seemed to be interested in the latter. The 5-foot-8 senior from San Antonio had 19 points, seven assists, six rebounds and five steals.
"I think we all just need to get experience from game to game," Harper said, "and understand that we all have to do more. It's not gonna be two or three players, it's gonna be everyone and a team effort."
Junior forward Chelsea Gardner (15.1 points, 8.4 rebounds), junior guard Asia Boyd (10.6 points, 4.5 rebounds) and Harper (10.3 points, 3.5 rebounds) have led KU thus far, and Henrickson thinks the whole team is capable of getting past this recent slump.
"These kids want to win and they want to be successful," she said. "They'll fight. They practice hard. Our habits just have to be better. When the ball goes up in the air, it's gotta be like (it's) the last piece of meat."
Even as the losses piled up in the weeks following a 3-0 start, Harper said the Jayhawks haven't lost hope.
"I think we look at (each game) as an opportunity to take steps forward," she said. "Right now, with us losing, we're just using it as a learning experience and something to grow from."
---
Probable starters
Kansas (4-4)
G — Cece Harper, 5-8, sr.
G — Natalie Knight, 5-7, jr.
G — Markisha Hawkins, 5-9, sr.
F — Bunny Williams, 6-1, jr.
F — Chelsea Gardner, 6-3, jr.
Texas Southern (3-4)
G — Brianna Sidney, 5-9, so.
G — Sarah Williams, 5-5, jr.
G — Jazzmin Parker, 5-10 jr.
F — Morgan Simmons, 6-1, jr.
F — Alexus Johnson, 6-2, fr.
More like this story on KUsports.com