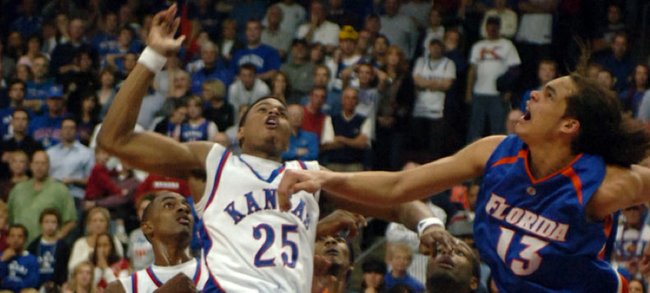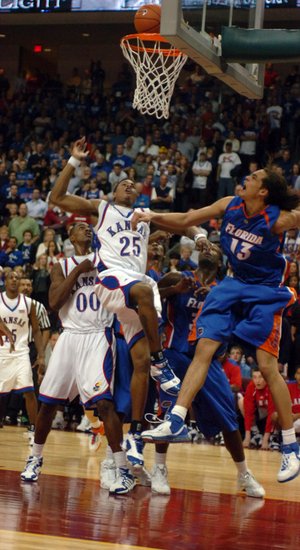 Gainesville, Fla. — It has been seven years since Bill Self's Kansas Jayhawks and Billy Donovan's Florida Gators thrilled the college basketball world in the finals of the Las Vegas Invitational.
A young No. 10-ranked KU team that 10 days earlier suffered a shocking home loss to Oral Roberts, outlasted No. 1 Florida, 82-80, in overtime on Nov. 25, 2006, behind 21 points from Julian Wright and 19 from Darrell Arthur.
That Florida team, led by Joakim Noah, went on to win a second straight national championship.
"I think we only played them once. That was a great game," 11th-year KU coach Self said of his only head-to-head matchup versus 18th-year UF coach Donovan's Gators.
Matchup No. 2 is at 6 tonight when No. 13-ranked KU visits O'Connell Center to meet No. 19-Florida. The game will air on ESPN, available locally on WOW! channels 33 and 233.
"He's got a good team. We've got a good team. I don't think either team is as good as those teams yet. There were some hard-rocking cats playing in that game. I think both teams can get there and contend for high stakes. Certainly, we've got a ways to go," Self added.
No. 13 KU (6-2) has dropped two of its last three games, including Saturday's 75-72 decision at Colorado. No. 19 Florida (6-2) hasn't played since a 65-64 loss Dec. 2 at UConn. The Gators also have lost at Wisconsin (59-53) and have beaten North Florida, Arkansas-Little Rock, Southern, Middle Tennessee, Jacksonville and Florida State.
"I know they are beat up," Self said. "Wilbekin (Scottie, 6-2 senior) and Kasey Hill (6-1 freshman) are a big part of their team if they get healthy. From what I understand, chances are pretty good they'll play against us."
Both players will be able to play tonight. Wilbekin (ankle sprain) averages 11.3 points a game. Hill, a McDonald's All-American, suffered a high-ankle sprain Nov. 18 against Southern. He's averaging 10.3 points a game while playing in four games.
Gatorzone.com pointed out some other problems: Forward Will Yeguete is coming off offseason knee surgery; guard Eli Carter is still recovering from a broken leg sustained in February; guard Dillon Graham is out for the season because of a hip injury; and guard DVon Walker has been slow to recover from a foot sprain suffered against Jacksonville. Also, guard Michael Frazier had mono in the preseason, and forward Dorian Finney-Smith had a virus that had him bed-ridden for a time.
"It'll be a tough game," Self said. "Billy's teams guard historically. They'll play us zone. Everybody is going to play zone now until we start making some shots. We'll have to play better (than at Colorado, where KU hit five of 20 threes)."
For the year, KU has made 36 of 121 threes for 29.8 percent. Opponents have made 54 of 160 for 33.8 percent. KU is making 50.5 percent of its shots overall en route to 79.1 ppg.
Florida's leading scorer, Casey Prather, a 6-6 senior from Jackson, Tenn., averages 19.1 points and 5.9 rebounds in eight games.
Of KU's mind-set, Self said on Monday's Big 12 teleconference: "I think they (KU players) are fine. The thing about it is, regardless of what anybody else thinks going into it, we knew and they knew there was going to be some things that we were going to go through.
"We know we're playing a monster schedule, and we're not playing games at home," Self added. "So there is always a chance that things like that can happen. It's disappointing to us because we know we can play better, which is a good thing, because you know you can play better. The two games we lost were against really quality opponents away from home."
Lineup talk: Self said Monday that freshman Frank Mason would start at the point for the second straight game and third time this season. Self would not comment on whether freshman Joel Embiid would start. Embiid, a 7-foot center from Cameroon, played for The Rock in Gainesville his senior year.
"Jo has been great," Self said on Monday's Big 12 teleconference. "The people in Gainesville know, because he went to school at The Rock for his senior year, but he's only played two years of ball going into this one. He's got a long ways to go, but his ceiling is so high. He's a sponge, and he really understands the game far beyond his years and certainly beyond his experiences.
"We're real pleased, and he's a fabulous kid. I know that he's looking forward to getting back home, getting to some warm weather and having some people come watch him play that he knows well and that's been very good to him. He's got a chance to be a very special player."
Embiid is averaging 9.3 points off 65.9 percent shooting in 19.0 minutes a game. He also averages 6.6 rebounds with a team-leading 17 blocks. Senior Tarik Black, who has started all eight games but gotten into early foul trouble in a majority of them, averages 3.5 points off 61.1 percent shooting and 2.8 boards in 11.1 minutes a game. He has 23 fouls; Embiid has a team-leading 29.
Releford has stress fracture: Former KU wing Travis Releford will undergo surgery on Thursday in the Kansas City area to repair a stress fracture in his right foot. Kansas City native Releford returned to the U.S. on Sunday from Belgium, where he's been starting for a pro team. He will return to Belgium on Dec. 28 to complete rehab and return to the court.
Releford will sign copies of his new book, "Relentless," 9:30-11 a.m. on Dec. 21 in Allen Fieldhouse. He also plans to attend KU's game against New Mexico on Saturday in Sprint Center.
He will appear at another signing on Dec. 23 at the Kansas Sampler store in Overland Park (6 to 7:30 p.m.).
Alexander excels: KU signee Cliff Alexander, a 6-foot-9 senior forward from Chicago Curie High, scored 22 points, grabbed 20 rebounds and blocked five shots in a 66-62 win over Las Vegas Bishop Gorman High on Saturday in Chicago. Seven-footer Stephen Zimmerman, who is ranked No. 2 in the Class of 2015, had 10 points and 13 boards for Gorman. He was 4-for-17 from the field.
This, that: KU leads the all-time series, 3-1. No. 5 KU beat No. 6 Florida, 69-63, on Dec. 7, 1994, in Allen Fieldhouse. No. 3 KU beat Florida, 69-64, on Jan. 11, 1996, in Gainesville. No. 7 Florida beat No. 2 KU, 83-73, in the consolation finals of the Preseason NIT on Nov. 29, 2002, in New York. Of course, in the last meeting, No. 10 KU beat No. 1 Florida, 82-80, in overtime in Las Vegas. ... If KU loses tonight, it'd have three losses on Dec. 10 for the first time since the 2005-06 season, when KU opened 3-4. KU won the Big 12 title and finished 25-8 that year.
More like this story on KUsports.com