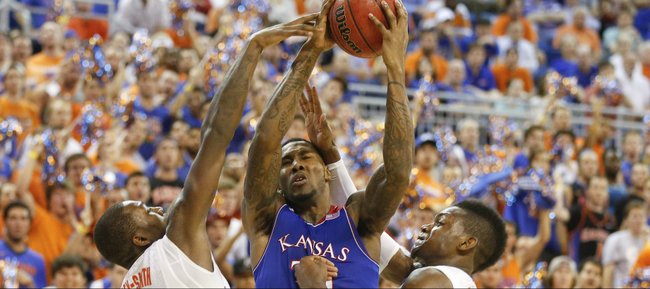 Photo Gallery
Kansas basketball v. Florida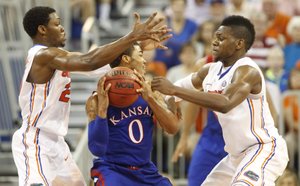 Images from Tuesday night's game between the Jayhawks and Gators in Gainesville, Florida.
Podcast episode
Bill Self after loss at Florida
Florida 67, Kansas 61
GAINESVILLE, FLA. — Life on the road hasn't been rosy for Kansas University's basketball team this nonconference season.
The (6-3) Jayhawks' recent excursions to Colorado and Florida resulted in two losses in four days — on the heels of a 2-1 performance in the Bahamas.
"I'm leaving here knowing we are not very good right now. We're not," KU coach Bill Self said after a 67-61 loss to Florida on Tuesday in O'Connell Center. "I'm also leaving here believing we can be really good if we can just continue to try to grind it out and get better day to day.
"The problem with us right now is we are the only school in America that didn't play any home games for a month ... in a BCS Conference. That's my fault. The schedule doesn't lend itself to getting confidence by winning some games where you don't have to play great. A lot of it is confidence as much as anything else."
Embiid starts: KU freshman Joel Embiid scored six points, with six rebounds and three blocks playing in Gainesville, where he attended The Rock school last year.
He made the first start of his college career.
"It was fun. I had a lot of fun," the 7-footer said. He said he found out he would start last weekend. "Coach told me. I think it's because I've been doing well."
Embiid attended a game at The Rock on Monday night. "It was fun to see my old teammates and coaches," he said.
Greene responds: KU freshman Brannen Greene came off the bench to score five points with one rebound and two turnovers in 14 minutes.
"It's all about playing hard," Greene said of earning playing time. "Coach wants energy. He wants somebody tough who plays hard. I'm trying to learn that and give him what he wants."
Of KU's effort, he said: "We let the crowd get to us. I feel they punched us in the mouth. We didn't respond until the second half. It's putting together two solid quarters. We've got some things to work on, though."
Of Greene, Self said: "He was fine. I thought he played hard and played with energy."
The Challenge: KU's loss to Florida on Tuesday night drops the Big 12 Conference to 6-3 in the Big 12/SEC Challenge.
Just one game remains ... Oklahoma vs. Texas A&M; on Dec. 21 in Norman.
Other results: Baylor 67, Kentucky 62; Iowa State 99, Auburn 70; Kansas State 61, Mississippi 58; Oklahoma State 79, South Carolina 52; TCU 71, Mississippi State 61; Texas 70, Vanderbilt 64; Alabama 76, Texas Tech 64; Missouri 80, West Virginia 71.
Match-ups have not been set for next year's challenge.
"I don't think it's been announced yet. I think there's a great chance that will happen," KU coach Bill Self said of a KU-Florida rematch in 2014-15 in Allen Fieldhouse. "We're happy playing Florida. I'm sure they're happy playing us. I think they try to pair them where preseason expectations are supposed to be. We won't play Kentucky in the Challenge because we play them next year in another event (Champions Classic)."
Self said the coaches in both leagues would love "to find a time we can do the games all at once, play them in a two-day period and keep a running tab. It would bring more exposure. I think we're scrambling to find the best window. There are NFL games and bowl games. If you do it after the New Year's bowls, it butts into the conference season. There are not many windows (with TV partner ESPN)."
Self on last week's Hawk Talk radio show was asked the chances of KU playing Missouri in the Challenge.
"Probably not great ... if the Big 12/SEC Challenge wants to continue, to be real honest," Self cracked. "They (Tigers) may not want it. I know we don't want it. It's not a knock to them. That probably will not be part of our future moving forward with either one of us."
KU is not interested in playing Missouri following the Tigers' leaving the Big 12 for the SEC.
Florida coach Billy Donovan on the game against KU: "I think because our season is so long in basketball and people identify with our league in the SEC, we've made a philosophical change, 'OK, let's try to play some games in the O'Connell Center in November and December that maybe our fans can identify with.' This will be one of those games people around the country and certainly here in Gainesville and here in Florida would identify with as a game. I think it's a great game for everybody all around."
Donovan on KU freshman Embiid who played last year at The Rock in Gainesville and was recruited by Florida: "Very talented, very gifted. We had a chance to watch him play quite a bit. We did recruit him. Just great upside, I think his best basketball is going to be ahead of him. He continues to get better and continues to improve. "I think the one thing I respect about him is he's a kid just watching him play that, a lot of times front-court players in high school can be passive. They're so worried about getting into foul trouble and they're so worried about hitting people. Sometimes they feel like there's fouls that shouldn't be called. But for him, a very disciplined front-court player that has a high level of skill."
KU and Florida both entered the game coming off losses at the buzzer — KU against Colorado and Florida versus UConn: "I think kids, for the most part, I'll probably throw Kansas kids in there as I would ours, I think guys are resilient," Donovan said before the game. "They are excited about the opportunity to play. And it becomes much, much more difficult when you lose a game like that and it's the last game of the year."
Donovan on KU's Andrew Wiggins: "He's very, very gifted and a very, very talented player. I think one of the things that always happens is when you see the amount of attention that somebody gets, sometimes the expectation when you see them play, it's almost very difficult at times to live up to those expectations. But he's a very good player. He'll be in the NBA next year. He's extremely explosive and athletic. I think he's smart. He lets the game come to himself. I think sometimes when you haven't seen him play, people hear about him and when they go watch him play they're expecting 50 points, 25 rebounds, 10 assists and all sorts of crazy dunks, but he's a really good basketball player. That's the thing I respect about him is he seems to be a very good team guy. He seems to play very consistent and he seems to play very well with his team."
More like this story on KUsports.com