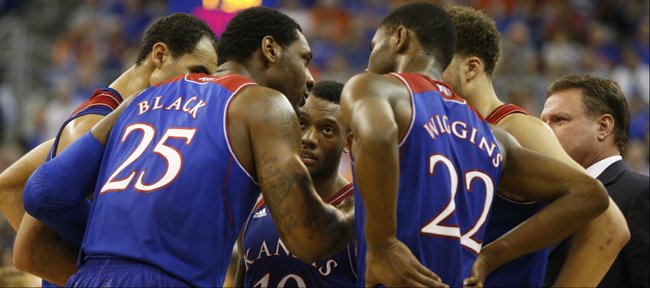 Photo Gallery
Kansas basketball v. Florida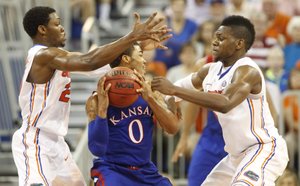 Images from Tuesday night's game between the Jayhawks and Gators in Gainesville, Florida.
Podcast episode
Bill Self after loss at Florida
Florida 67, Kansas 61
GAINESVILLE, FLA. — The number of areas in which Florida's basketball team outdid visiting Kansas University during a 67-61 UF victory on Tuesday at the O'Connell Center reached double digits.
But few told the story or made the difference as much as the experience of Florida's guards against the youth of the Jayhawks, who fell to 6-3 and dropped their third game in the four tries.
On a night in which KU started four freshman for the first time in school history, Florida coach Billy Donovan found comfort in a starting lineup that included four tried-and-true seniors who combined to score 43 points and rip down 20 rebounds. Senior guard Scottie Wilbekin (18 points) and senior forward Casey Prather (12 points, eight rebounds) paved the way on the perimeter, and Florida's big men dominated inside to set the tone for what proved to be a long night for the young Jayhawks, who were led by freshman Andrew Wiggins' 26-point effort.
"Guys like Wilbekin, Prather, those guys have been hardened," Donovan said. "They've been scarred a little bit. How much adversity has Wiggins ever faced on the court? Those guys are gonna have to learn different things, and there's a process they have to go through."
Part of that process includes learning how to play together, overcome adversity and adjusting to the speed, intensity and every-day grind of college basketball. Each of those elements — and likely several more — figure to jump off the screen when the Jayhawks re-watch this one in the film room in Lawrence. But Donovan, whose Gators improved to 7-2 and won their 21st consecutive home game, said he did not believe the Jayhawks would find anything to be alarmed about.
"Listen, Bill is going to have a really, really good team," Donovan said. "It's obviously early. When you look at 6-3 and think, 'Oh my god,' the reality of it is, I get excited when coaching a team with a huge ceiling, and there may not be another team in the country that has as good of a ceiling as they do."
Donovan's praise of KU's pups did not stop there.
"The thing that impressed me about the freshmen," he continued, "watching them on tape and watching them here tonight, their poise, their attitude, their disposition, they don't get frustrated, they don't get mad, they don't point fingers. They handle themselves very, very well."
Those traits and what the Gators did to overcome them might have been an indication of just how well Florida played Tuesday. Kansas coughed it up a season-high 24 times, and Florida maintained a double-digit lead for much of the game despite shooting just 37 percent from the field.
Most of the reason for that came from the Gators' defense, which held KU scoreless for an eight-minute stretch of the first half and sparked a 21-0 UF run that proved to be too much for Kansas to overcome.
"Our zone was good," said Donovan, noting that he tried to throw as many defenses as he could at KU and relished the results of the 1-3-1 and 2-3 zones. "I think the difference in the game was, we forced a lot of turnovers tonight. With (Frank) Mason and (Naadir) Tharpe, they're not big guards, and I thought it was difficult for them to throw over and around our guys. Our length, I think, caused some issues for them."
More like this story on KUsports.com