Photo Gallery
Kansas basketball v. Florida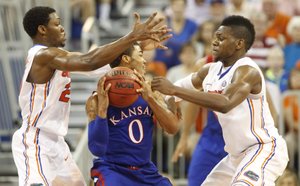 Images from Tuesday night's game between the Jayhawks and Gators in Gainesville, Florida.
Podcast episode
Bill Self after loss at Florida
Florida 67, Kansas 61
Even when athletes looks desperately lost, way overmatched, getting worse by the second, it's tough to count them out when they have the best player on their side and ample time remains on the clock.
When all around him looked too green to handle what Kansas University coach Bill Self likes to call "a big-boy game," Andrew Wiggins represented hope.
He didn't shy from a physical opponent and the mistakes he did make were those of aggression, not passivity.
Wiggins didn't play for the winning side Tuesday night in the O'Connell Center, Florida's on-campus arena where the Gators defeated KU, 67-61, in front of a jacked sellout crowd of 12,243. But he showed many winning traits and led the Jayhawks back from a deficit that grew as large as 18 points with a few minutes remaining in the first half.
Dribbling wildly in transition and missing the mark on passes, Wiggins committed three of his four turnovers in the first 20 minutes and misfired on all three three-point attempts. But on his way to 26 points and 11 rebounds, Wiggins outscored the man he guarded in the first half, leading scorer Casey Prather, 10-0, in a half Kansas lost 36-21.
He wasn't a part of the problem for a squad playing with guards who don't yet know how to attack a zone. He was at the center of the attempted solution.
During Florida's 21-0 blitzkrieg that took 8:43 off the clock and made the young Jayhawks age much more than that, Wiggins missed four shots, but wasn't responsible for any of KU's six turnovers committed by five other players.
"What Andrew did, he competed," Self said. "He scored points, but he got 11 rebounds and we've been on his butt about doing that. And he made shots, but even some of the shots he made, I'm glad he made them and all that stuff, but that's not what I'm glad that he did. I just thought he was more aggressive competing, which was good."
The faster the pace, the more aggressively teammates attack, the better Wiggins plays. In the opening 20 minutes against the Gators, KU's guards were put on their heels, confused by the defense in front of them. Kansas practiced against a 1-3-1 zone, but that's not the same as facing it against a bunch of experienced athletes who know how to play it.
"I don't think our guards do anything to help him right now," Self said of Wiggins. "I thought he played aggressive, for the most part, the entire game. I just don't think he got very many opportunities in the first half."
Why didn't he?
"Their 1-3-1 and our inability to attack it, that kind of stuff," Self said. "A lot of times you don't put it all on one kid because he doesn't get any shot attempts for five minutes because if he doesn't touch it, he's not going to shoot it."
In leading KU's comeback, Wiggins scored 16 points and made four of six three-pointers. When Florida coach Billy Donovan switched to a man-to-man defense, Wiggins' eyes lit up and so did the scoreboard. He received late help from Brannen Greene, who energized the team with hustle, forced a key turnover when KU applied full-court pressure and scored five points in 14 minutes. Greene also committed the biggest turnover, losing the ball out of bounds with 55 seconds left and storming KU trailing by six.
So many lessons remain for these college basketball novices, but in a game two talented players showed they have adjusted to the need to play hard every possession in the college game, the night was not without its positive signs.
For KU to look as bad as it did in a first half in which it had three assists, 16 turnovers and 19 field-goal attempts, threatening to make it a game of it in the final minute, means hope exists for another Big 12 title and long tournament run.
Having the best player on the floor in nearly every game is not a bad starting point for forming a team out of a collection of talented young individuals who have so much left to learn and so many difficult tests staring them down.