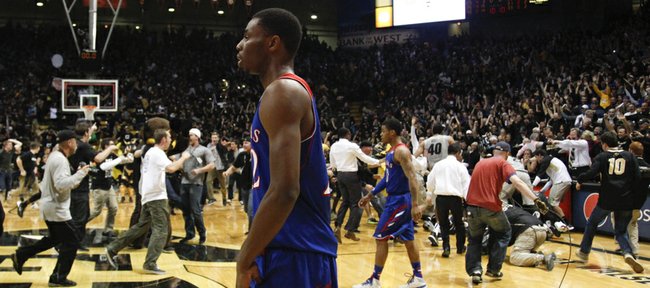 Kansas University's men's basketball team dropped out of the top 10, down to No. 13, in the latest AP Top 25, released Monday.
The Jayhawks (6-2), previously ranked No. 6, lost for the second time in three games Saturday at Colorado, where Askia Booker's buzzer-beating three-pointer sent KU home with a 75-72 defeat.
Kansas moved to as high as No. 2 in the poll after beating Duke (7-2, now No. 8) in Chicago, on Nov. 12.
The latest AP poll, topped by new No. 1 Arizona (9-0), is occupied by both teams that beat the Jayhawks this season: No. 10 Villanova (9-0) and No. 21 Colorado (9-1).
KU plays at No. 19 Florida at 6 p.m. Tuesday night.
AP Top 25 — Week 6 (Dec. 9)
Arizona, 9-0
Syracuse, 9-0
Ohio State, 8-0
Wisconsin, 10-0
Michigan State, 7-1
Louisville, 8-1
Oklahoma State, 8-1
Duke, 7-2
Connecticut, 9-0
Villanova, 9-0
Kentucky, 7-2
Wichita State, 9-0
Kansas, 6-2
Baylor, 8-1
Oregon, 8-0
Memphis, 6-1
Iowa State, 7-0
North Carolina, 6-2
Florida, 6-2
Gonzaga, 8-1
Colorado, 9-1
Massachusetts, 8-0
Iowa, 9-1
Missouri, 9-0
San Diego State, 7-1