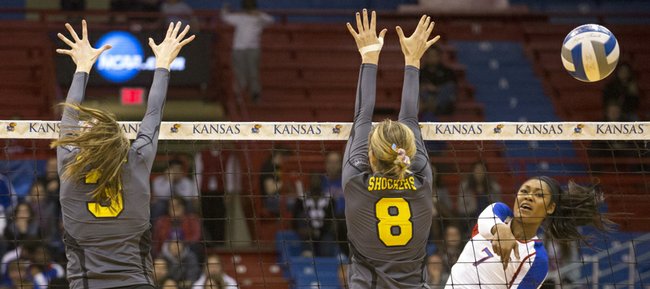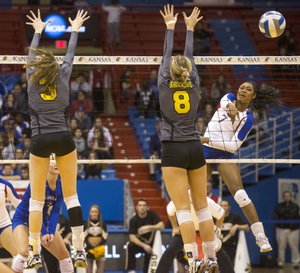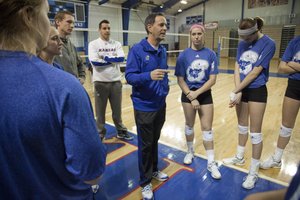 When a coach has as much talent to work with as Kansas University volleyball's Ray Bechard, it's easy to get away with keeping capable, if not dominant, players waiting in the wings and call on their expertise at just the right time.
That's exactly what Bechard did this past weekend with sophomore Tiana Dockery. In the Jayhawks' 12 matches leading up to a second-round NCAA Tournament showdown with Creighton, the outside hitter from Richmond, Texas, played just one set five times and didn't play at all on three other occasions.
Then Bechard turned to the 5-foot-10 powerhouse for all four sets with a trip to the third round on the line, and she came through with 14 kills (her most since September 28, against TCU), helping the Jayhawks reach their first Sweet 16 in program history.
"We keep her under wraps. We don't let her out very often," Bechard joked after the marquee win that kept KU (25-7) in the hunt for a national championship.
The Jayhawks will face Washington (28-2) at 7 p.m. Friday in Los Angeles.
Dockery's newfound productivity, she said Monday at Horejsi Center before the Jayhawks practiced, wasn't surprising to her. Her level of play might have gone up and down, and back up again, this season, but she said the support of her teammates, Catherine Carmichael, Sara McClinton and Chelsea Albers, kept her ready for a breakout performance.
"I feel like every player has good and bad games, and that's what happened to me," Dockery said.
Her coach knew she could deliver, because he had seen her do it before. Earlier in the year, Dockery put away 21 kills in a win at Wisconsin. Bechard loves exploiting opponents through matchups, too, and he figured Dockery could be the key to beating Creighton.
"That's what's unique about this team, I think. Kids are taking turns," the coach said, "and when it's their turn, they're stepping up at the right time."
Even if they're not starting or playing a consistent number of sets from match to match, Dockery said KU's support players know — especially at this point in the season — what they need to bring to the team's attack.
"When you come off the bench, you have to be ready to play, ready to dominate, ready to go in and do whatever you can," Dockery said. "If you go in a little shaky, it's not gonna be good for you."
The team's top players know that the Jayhawks' depth helped them reach unprecedented postseason territory, just one victory away from a regional final. Outside hitter, defensive specialist, blocker — name a position, and KU has more than enough players to throw at it.
Said junior outside hitter Chelsea Albers, KU's star of the first two rounds (35 kills): "It's great to be able to sub someone in, and we're not shaking in our boots. We're ready for them to come in and contribute. In case someone's struggling, it's nice to have someone on the bench who we know is gonna help our team out."
More like this story on KUsports.com