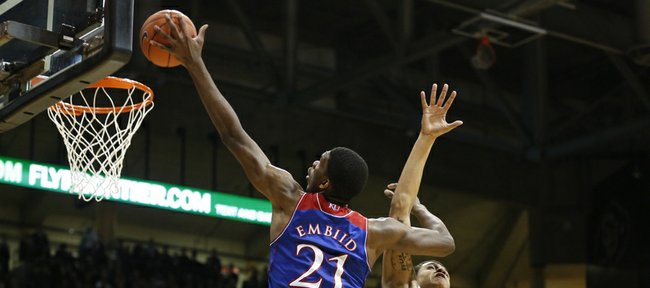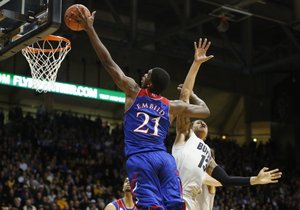 Justin Harden wishes he could get his hands on dozens of tickets for the Kansas University-Florida Big 12/SEC Challenge basketball showdown at 6 p.m. Tuesday in O'Connell Center in Gainesville, Fla.
As it stands, Harden — KU freshman Joel Embiid's former coach at The Rock School in Gainesville — has just a couple tickets to distribute for the clash between the Gators (6-2) and Jayhawks (6-2).
"This is a hot ticket in town, to say the least," said Harden, instrumental in the development of KU's Embiid as a skilled basketball player. Embiid, who took up basketball in Cameroon at the age of 15, attended The Rock last season after attending Montverde (Fla.) Academy his junior year.
"I'm not even able to take my players to the game. Normally for home games, I'm pretty much able to get tickets. This game I think I can get a couple tickets for myself and our coaching staff. They say it'll be packed (capacity 11,548). We'll see. It's not going to be Allen Fieldhouse. There should be a good crowd nonetheless."
Many on hand will be rooting for Embiid, KU's 7-footer who averaged 13.0 points, 9.7 rebounds and 1.9 blocks for The Rock, which went 33-4 and won the school's first Sunshine Independent Athletic Association title last year. Embiid had 14 rebounds and 10 points in the state title game.
"I think everybody is excited to see Joel play close by," Harden said of Embiid, who has averaged 9.3 points and 6.6 rebounds this season, emerging as a possible — or is it probable? — top-five pick in the 2014 NBA Draft.
"It's a shock to say the least to know we have an alumnus from our small little school in Gainesville that could be a No. 1 pick or a lottery pick. In all reality, we haven't had an NBA player come from our school. We have a pretty decent basketball program that is continuing to build. Scottie (Wilbekin, 6-2 Florida senior) is an alumni. He is the first one who was big-time. Scottie has a chance to make an NBA roster probably next year.
"It's neat to know Joel is getting so much attention. I think rightfully so. He is really talented. God created him special and unique, that's for sure," Harden added.
Embiid is looking forward to the homecoming of sorts.
"It will be fun seeing my friends," said Embiid, who hopes to make it over to The Rock sometime today, perhaps in time to attend a night game against Orlando's West Oaks Academy. The Rock had the date of that game switched from Tuesday to Monday so Rock fans/Embiid supporters could attend the KU-Florida game.
"My host family, my teammates, my high school coach ... it will be fun to see them. I look forward to seeing them. I loved it there. I gained a lot of game experience there," added Embiid, who played sparingly his junior year at Montverde Academy, which had Kentucky freshman Dakari Johnson manning the pivot. "I knew I would get better because the guys on our team were so good. We had a good group of guys, and winning state for the first time in school history was great. I got better every day in practice by competing. Coach Harden worked me, and I got a lot of minutes. I became confident."
Embiid, a former soccer and volleyball player in Cameroon, came so far he finished last season as the Gainesville Sun's co-Florida player of the year. He went from being unranked by Rivals.com to start the season to No. 25 and No. 6 by ESPN at the end.
"I don't think I'm surprised," Harden said. "From Day One when I saw him, I knew he had tremendous potential. I'm excited Joel has been able to work with the guys at Kansas and listen to what they want him to do and put all that into practice. I feel he's growing. Every single game he seems to be getting a little bit better. That's good for them (Jayhawks), but good for him, really."
Embiid has a team-leading 17 blocks in eight games. He had a KU-freshman-record seven rejections against Villanova. Still learning the art of shot blocking, he had one in Saturday's 75-72 loss at Colorado. He also had four rebounds and three steals in 28 minutes.
"That's one of the things coach Roberts (Norm, assistant) talked to me about. They are trying to get him to block more shots," Harden said. "He wasn't a tremendous shot-blocker (in high school). He certainly had the ability. He volleyball-spiked a couple of balls last year. He wasn't great at it.
"He's just learning to play without fouling. That was a big point of emphasis for us last year with him. As you saw in the Villanova game (and at Colorado), he fouled out. That was kind of typical of what would happen here. He would get a foul on a screen. Then he'd get a foul on a blocked shot. We really wanted him to stay in the game, so it had to be a very calculated blocked shot. He's getting much better at it, that's for sure."
Noted Embiid: "I mean, there's no technique to block shots. I am already tall. I just have to jump straight up to block the shot. I would say it's almost the same thing as volleyball (which he played extensively as youth). When I want to spike the ball, I have to jump straight up and spike the ball. Blocking is the same thing."
Embiid, who speaks French, English and a dialect language of Cameroon, had no problem communicating in high school into college.
"Joel is a very intelligent young man. He was able to pick up on the language and all the intricacies early on," Harden said. "When he was here, he was a little more to himself. But he had a lot of fun with his teammates. There were times he'd be cracking everyone up. Everyone likes him."
That said, fans likely will be pulling for Embiid to have a good game, yet for Florida to win.
"Obviously we are in Gator country, Gator nation," Harden said. "We don't have much to cheer for with our football team as they were this year. So they definitely want Florida to win. I think everyone wishes Joel the best of luck in his return to Gainesville."