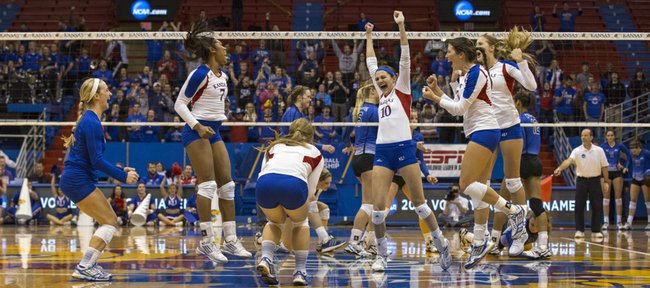 Forgive Kansas University volleyball coach Ray Bechard if he wasn't totally clear on the exact terminology of what his team accomplished in beating Creighton, 3-1, Saturday night at Allen Fieldhouse to advance to the third round of the NCAA Tournament.
"I guess they call it a regional," Bechard said of the Jayhawks' next step in the postseason. "I'm kind of a basketball guy. I call it a Sweet 16. Whatever it is, it's pretty damn cool.
"I can't tell you how proud I am of this group and this team. It wasn't always pretty there tonight, but the effort was always there, and we're proud of that."
In his 16th season at KU, Bechard couldn't care less about the label of what awaits his team beginning Friday night in Los Angeles. What it meant to him proved obvious just minutes after the win, as the Grinnell native ventured into the stands, among the 3,052 in attendance, to seek out his family and celebrated with them after the Jayhawks made it past the second round of the tourney for the first time in program history.
Meanwhile, on the floor, Kansas seniors Catherine Carmichael and Caroline Jarmoc embraced and cried tears of joy as they achieved the goal they couldn't quite grasp a season ago.
Advancing to the NCAA regionals — or Sweet 16, or whatever they want to call it — had been the Jayhawks' purpose since they lost in the second round at home to Wichita State in 2012. When the team reconvened for its first meeting of the new season four months ago, reaching a third postseason game was one of the many subjects the coaches and players addressed.
Bechard, who led KU to NCAA appearances in 2003, '04, '05 and '12, asked the Jayhawks: "How can we go from successful to significant?"
They spoke of taking on a "road warrior" mentality and finishing higher in the Big 12 standings than any KU team before them. They did both of those things in the regular season, going 10-3 away from Lawrence and finishing second in the conference.
That was great and all, but Bechard figured his team, led by seven seniors, could do far more.
"We knew (the season) wouldn't be complete," Bechard said, "unless we could advance just a little bit farther than we ever have before."
The Jayhawks (25-7) did that by closing out the match with victories in the third and fourth sets after Creighton tied it at 1-1.
Tied with the Bluejays (23-9) at 22 at a critical juncture in the third set, Bechard called a timeout to remind the players the situation was just like their drills at practices, and all they needed was to play clean, smart and hard to take a 2-1 lead. A Creighton service error by Michelle Sicner gave KU all the edge it needed, and sophomore Tiana Dockery and junior Chelsea Albers closed it out with back-to-back kills.
Albers, who grew up near Omaha, Neb., where Kansas lost to Creighton in four sets back on Sept. 10, wasn't at full strength then. More than ready for the rematch in Lawrence, the outside hitter set a career high for kills (18) against the Bluejays just one night after doing the same, with 17, in KU's first-round victory over Wichita State.
"I played a lot of those girls earlier in my career before I played (for Kansas)," the junior from Papillion, Neb., said. "And then to play them again in college, when we've all gotten better and more competitive, it's a really fun environment. I knew our team was better, and we could compete at a higher level than we did the first time (this season). That's what was fun to see tonight."
As for her back-to-back career efforts, Albers, who prefers to play as an aggressor on the court, pointed to the team's senior setter, Erin McNorton, who spread the ball around and collected 51 assists. Bechard credited McNorton not just for the play of Albers, but also Dockery, who added 14 kills to the KU attack.
"You just look at our stat sheet, and we have balance. She's got a sense for who the hot hitter is," the coach said, noting Albers' 38 swings and Dockery's 42. "That's not just coincidence. That's a setter who really knows her team, really knows what her team needs in the moment."
After the most significant victory in program history, the senior setter got goosebumps hearing her younger teammates, Dockery and Albers, talk about wanting to reach that next level because of the team's seniors, Carmichael, Jarmoc, Jaime Mathieu, Brianne Riley, Amy Wehrs, Kara Wehrs and herself.
"I can tell they want it for us," McNorton said, "and the seniors are fighting, and we're not gonna give up."
The Jayhawks (No. 14 overall seed in the tournament) will face No. 3 overall seed Washington Friday night at Los Angeles.